Digital Experience
25. May 2021 By Miriam Eckardt
Lead funnel – turning generated leads into new customers
For many companies, digital marketing is an excellent way to reach their target groups. Making contact with potential customers is valuable. Too valuable to let the opportunity pass. But how do you convert prospects into customers?
The funnel
The term 'funnel' refers to a piece of equipment you might have in your kitchen or may remember from chemistry class. It has a large opening at the top and a small opening at the bottom, and the same amount of material comes out of the small opening as is put into the large one. However, the sales funnel works a bit differently – it's more of a filter where the relevant prospects are filtered out from a large pool of initial contacts and website visitors.
Why is a funnel so valuable for companies?
A traditional marketing funnel represents the ideal purchase process, which records the path from contact with a brand via the guidance of marketing measures to the purchase of a product from the brand. In this way, marketing and sales processes can be optimised and, if necessary, automated at the necessary touchpoints. The use of a funnel is not limited exclusively to marketing teams – a company's sales or service department can use one, too. In turn, different objectives create different funnels that need to be achieved, such as for newsletter sign-ups, e-book downloads or sales transactions. Ultimately, they all follow the same concept, but from the different individual perspectives of the departments within the company.
We're going to focus on the lead funnel in this blog post. This has the specific objective of generating leads, that is, making contact with a potential customer and/or getting their contact information.
The lead funnel: avoid mistakes – think holistically
A lead funnel is designed to direct potential customers who are looking for information for different reasons and in different ways to a specific page with the help of targeted marketing measures and turn them into a lead. A lead funnel or a campaign developed from one can only be successful in the long term if the strategic set-up is right. Developing a fruitful lead funnel requires several upstream steps and a solid foundation. Ultimately, a holistic approach is essential to achieving success. You can see how a lead funnel works in the figure below:
Users are addressed online by using a range of different tools to implement push and pull marketing measures. It's helpful to use these marketing activities to generate potential customers and leads along the funnel.
Pull vs. push or inbound vs. outbound marketing
Pull marketing/inbound marketing
With pull or inbound marketing, there is already a demand, so a person proactively searches for the advertised product or service. The proactive searcher can be picked up here with unobtrusive custom search engine ads via Google Ads/Bing Ads. Ideally, the ads and the target page to which they're linked are precisely tailored to the needs of the person searching. This is a very efficient way to generate new leads by leveraging existing demand and eliminating the cost-intensive attention part of the funnel. One disadvantage of pull marketing is that it can only address products and services that are already being searched for. Completely new offers need push marketing to attract the attention of potential buyers and to lead them from the attention part to the interest and desire part of the funnel.
Push marketing/outbound marketing
With push or outbound marketing, there is no demand (yet), so the target group is actively approached. The target groups are informed about the offer via various high-reach channels with the help of ad placement, for example on LinkedIn. Good planning and perfect placement ensure potential customers are made aware and led into deeper stages of the funnel. There may be several touchpoints within the push marketing measures before the target group proactively searches or contacts the brand. The more expensive the product or service is and the more explanation that's required, the more touchpoints are needed within the funnel to generate a lead.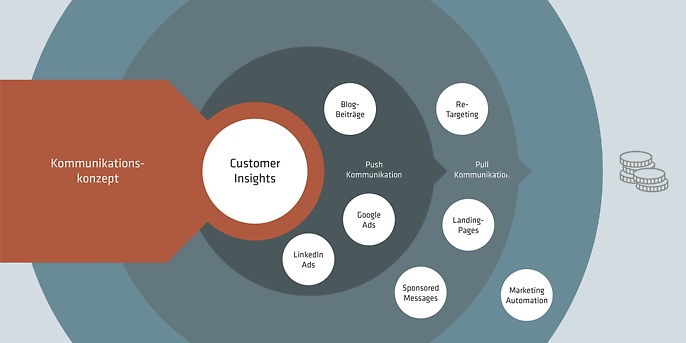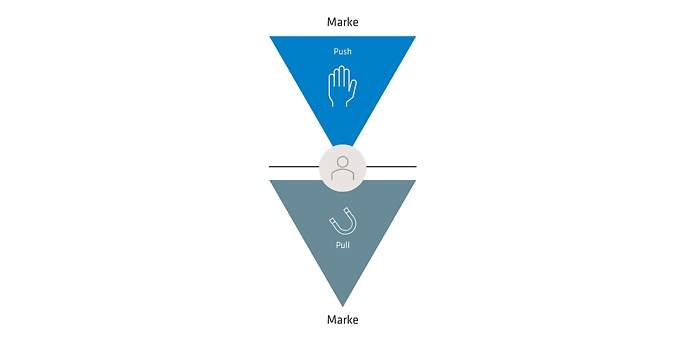 adesso defines the optimal combination of push and pull channels based on campaign objectives, budget and existing brand awareness or demand for products or services.
But who should a brand target within the lead funnel in the first place? User roles and personas can be very useful in identifying members of the target group:
Defining user roles and personas
Target group
The target group is a group of people and/or companies with similar characteristics who are to be specifically addressed about something.Examples include: Managing directors, heads of department, trainees and so on...
User role
A user role is a way of summarising and visualising different user groups with different needs that come into contact with the brand. The user role represents a person who comes into contact with a brand and/or a company with a specific need at a specific time.For example, a trainee is specifically looking for certain products (such as information about the company).
Considering concrete user roles is a step on the path towards defining/creating personas from target groups. User roles allow you to prioritise so you can derive personas from the relevant user roles.
This step is accompanied by an assessment of the user roles, for example based on business value, accessibility, the necessary communication effort, relevance, digital maturity or uncertainty.
Personas
A persona characterises typical features of target groups using a fictitious person. It should be as specific as possible: Name, age, occupation, status, income, hobbies, values or, for example, dislikes.
You can adjust the frequency and type as well as the content of marketing communication to the target group based on these specifically defined personas. The ideal buyers and potential customers only pay attention to a company's content/products if they are of interest and relevance.
Customer journey
How a lead is now generated and how it can be influenced is recorded by linking the steps worked out so far to a customer journey/buyer journey. The customer journey takes the perspective of the customer and shows his or her detailed journey within the lead funnel (see figure). All of the relevant communication channels can be defined for each phase of the lead funnel. This allows you to understand the customer's emotions from how they look at the problem to a potential purchase (in the best case) and, if necessary, you can respond to their needs.
Let's go through a traditional lead funnel with a person:
Initial situation
Anna gets up in the morning and goes to her bathroom to get ready for work. When she goes to turn on the light, the bulb of her bathroom light triggers a power failure in her flat and burns out. After putting the fuse back in, she improvises and uses another light that morning. Imagine you are a supplier that has a wide range of light bulbs.
1. Attention/awareness
In the awareness phase, Anna as a potential customer is faced with a problem that your product can solve in the future. She now has no decent light in her bathroom in the morning, and she didn't like the light temperature anyway, so she decides now is as good a time as any to search the Internet for a new light bulb while she's on the train to work. She probably starts her Google search with words such as 'light bulb warm light'. Anna looks at the search results and finds that there are light bulbs where the type and strength of the light can be adjusted. She now moves on to the next stage of the lead funnel.
2. Interest
Anna now knows that there are light bulbs that let her set the light temperature – this is the right product to provide her bathroom with light again. In the interest phase, people are inclined to look for more specific information to help solve their problem. In her next search, Anna adds the correct size of light bulb she's looking for: 'Light bulb adjustable temperature 27 mm base'.
For you as a provider this means: from this stage on, you can convert leads into customers! You try to do this as a provider using Google Ads/Bing Ads. Users usually only check the results on the first page of their Google search. So make sure your brand ranks highly by placing appropriate ads that match your target audience.
She automatically moves one step further in the funnel and enters the decision phase.
3. Decision
In the decision-making phase, people select the product they are looking for on the basis of the key features they find.
The search result ('light bulb adjustable colour 27 mm base') in Google offers a comparison between several suppliers of the light bulb you are looking for with customer reviews, prices, photos – all of the information that should make a decision easier. In this phase, you have to sell the idea that YOUR product and only YOUR product can solve the customer's problem better than your competitors' products. Anna sees a GoogleAds ad from a provider that advertises the unique selling point of being able to control the setting of the light bulb via an app.
When she clicks on the ad, she is taken to a landing page that highlights all the technical features of the light bulb(s), shows how they work, lists customer reviews and, if applicable, provides a data sheet/white paper for download (this is where retargeting comes in – we'll go into more detail in the last section). Anna is absolutely thrilled and decides to buy this particular light bulb from the manufacturer.
4. Action
Once people have decided on a product, they want to get the best price and browse different online shops. At this point, it's a good idea to make an irresistible offer to convert a lead into a paying customer. For example, Anna can now receive a discount for first-time customers by providing her e-mail address, which also puts her in the category for future retargeting measures. She always receives the latest newsletter so that she can buy more light bulbs for her home and to build up customer loyalty.
Keep in mind that people can make contact with a brand at any stage of the lead funnel. That's why it's important that companies present their products in a relevant and high-quality way across the entire customer life cycle.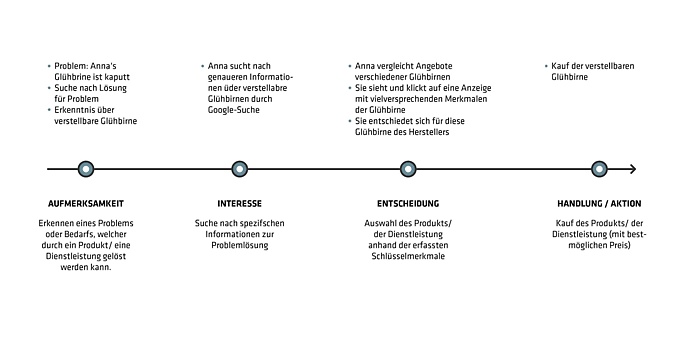 Making customer needs transparent at all times
Each individual phase of the lead funnel is documented with clear target agreements, the steps that need to be taken until the target is met are outlined and each process is defined individually. KPIs support the process here. In this way, processes and results can be measured and compared with each other. Unmet customer needs are identified so that content can be adapted accordingly.
It's time to get started! Starting small with a pilot campaign
Campaigns
Valuable insights into the different funnel stages and user roles in relation to your product and brand can be cost-efficiently tested and validated in initial pilot campaigns. Does your content already meet the needs of potential customers within each funnel stage?
For an initial pilot campaign, the most relevant user roles or personas are singled out and targeted in the channels they spend time on. Within the attention phase, these are mostly push channels such as LinkedIn, Facebook or the Google display network, while within the later funnel stages, search engines and retargeting measures take on more importance. Adverts are created to match the persona and their needs, answering customer questions and creatively presenting your brand's USP to the chosen persona. The more accurately the ad meets the user's need, the more likely they are to click, and later make contact or a purchase.
Landing page
The ads direct interested users to a dedicated campaign landing page. Ideally, the landing page is also geared to the exact needs of the selected user segment in the funnel phase. Which needs these are has already been defined within the upstream lead funnel.
The users who visit the page but don't act as intended – such as making contact – are retargeted with more targeted messages or incentives such as discount codes (see figure). The pixel technologies of the advertising networks are used to segment visitors to the page. Plus, retargeting can also be carried out via e-mail if a visitor has left their contact details on the website (for example, when registering for a newsletter).
Evaluating and scaling
A pilot campaign can validate the lead funnel that has been developed, but it can also highlight weaknesses in the analysis. Successful pilot campaigns can also be scaled to your size and extended to other advertising channels. Regardless of the success of the campaign, the valuable target group data and insights about the customer journey can be used profitably for further advertising measures and increase the cost efficiency of your measures.
Conclusion
A well-developed lead funnel can help a company convert leads into customers, which in turn can pay towards a corresponding increase in marketing goals (for example, product sales, increased revenue).
Would you like to learn more about exciting marketing topics from the world of adesso? Then check out our previous blog posts.