Inside adesso
12. July 2021 By Peter Fey
Wasted potential 2.0 – what companies are (still) doing wrong on social media
If we take MySpace to be the first real social network, then social media will celebrate its 20-year anniversary next year. That's no small amount of time – and a lot has happened in that period. MySpace and Bebo are a thing of the past. Google Plus is a meme for a failed attempt at best. Now, networks with a visual focus, such as Instagram and TikTok, are taking social media into the next generation.
After all this time, you would think that companies would've also become familiar with the medium by now and use it as a matter of course. Far from it – according to Germany's Federal Statistical Office, just 48 per cent of companies in the country used social media in 2019. This puts us way behind Malta (84 per cent), Denmark (75 per cent) or the Netherlands, Cyprus, Sweden, the UK, Finland and Ireland, all of which have more than 70 per cent.
Now, the pandemic of the last two years will certainly have ensured that even the most hesitant of companies plucked up the courage and ventured into the great unknown that is the world of social media. A world in which each of us – whether CEO or intern – spends more time every day than we probably would like. Fear of making mistakes is part and parcel of the experience when you first start out and you learn a lot through trial and error. However, there are some things that are still being done wrong or neglected, even by long-established players.
I'd like to point out the most common mistakes that I encounter time and again when analysing companies' social media.
'We'll go with the flags'
Many people will think of the brand (Sparkasse, a bank in Germany) behind the slogan in the heading for this paragraph, which still has one of the highest advertising recall values in Germany. What Sparkasse has managed to achieve quite brilliantly here, namely establishing the connection between the content and the brand, is by far the most common shortcoming in many social media presences. From the ever-popular cat content, to posts on International 'Something' Day (coffee, beer, dog, kissing, depressed social creatives and many more), the channels degenerate into a cesspool of irrelevant content and lack brand relevance. Yes, sure, the posts get good reaction scores, but what stays in people's minds? Most of the time, they only remember the headline but rarely what relation it has to the brand that published that post.
This continues with generic imagery on perennial subjects such as food, travel or sport. Among the thousands of delicacies arranged on slate boards sat on a solid wooden table, it's easy to lose track of which brand is jumping on the food hype or whether it is a private post by a more or less big influencer. The posts themselves are often very well done and make our mouths water, too. They don't create an (emotional) bond with the brand if you need to channel your inner Sherlock Holmes to figure out who has posted what.
At least using a visual master to create unobtrusive branding would be a first step. It's even better to focus on the user and ask yourself how your own product or service can offer them added value in this context. If we then present this focus on the user as a memorable story that's easy to understand, we don't have to 'go with the flags', but instead offer users real added and entertainment value.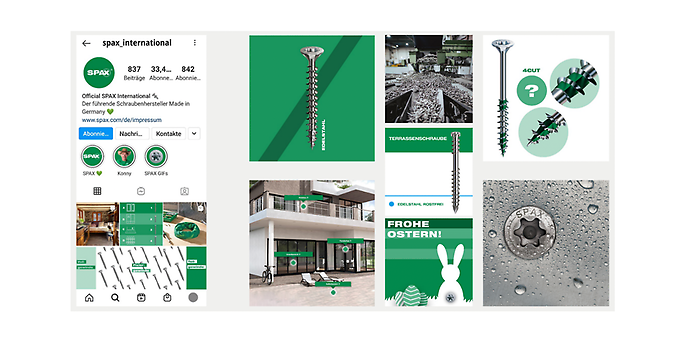 Think mobile, optimise mobile
There are around 61 million smartphone users in Germany. This corresponds to a coverage of just under 98 per cent in the target group of 14 to 39 year-olds. These figures are also reflected in the use of social media, where users generally view significantly more than 85 per cent of posts on mobile. Some channels are even decidedly mobile-focused, such as Instagram or TikTok. This makes it all the more surprising that many companies still use post formats that sink into the visual void on a smartphone. Link posts in particular still use flat standard images in 1200 x 628 px, which are much less noticeable on smartphone screens than 1:1 or vertical formats.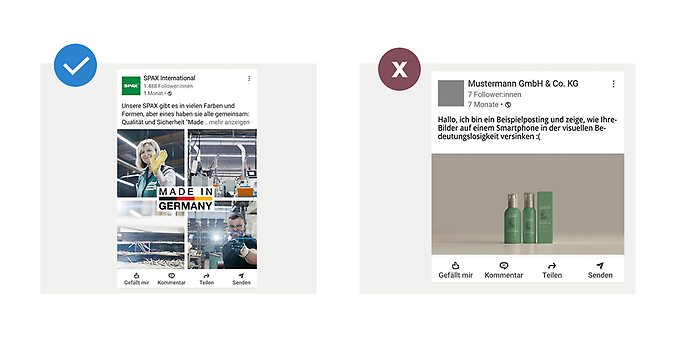 Automated disaster
No conversation about link formats would be complete without mentioning one of the worst mistakes that everyone makes: automatically generated previews. Facebook and other social media platforms automatically create the preview by taking an image from the landing page as soon as a link is inserted into the text field. This is tremendously helpful in theory, but the images stored on the landing page are often unsuitable for use on social media or simply do not exist. The result is then pictures that have been cut off, unreadable texts in pictures or even simply just a grey box because the picture couldn't be found.
The rules concerning using your own images here have been tightened considerably in recent years, but with a verified domain or a workaround as a display, it should always be possible to achieve good results.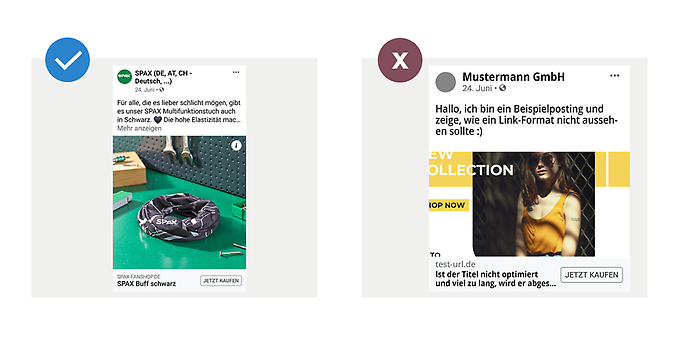 Social media is great... after all, it costs nothing
Those who remember the Sparkasse adverts well may now counter that the campaign with the flags won because a substantial campaign, which was also proposed in the spot, would have entailed corresponding costs.
This brings us to another point that we often notice. Social media is often misunderstood as a communication channel that the intern can just cover on the side (which doesn't mean that interns can't generate great content).
We encounter this misunderstanding in two forms. Some customers put no investment into the content and the result is a flood of generic, soulless stock images that drive even the most hardened fan away.
Then there are also the customers who invest money, time and a lot of creativity into the content, but don't support it with advertisements and rely solely on organic distribution. This approach refuses to go away, despite the numerous articles in recent years in which well-known social media experts such as Thomas Hutter or Andreas Wiese have shed light on exactly why organic distribution alone is not enough and why companies need to provide meaningful support through paid reach. Social media is 'pay to play' more than ever. If you want to join the poker game where the big pot of attention and business potential is the prize, you don't have to go all-in right off the bat, but you do have to put in your stake to be able to play.
Alternatively, €500 are put into a post that 10 people see, instead of adding a hundred more and thus reaching several thousand people.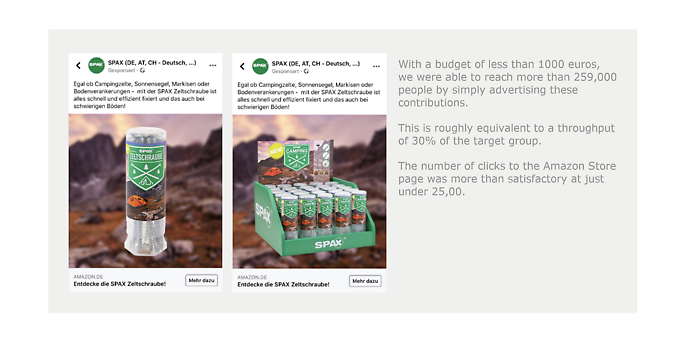 Who do I actually want to reach?
Costs also play an important role when it comes to the question of selecting the right channel.
It makes sense to distribute your own content as widely as possible, as long as this offers a chance to reach potential users in my target group. This is a particular challenge for B2B brands, where it is difficult to assess whether users can also be reached efficiently in the private sphere on Facebook, Twitter or Instagram in addition to professional networks (LinkedIn and Xing).
The difficulty in making an assessment is similar to what can be observed in many B2C brands. Either they overshoot the mark and cover everything, but do it very poorly, or they are too tentative and gift potential customers to competitors as a result.
It might be useful to use proof-of-concept campaigns here to sound out whether the desired target group can be reached at all and then to compare the effort involved in communication tailored to the channel.
Make the black box a thing of the past
Effort is a good keyword. What is the point of all the time, effort and money invested in social media? Facebook, LinkedIn and all the other networks offer extensive evaluation options, both in the channel and across the board with tracking on the landing page. Plus, there is always the possibility of integrating Google Analytics or other measurement systems via parameters at the end of a link. Unfortunately, this is done all too rarely. Many companies are still satisfied with the information they receive directly in the channel, and then their attention is often diverted to the wrong KPIs. Forget fan growth. It's much more interesting to see what significant interactions the users have had. Were my videos watched to the end, were the users interested enough to jump to my homepage and what did they do there? How and when the most important core data will be measured should be well planned while the strategy is being developed and all content is being created, so that it's measured in good time. This is because measuring this data properly in the only way to understand what works and what potential can still be exploited.
Open sesame – the crux with administration
Now it sounds as if German companies haven't got the hang of social media at all. Of course, it's not that bad. Many companies' social media presence is of a very high standard and there is nothing to criticise there. At least if we don't scratch beyond the surface. This is because it's all too often the case that there are serious errors hidden in the administration and access management.
On the one hand, there are the companies that have assigned numerous administrator positions in their profiles over the years, 50 per cent of which are often no longer even still at the company. I have gained access to about 200 pages and accounts in my 11 years of working with social media. I would probably still have just under 40 (full) accesses if I had not signed myself out after leaving the company or service relationship.
In addition to this very lax handling of access rights, there are also clients whose administration is virtually non-existent and who have completely lost access and ownership rights to their own sites over the years because no one has bothered to maintain the underlying account access rights.
Neither of these has any immediate implications for day-to-day operations, but as soon as there is a change of admin or a change of agency, profiles are restructured or an account has been blocked due to suspicious activity, a lengthy and nerve-wracking odyssey usually begins in order to clarify all this with Facebook or whichever platform it is.
For instance, Facebook has recently been increasingly exposed to attempts to hack and abuse business managers, accounts and pages. So, when the administrative foundation crumbles, you open the door to unwanted intruders and expose yourself to major threats. We therefore strongly recommend that you put this foundation through its paces and have it professionally set up and maintained.
Conclusion
Social media still has huge potential, which can be used all the more easily if the basics are right and the mistakes I've mentioned are avoided.
Are you unsure whether you're doing everything right or would you like to take your existing social media presence to the next level? We will be happy to advise you.
You will find more exciting post from the adesso world in our latest blog posts.