Industries
23. June 2022 By Tim Strohschneider and Maximilian Berger
Enterprise search – finding instead of searching
Regaining sovereignty over your corporate knowledge
Whether in private or business life, the word 'search' is becoming more and more important every day. The search for required information in particular involves a large time expenditure, which is constantly increasing. In 2020, Google accounted for over 92 per cent of the Internet search engine market and was the most visited website on the Internet with around six billion search queries per day.
How does searching work in the corporate setting?
A company usually has a lot of different distributed systems, which makes it difficult and time-consuming to find the information needed for daily work. A large accumulation of data and information in a wide variety of systems means that in order to search for information, it must first be known in which of the possible systems and data sources a relevant piece of information is or could be stored in order to be able to find and access it.
What does this mean?
Finding information requires a great deal of time, and, to make matters worse, it often means that the required information can't be found at all.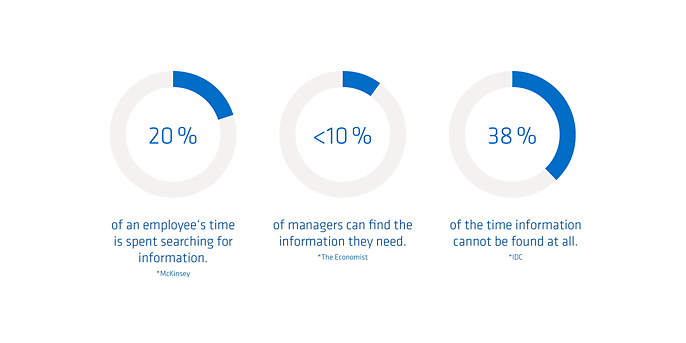 The word 'search' is therefore a part of our everyday life, and imagining life without it is out of the question. We're all used to the fact that if we don't know something or have no one to ask, we simply Google it – quick and simple. This is the strategy that each of us intuitively uses to cope with the world's data growth. This type of search can also save a lot of time and hassle at the workplace. But how can the search for data, knowledge and information in the workplace be conveniently optimised using this same method?
Enterprise search – unlock your data and knowledge using enterprise search
Enterprise search solutions serve as a fundamental building block of the digital workplace and are therefore a daily companion for everyday work – a kind of 'Google in the company'. The search is carried out using a company's most important and relevant systems and sources of data. This way, users have a central point of contact that provides access to all relevant company data and serves as a single point of enterprise information access.
There are various providers of enterprise search solution on the market that can be used to meet this challenge. Established providers include: Google, Microsoft, Mindbreeze and Elasticsearch. An enterprise search solution indexes all relevant data and information from a wide variety of data sources so that they can then be searched and clearly displayed while taking into account existing authorisation structures. In the process, structured and unstructured information gathered during the search can be read in, processed and prepared for the end user.
There are a variety of ways to index data sources and systems. Using ready-made connectors, which serve as a solution for communicating between the search engine and the application that contains the information, is one of these ways. Another way is to create individual indexing mechanisms so that all of a company's applications can be made searchable.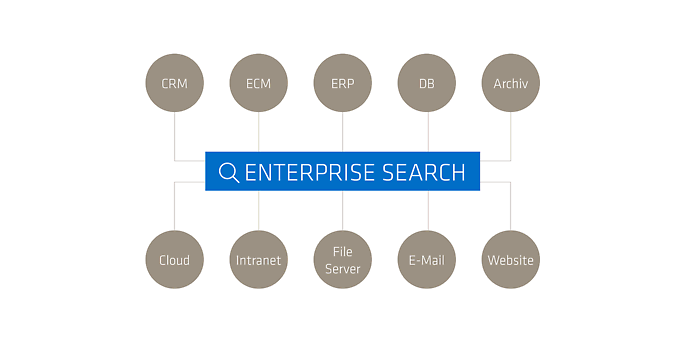 We use enterprise search solutions to make everyday work easier for users. Our customised solutions make finding knowledge and information faster and more precise so that work can be done better and more efficiently. When selecting the right solution, we advise taking into account every factor that's relevant within the corporate context in order to ensure the delivery of a successful enterprise search solution.
Factors to consider when selecting an enterprise search solution include:
Which systems and data sources should be searched

Which authorisation structures have to be considered

Which functions should be available for the user

Whether the search should be integrated into existing applications

Whether the search should be conducted in the cloud

And much more
We, of course, guide our customers through every stage of the process for selecting, implementing, introducing and operating an enterprise search solution.
In our discovery and requirement workshops, we provide consultation and support when evaluating solutions, develop solution concepts and run initial tests and conduct proof of concept exercises together with our customers. Licensing, implementation, connecting various data sources and front-end integration all take place during deployment.
We also provide guidance and support for operating the solution, provide consultation regarding optimisations and extensions and take care of maintaining the solution and providing support for it. On top of that, we conduct health checks as well as training courses in order to be able to ensure that an enterprise search solution reaches its maximum potential.
Enterprise search – who does it benefit?
The answer is perfectly clear: every company that wants to offer their employees the convenience of finding information instead of just searching for it. Being afforded this convenience means that relevant amounts of working time can be saved, better results can be achieved and the focus can always be on what's really important. To sum it all up, it can be said that for every company, enterprise search is a key step towards realising a 'digital workplace'.
You will find more exciting topics from the adesso world in our latest blog posts. Click here for more blog posts on the world of banking.