Methodology
16. February 2021 By Karsten Tinnefeld
Wiki, Verve and e-learning for integrated management systems – part 2
Compliance through audit and training
Modern management systems map a wide range of requirements for corporate management. Integrating the management systems makes it easier to manage dependencies and reduce costs. This blog series explains the challenges facing those responsible for management systems today and how tools and methods can help address these challenges. The second part is about monitoring and guiding one's own company within a constructive and future-oriented cooperation.
What has been covered so far
In the first part of my blog series, 'Using the wiki as an integration platform', we looked at the benefits of integration for a consulting firm in the IT environment and the potential of a wiki system as a shared documentation platform. This can help unite the competition of management paradigms around a common goal and rally issues and people behind it. The wiki-based documentation platform offers not only the right tools for all major types of documented information, but also opportunities that facilitate 'difficult' topics, such as process documentation and traceability. They can even be used as a key channel in the continuous improvement process. As we have seen, the task report can be used as an index for action lists, for example, from the management review or internal audits, to compile tasks that have not yet been completed and to document the due date, processor and source at the same time.
Understanding an audit as dialogue
This article will focus on internal audits. In addition to 'translating' the standard into the language and practices of the company, the second major task of every management representative and every management system team is to ensure its implementation. The idea of an audit by a know-it-all 'external monitoring department' is out of the question in any corporate culture based on partnership. ISO 19011 is ISO's comprehensive guide on how it can be done better: with qualified, knowledgeable and empathetic people who engage with their clients as equals.
The right skill set
Expertise does not mean being allowed a say in every department, let alone being able to instruct the experts on site about the content of their work. What auditors bring to the table, however, is a favourably neutral view and a methodical approach. To enable a mutual learning process, it is important for them to get a rough current issues and challenges of the environment. After all, process owners are already responsible for the people who work within their processes. A good audit takes this role seriously. The key is for the audit team to be well prepared.
To be prepared is half the victory
But what is the right preparation? One of the benefits of a wiki-based documentation system is that it takes less time to conduct the formal document review and the tooling goes a long way to preventing technical inconsistencies. In fact, the as-built documentation is the basis for determining the expected scope of activity of the contact persons and, based on this, for identifying the standard requirements within the expected context. It is essential to review the content for inconsistencies and presumed discrepancies. However, the latter are only theoretical and must be considered in the audit discussion itself. The documents related directly to the work area, the higher-level documents and the adjacent work areas are generally relevant: is the direction of the work in line with the company policy? Which quality objectives have an impact on the area? Once an environmental management system has been established, the following questions arise:
Are there any binding commitments that are relevant in the area?

Are the interfaces consistent in terms of type, content and value with what the process owners of the adjacent processes have documented or reported in their last audit?
Observant, attentive, goal-oriented
Given that there are so many general discussion guidelines, it would make little sense to go into that now. In any case, the time, place and conduct should be well prepared. Furthermore, the expectations of the participants can vary greatly. It is better to overexplain than underemphasise that audits must not be used for performance monitoring, nor by supervisors for control purposes, and that confidentiality is to be strictly maintained in all required areas.
Apart from that, a big part of the audit consists of listening. Does the contact person actually work in the specified area? What is their current operational area? Which tasks and processes are under their responsibility? The questions sound trivial, but they are extremely important, otherwise potentially outdated information might simply be updated. And interesting surprises can arise internally within the organisation, such as a new business area emerging from a one-time cooperation or the support team transforming into an internal event agency.
Focusing on the right elements
Guidelines for conducting the discussion often come from the respective auditing management standards. The quality management standard ISO 9001 therefore places a great deal of emphasis on the processes behind the procedures under consideration and requires clear specifications for their cross-sectional aspects, which have been included the literature as a turtle diagram. As such, it is very important to understand which requirements the process fulfils and which goals it serves. What we also need to know: Are suitable tools and methods used? Is there enough staff to complete the tasks? How do you determine whether a task has been successfully completed – and has this been evaluated? What are the risks and how do you handle them? All these questions are relevant and can be structured as a technical dialogue between interested parties without the contact person having to learn the jargon of the standard. This is also how an environmental management audit, for example, asks about any commitments that have been made and possibilities for exerting influence.
What needs to be discussed needs to be discussed right away.
Once the overall context has been clarified, you can go into more detail. This is where the review begins on the prepared areas and any newly acquired ones; the documentation is compared to practical experiences and standard, contextual or internal requirements are compared to the actual situation. In doing so, it should never be about determining who is at fault, but rather identifying potential areas of improvement and helping to evaluate them. The best approach is to use a friendly tone while keeping the discussion clear. Clearly designated deviations, pain points or recommendations give the other person a chance to respond, clear up any misunderstandings or reflect on any errors in judgement.
Something can be done in an internal audit that, strictly speaking, is considered a faux pas in an external evaluation: recommendations can be made directly in the situation, or a recommended approach that is suitable for the environment can be discussed together.
Well equipped for the audit
Experience has shown that attending audit meetings in pairs allows you to react attentively and to the point at the right moment. This makes it easier to manage everything all at once: leading the discussion and taking notes, asking questions, revising notes and handling unexpected documents. Needless to day, the documentation wiki provides the tools to record the agenda, participants, discussion content, formal findings and action points in a structured format.
For an audit team wanting to act independently and avoid coming under suspicion from the outset that they are testing their own 'baby' to prove that it is healthy, there will still be tensions when it comes to advice and support even within the organisation. There are two ways to leverage this in the integrated management system: cross-auditing the various management systems with each other and outsourcing 'standard support work' – for example, for process documentation in a training course.
Digital learning system
For many people in our organisations who are not tasked with achieving and maintaining compliance requirements on a day-to-day basis, many components of management systems are far removed from the daily work routine. Decisions made in a single day do not directly contribute to the achievement of objectives. Moreover, their impact on the big picture often cannot be directly measured. Certain guidelines or requirements formulated with good intentions will eventually be perceived as restrictions on freedom. This is often what makes the teaching of management systems an unwelcome task. At the same time, it is clear that virtually every standard discussed so far requires that all stakeholders understand how it is implemented within the company, and with good reason. In large, fast-paced organisations, trying to reach 'all stakeholders' is in itself no small task. After all, providing verification of introductory and regular training participation is already a challenge for the employer or client in terms of documentation.
The digital way
A digital learning system not only takes care of the problem of verification, but also provides other options for preparing, organising, conducting, implementing and following up training courses. These kinds of systems are useful not only for preparing training catalogues in terms of selection, registration and resource management, but also for managing late registrations and late cancellations and collecting and processing the feedback of all the participants after training.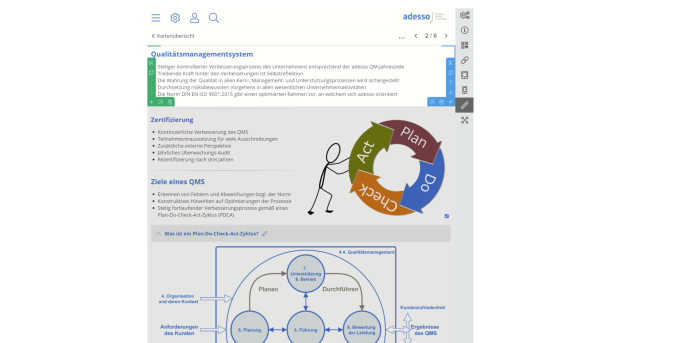 Multi-channel offers added value
While face-to-face contact in in-person courses is still of value, the big trend in recent years has been self-learning with the help of online training. Online tutorials have led the way and video education platforms have proven that it can be done on a mass scale: learning went digital in many areas even before circumstances prevented people from meeting in large groups and made travel extremely difficult. When integrated into a learning system, they become suitable for companies, allowing you to manage participation recommendations, registration workflows and mandatory events. Online tests such as multiple-choice tests, puzzles and externally evaluated assignments can be integrated. In addition, participants can receive immediate test feedback. For formal verification, it is also sufficient to place the test taker and test system in a secured environment.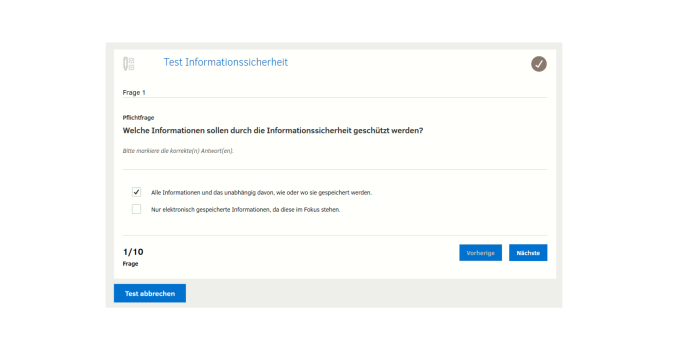 Step by step to the right skill set
Online training is a good choice for planning training in the management systems environment because it best meets the following requirements:
It is scalable and available for new employees at short notice.

It is permanently available for refreshing knowledge.
At the same time, training courses based on a fixed overall scope but with suitable variants can be aimed at specific target groups, flexibly structured and quickly rolled out across the organisation. In this way, a basic training course can be set up for all members of an organisation that presents a global overview of the entire system and immediately provides links to relevant and more detailed documentation to anyone who is interested. If certain instructions – such as 'Everyone must read this document!' – are placed at critical points and the information located there is well structured and prepared in a useful way, the reader will hopefully be compelled to come back and read more on their own the next time. Experiments with gamification approaches have also shown that this playful approach is particularly suitable for gaining attention and motivating participants to complete training courses that they have started or to take regular refresher courses.
Taking small but steady steps
A plannable and manageable timescale is required particularly when participation in compliance training is compulsory. It is therefore advisable to provide training on individual management systems separately, while always referring to the group in the same way. For power users in the quality management environment, such as process owners or site managers and travel managers in the environmental management area, advanced information can be transferred. Since personal involvement and the need for additional information are disproportionately greater in this case, more learning areas can be included. In addition, other elements with less immediate feedback, such as documentation exercises, can be included in a dedicated 'playing field' and in online forums for more detailed questions.
Integrated future
The future of management systems is digital and integrated. But with the right tools, they can still be manageable and personal. Our experts at adesso are experienced in preparing comprehensively and electronically documented information in internal audit and review processes and in preparing and sharing knowledge and experience. In this context, we have developed ideas on how an interdisciplinary management team in the digital enterprise can organise its work efficiently and for the benefit of the entire company. Wiki, Verve and e-learning are elements in this approach that a qualified and engaged management system team can support and develop.
Would you like to find out more about fascinating topics from the world of adesso? Then check out our latest blog posts.
More parts of this blog series:
Wiki, Verve and e-learning for integrated management systems – part 1