Digital Experience
5. October 2021 By Heike Heger
CX Study 2021 - Part 1: Results on Customer Experience
adesso has been researching the popular topic of customer experience for a long time. Each year since 2018, we have been asking online shoppers what they want when they shop online in order to achieve a realistic picture of their satisfaction. This year, we are going one step further with our current study 'What online shoppers want and companies offer': In parallel to the 1,000 end consumers, we also asked 373 companies what they do in marketing and sales to ensure that online shoppers like to shop. This resulted in an exciting comparison that we divided into four areas. We will take a closer look at each of these areas in the upcoming blog series.
Starting point: customer experience
According to the Gabler Business Dictionary , customer experience is 'the totality of all impressions that a customer receives from a company during the entire duration of a customer relationship. It encompasses all individual perceptions and interactions of the customer at the various points of contact (touchpoints) with a company.' So it is not surprising that company representatives, in particular, attach great importance to the topic of customer experience management (CXM): 72 per cent of the total respondents attach a central to high importance to CXM – among managers it is as high as 83 per cent.
However, it is the three key drivers of success related to this topic that are particularly interesting here. Most respondents see 'consistent focus on customer needs' as the most important success driver (45 per cent), followed by 'smooth customer processes across all channels' (37 per cent) and 'measuring customer feedback across all channels' (28 per cent). On the other hand, only 8 per cent of respondents on the company side (in other words, very few respondents) attach importance to the topic of 'marketing automation', that is, the technical solution that is relevant for implementing the success drivers mentioned above. Now, one could argue here that the first three success drivers are more strategic in nature and perhaps that is why the focus is more on them.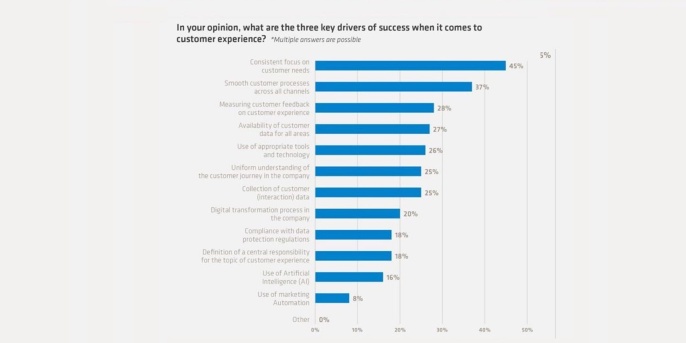 Nevertheless, we are struck by a 'GAP ALERT' here. We have the impression that a gap is opening up that has potential. Customer experience management as a discipline and marketing automation as a suitable solution represent an exciting combination with which to implement customer centricity. It seems, however, that only a few companies have seen an opportunity in this so far. After all, measures and tools are always needed in addition to a strategy in order to really move forward with this issue.
Which (contact) channels do companies offer their customers in the respective phases of the customer journey?
This question reveals the strategies along the customer journey in a practical way. When the TOP OF THE FUNNEL (TOFU) is about advertising, e-mail (57 per cent), own website/online shop (54 per cent) and social media (52 per cent) are the most important.
In the MIDDLE OF THE FUNNEL (MOFU), companies act most strongly in the area of personal contact (77 per cent). Own website/online shop (71 per cent) and e-mail (71 per cent) still rank well ahead of contact by phone (63 per cent). And even at this early stage of customer contact, personal contact is still important (40 per cent).
In the BOTTOM OF THE FUNNEL, that is, in product sales and the conclusion of contracts, most of the companies surveyed rely most heavily on personal contact (64 per cent) and the telephone (48 per cent).
What companies like to do and end consumers do not like
After the GDPR was introduced, many companies decided to send out advertising letters by post (again), as the legal hurdles seem low here. It therefore comes as no surprise that 57 per cent of companies use personal data to send letters. What do customers feel about this? The answer is that they do not feel very good about it! Specifically, only 16 per cent of end consumers rate postal advertising as positive. 60 per cent even oppose being addressed with advertising letters.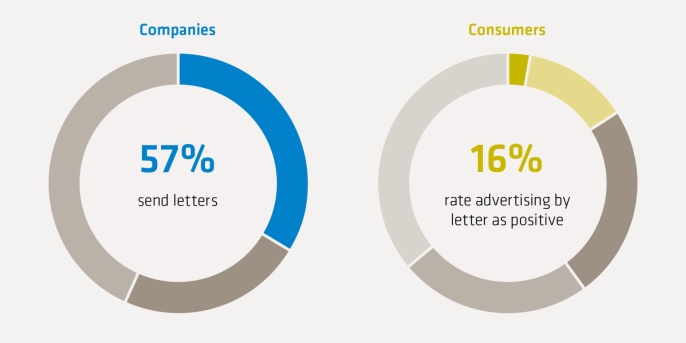 In our opinion, this is another 'GAP ALERT' – beware of the gap opening up between the view of companies and that of their customers. Companies could ensure that their advertising messages are more readily accepted simply by using other channels such as their website/online shop or e-mails for their messages. The argument 'But we can reach far fewer recipients that way' does not count in this case, because if around two out of three addressees respond to postal advertising by rejecting it right from the beginning, the number of recipients effectively reached is also significantly reduced here.
Pandemic and e-commerce
In principle, one can say that online shopping is still shopping's little sister. According to Statista, however, e-commerce accounted for an estimated 11.2 per cent of total retail trade in 2020, which is an increase of 2.3 percentage points and the highest increase since 2017.
Against this background, the adesso study makes it clear that e-commerce winners have also emerged during the pandemic. The consumers surveyed indicated that their online purchases of groceries have increased by 46 per cent and their online purchases of household goods/gardening and DIY products and chemist's shop articles/cosmetics/toiletries have risen by 39 per cent. Online purchases of clothing/shoes and sporting goods/sportswear each increased by 23 per cent compared to before the pandemic.
Is this result a Covid-19-induced 'flash in the pan', meaning everyone will go back to their old habits? It seems not, because only 41 per cent of the 1,000 respondents, that is, less than half, said they would change their purchasing behaviour back to what it was before the pandemic. This means that in some sectors (especially B2C) there are now significantly more online shoppers and purchases – and on an ongoing basis too.
Online shopping: Everything is just fine?
On the whole, online retailers can breathe a sigh of relief, because, after all, 70 per cent of all online shoppers surveyed in this study are satisfied to very satisfied with their experience of making online purchases.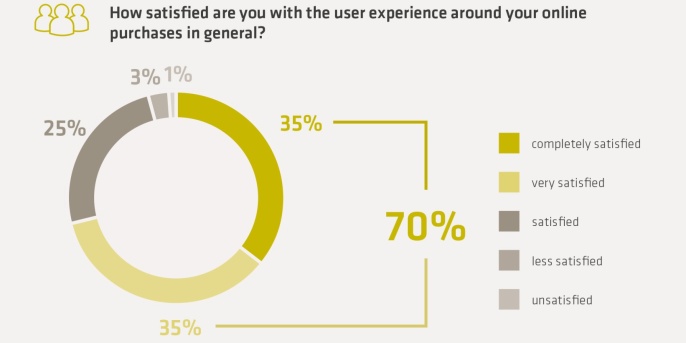 Conclusion
Yes, differences between the marketing measures that have been implemented and how they are received by addressees do exist. All in all, however, we can say that customers were very happy to make use of the opportunity to purchase online, especially during the Covid-19-ridden year of 2020, and more than two thirds were also satisfied or very satisfied with it all. However, companies could still remove a few hurdles in customer communication and customer service on the way to creating the perfect customer experience.
Would you like to read the full CX study?
Download the study (available in German)
All parts of this blog series
Would you like to learn more about exciting topics from the adesso world? Then take a look at our previously published blog posts.