Digital Experience
26. October 2021 By Heike Heger
CX study 2021 - Part 4: Social Commerce
Often, the idea is that if you want to appeal to young consumers, social networks are the right place for you. There is reason to believe this as, according to Statista, 98 per cent of 18 to 29-year-olds are on social platforms. The current Social Commerce study 2021 by ECC Köln also found that social commerce is on the rise and addressing younger consumers is particularly worthwhile. In our current CX study, we also took a close look at who likes to use which channels and for what purpose. This adesso study reveals a differentiated picture, both in terms of the users and their age as well as the different industries from which companies are represented in social media.
Young or old: Who is active and who is buying?
When we specifically look at the target groups of 18 to 29-year-olds and 30 to 39-year-olds, we can conclude the following: Although the youngest target group is more active on social platforms, the willingness of 30 to 39-year-olds, for example, to buy products or services via Facebook (61 per cent) is significantly higher than that of 18 to 29-year-olds (43 per cent). Instagram is different: when it comes to Instagram, both age groups share the same high percentage of willingness to buy (62 per cent).
This great potential still seems to be underestimated by companies. After all, only 46 per cent of all companies attach great to central importance to the topic of social media marketing (SMM).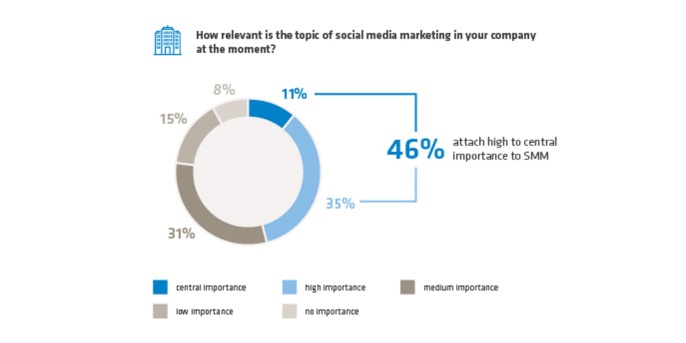 If you look at this the other way round, SMM has no high to central importance for more than every second company.
When it comes to sales and deals, things look even bleaker. Only 12 per cent of the 373 companies surveyed use social media to sell products or conclude contracts – this means that 88 per cent ultimately do not do this. This high number alone reveals the great extent of untapped sales potential.
Private individuals on YouTube, companies on Facebook
When looking at who is active on various social channels, it became obvious that the preferences of companies and private individuals differ to some extent. Most companies are on Facebook (80 per cent), while only 67 per cent of end consumers are on the site. Conversely, YouTube is the number one platform among consumers (88 per cent). On the corporate side, however, YouTube is only used by 44 per cent of companies as a marketing channel. This is indeed a huge GAP.
For companies, second place is held by Instagram and among consumers second place goes to Facebook. Instagram ranks third among private surfers, while LinkedIn ranks third for companies. The graph clearly shows that traders and buyers do not have the same preferences when it comes to social media. Both sides agree on only one point: TikTok is bottom of the list for companies as well as consumers. So far, only 7 per cent of companies and 17 per cent of consumers use the channel.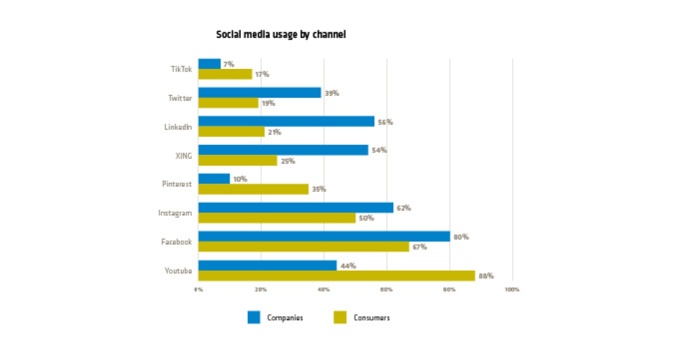 Using social networks to keep up to date
Of course, we were interested in whether customers use social networks at all to find out about companies, products and services. The answer is yes. After all, around one in four actually use LinkedIn and XING to obtain information about companies, products and services. For us it is quite clear that there are real opportunities for companies here. But are these opportunities being properly exploited at the moment? Our answer here is no. This is because companies currently pursue two primary goals on channels such as LinkedIn, Xing, Facebook, Twitter and Instagram, namely, image advertising and increasing awareness. As many as 73 per cent of companies do this on Facebook. But what about product advertising? The number is lower here – around half or fewer companies use social channels to promote products and services. And when it comes to sales or deals, the percentages drop to 13 per cent (Pinterest), 12 per cent (Instagram) or less – on Twitter it is only 9 per cent, on TikTok even 0 per cent.
Buying via social media
41 per cent of consumers have already purchased clothing and footwear products that were suggested to them on social media. The clothing and footwear segment therefore takes first place among social media purchases in our study. 49 per cent of consumers between the age of 18 and 29 have already been inspired to make a purchase. Among 30 to 39-year-olds, it was 47 per cent and among 40 to 49-year-olds, it was 42 per cent. Among the over 50s, it was at least a third of respondents.
Overall, 31 per cent have already been inspired by social media advertising to purchase something in the electronics/computer/mobile phone category – this comes second in the ranking of SMM purchases. This sector does particularly well among the over 50s (around 35 per cent). The rate is around 30 per cent for 18 to 39-year-olds and only 23 per cent for consumers between the age of 40 and 49.
Social media advertising of products in the chemist's shop articles/cosmetics/toiletries sector has so far been able to persuade a total of 27 per cent to buy – this comes third in the ranking. Younger respondents (18 to 29 years), in particular, were reached here – 43 per cent mentioned these products. Among respondents aged 30 to 49, the rate was around 30 per cent.
Conclusion
Based on the results of the study, one might conclude that the majority of the executives surveyed in companies underestimate the relevance of social media as a sales channel. And even if social media is granted a right to exist in a company's marketing plan, it is most likely used for image building and increasing awareness. But social media can also help with sales. Around one in ten companies is convinced of this and uses SMM for selling products and/or concluding contracts. Could more be done? Certainly – it just takes courage. Forward-looking companies that have creative agencies working in the background prove that it is possible to manoeuvre on completely new playing fields when the right presence and the right messages are in place. Of course, innovators need to display the courage it takes. But on the plus side, many competitors have not yet recognised the potential that they can capitalise on, which is even better as this means you can be the first in your sector to embark on a new lucrative path. Whatever you dare to do – it all depends on using the right channel for the right target group. In any case, the CX study provides exciting insights into which channel works for whom and at what age. And the good thing about social media is that many measures are still significantly cheaper than for the other traditional channels.
Would you like to read the full CX study?
Download the study (available in German)
All parts of this blog series
Would you like to learn more about exciting topics from the adesso world? Then take a look at our previously published blog posts.