Digital Experience
29. March 2021 By Heike Heger
Customer journey: Four success factors #1 Content
The real challenge for marketing strategists today is to deliver outstanding digital experiences throughout the customer journey. There are several factors that are critical for your success. I have singled out the following four key factors:
Content

Personalisation

E-commerce

Interoperability
Read this short blog series to learn what is meant by this and how you can take these factors into account and use them to support you on a technical level.
Content: A brief historic excursion
The history of content marketing reaches far back. And depending on the source you study, it started back in the 18th or 19th century. One thing is certain: Since the 90s, almost every company has become its own publisher. Even back at the end of the last century, it was no longer enough to have attractive products and services and hope that customers would discover them on their own. The right content was needed! With the introduction of WCM (web content management) and CMS (content management system) solutions, companies were finally able to design and manage multiple websites and languages, as well as thousands of pages.
Web 2.0. established itself primarily through social media. The content became faster, more dynamic and, thanks to mobile devices, accessible from anywhere. And whenever people thought, 'this is the end of the line', further variants of content emerged, disseminated via an ever-growing number of touchpoints. This also resulted in consistently rising expectations of customers and interested parties. Big digital players like Google, Facebook, Instagram and the like led the way and set the benchmark for modern communication and information.
Content editing: Do you still CMS or wouldn't you rather DXP?
In order to answer the question of whether a solid CMS is sufficient for a company or whether a digital experience platform (DXP) is needed, let us briefly take a look at the differences and similarities.
The common denominator in a nutshell: Content is king, regardless of whether you use a CMS or DXP. However, the primary purpose of a CMS is to display website content professionally and provide editors with an easy-to-use tool. This also applies to all functions that support a responsive design or scaling the website according to current needs. Powerful CMS are also able to support multilingual and multi-client-capable websites as are needed for large brand presentations in different countries, for example.
Content management only becomes really complex when it's not just about the web presence, but when you add the entire marketing presence, any number of campaigns, websites, apps, social selling and more to the mix. Complex, yet consistent: In this case, DXP gets the job done. This is because the key feature of a digital experience platform is that it allows you to develop content based on a uniform, centrally managed database, which feeds the various channels in a targeted and demand-driven manner in the right language. Best of all, the whole process is easy to handle for the editors in the company. In simple terms, no matter whether customers are located in Turkey, Germany or the UK, they are provided with current and coherent product information and prices from any location. If anything changes, the change will be reflected at any location since the information is managed centrally.
There can be no doubt that content plays a significant role in shaping every digital experience. A DXP delivers the following features:
Websites and apps can be created with a consistent design that can even be changed without affecting the content.

Website editors can intuitively manage campaigns, create landing pages and relevant content, capture feedback, as well as update and reuse content in ways that keep readers coming back for more.

Creating digital experiences is an ongoing task. With such a system, however, the marketing team is able to be both reactive and proactive in bringing new products and services to market through constant monitoring to boost sales.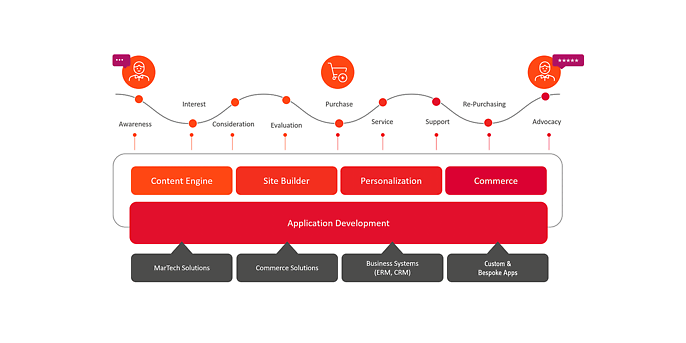 The advantages for the company's own editors are manifold:
It is easy to structure content.

Content can be edited by multiple editors, even at the same time.

Workflows can be created and tracked.

Publications can be conveniently planned, controlled and automated.

You are in control of URLs and SEOs.

Content pieces of any kind (video, images, text, graphics) can be developed, published and optimised at any time.

Content 'as a service' (based on the headless approach) can be provided via modern Web APIs.
Conclusion:
Content has always been important. The creation of relevant content in a personalisation-crazy, information-driven world is becoming increasingly complex and difficult to handle. In order to use this technology as a trump card for the company, you need to equip your marketing specialists with the right tools. A DXP replaces various manual processes with automated ones, enabling a whole new dimension of content delivery and presentation on the market. And this way the platform acts as an enabler of the customer journey from the get-go.
Would you like to learn more about exciting topics from the world of adesso? Then check out our latest blog posts.
By the way: Our free whitepaper shows you which aspects you should consider before selecting a specific DXP to ensure your digital success.