Methodology
16. December 2021 By Heike Heger
How to perfect omnichannel marketing with the SAP Customer Data Platform
For many marketers, the implementation of a customer data platform (CDP) is one of the most important projects of the year. According to adesso's current CX study, which interviewed 373 companies, one in two companies is already implementing a CDP and at least 31 per cent are planning on implementing one. But why all the hype? What's so special about a CDP? And what benefits does the SAP CPD offer? This blog post should help clear things up a little.
Prize question: which search term generates around 2.9 million results on Google? That's right! It's 'customer data platform' or 'CDP'. But why all the hype?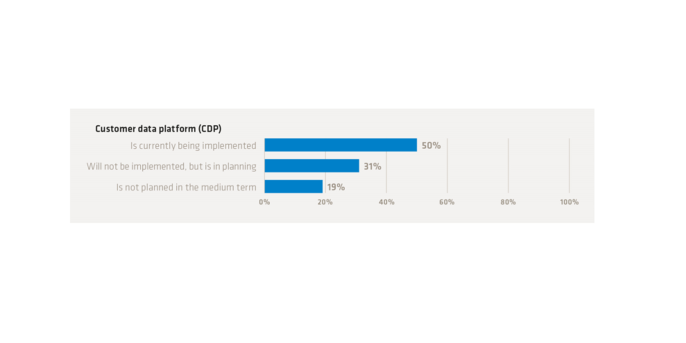 To answer this, let's take a look at the definition that David Raab, Founder and CEO of the CDP Institute, formulated in 2013: "A marketing system that merges the customer data that a company has acquired via marketing and other channels in order to analyse customers, enable modelling and optimise the timing and orientation of communication. It contains a user-friendly interface that helps activate customer data and enable personalisation across several channels."
What makes a customer data platform so special?
As revealed by the name, CDP is databank software that is used when it's necessary to holistically and continuously gather customer data from several sources and merge it so harmoniously that it makes it possible to have a holistic view of each customer at any point along the customer journey, online and offline. An important basis for this is that there is a customer – or rather, an identifiable person – who will be enriched by all of the data gathered.
CDP, CRM, DMP – what's the difference?
Many experts and companies have already made statements regarding this question. Separately of the CDP, CRM and DMP can be described as follows:
CRM
Customer relationship management (CRM) is, lovingly said, the grandmother of data management solutions. CRM was conceived as a means for delivering important account and contact insights to the sales team, but also for improving the processes between marketing, sales and service. The main task of CRM is to file and process data, such as conversation information, order history, customer data and so on. In doing so, the main thing that CRM falls back on is first-party data – the data that the company acquired on its own. A CRM is definitely an extremely valuable tool to have in any company. However, it is not a tool for accessing data in real time or getting a 360-degree view of the customers. Furthermore, some companies repeatedly criticise the insufficient quality of the data they've saved in their CRM tool. This can be explained rather easily. Not all the data that a company collects via sales and marketing campaigns actually makes its way into the CRM tool and gets consistently assigned to leads and contacts and/or customers. This is the most infamous data silo problem – in order to solve it, process gaps, rather than the CRM itself, need to be re-examined. As a result of doing so, CRM nevertheless appears to be partly fragmented – insights gathered from customer data are then only just partly available.
DMP
A data management platform (DMP) is a software platform that's connected to all the systems that generates media touchpoints. The DMP stores data that advertisers (for example, media agencies) have acquired from third-party providers. In doing so, the DMP relies on cookies, device IDs or IP addresses and creates anonymous profiles that can then be matched with the company's own customer data.
This comparative chart here offers a good overview of all the systems: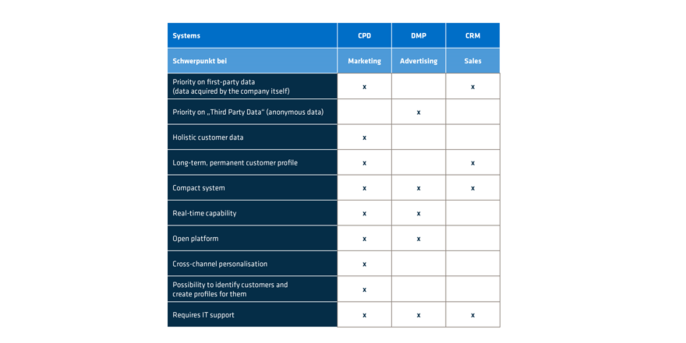 In general, it make sense for companies – in terms of data – to accompany an anonymous user/prospective customer on its own site for as long as it takes to be able to literally put a face (an identity) to them. If the (potential) customer has already been verified, then the perfect hyper-personalisation can take place along the customer journey based on the data collected about them online and offline.
Benefits of the SAP Customer Data Platform
In autumn of 2020, SAP announced the worldwide implementation of its SAP Customer Data Platform, in addition to the existing SAP Customer Data Cloud (CDC). The special thing about SAP CDP is that it has the ability to factor in every business area. The idea behind it: not only the marketing sector, but also the sales and service sectors, IT and accounting have contact with customers. This makes them all an important part of the holistic customer experience (CX).
Additional benefits:
Possibility of integrated marketing automation with Emarsys
Both customers and prospective buyers who are looking for a homogenous SAP infrastructure for their company will be excited to learn that the cloud-based omnichannel marketing platform Emarsys has been included in the SAP portfolio since the end of 2020. Emarsys can be integrated into the SAP CDP to provide this homogeneous SAP infrastructure. By using this infrastructure, companies can now create even more effective personalised, cross-channel marketing for their customers. This effects every touchpoint imaginable, from smartphones to e-mail to social media channels, online presences and much more. Emarsys is extremely user friendly, intuitive and modern.
Flexible connection from source to target system
A CDP is then especially effective if it's able to capture data from many different sources. One of the benefits of the SAP Customer Data Platform is that it has the ability to prepare a series of integrations that are ready for immediate use for not only SAP systems, but for non-SAP systems as well.
Compliance with data protection guidelines
Compliance with data protection guidelines is a very important, yet tricky subject. Another benefit of the SAP Customer Data Platform is that it automatically recognises the purpose for which certain data is being captured. The foundation of it all is the user's declaration of consent – only when this is obtained, will the respective information be attached to a customer profile. Customer preferences are saved in the platform. All of this allows customer data to be used with transparency and, above all, without legal problems.
The SAP CDP as an SaaS
Most companies right now are very seriously engaged in further advancing their cloud strategy. The SAP Customer Data Platform takes this into account and is available as cloud-based software as a service. The well-known benefits of SaaS, such as high scalability and good performance, constantly up-to-date software and minimal support costs, come into effect here, as well.
Insights into customer behaviour in real time
The SAP CDP is able to constantly aggregate current cross-touchpoint customer information and merge it into compelling, holistic customer profiles in real time. An additional strength of the SAP Customer Data Platform is that it can consistently and continuously measure customer behaviour and perform dynamic segmenting as required. The resulting segmentation is an important basis for the creation of individual shopping experiences. And what's special about this is that it doesn't just work for customers alone; segment allocation also works with anonymous users and offers them its own kind of personalised approach.
The takeaway
CDPs have become integral, effective hyper-personalisation tools. And the CX study mentioned in the beginning of this blog also shows that marketers are paying great attention to the topic of data-driven marketing, and explicitly the topic of CDPs. In my blog post, I have explicitly explored the topic of the SAP Customer Data Platform. But of course, the solutions from other providers, such as Microsoft, Salesforce and others, also offer numerous benefits that aid in perfecting omnichannel marketing.
Would you like to learn more about exciting topics from the world of adesso? Then check out our latest blog posts. You can find more information on the topic of CDPs on our website.
Also of interest – our free marketing automation white paper.