Industries
19. October 2022 By Viyan Kofli
Competition among the CRM superpowers
'[...] I visited 1,849 customers. I had a conversation with 828 of them, I closed 65 sales and my commission increased to $4,251.82. [...] Each visit earned me $2.30. [...] At first, I made one sale per every 29 visits. Later, the ratio was one in every 25, then one in every 20, one in every ten and finally, one closed deal per every three visits.'
In an excerpt from the book Lebe begeistert und gewinne (Live Enthusiastically and Win), Frank Bettger, a successful insurance agent from the early twentieth century, provides a look at his method for caring for and managing customers – which, at that time, was still done with pen and paper.
Why are CRM platforms indispensable these days?
A CRM (customer relationship management) system is characterised by precise sales-specific reports, data management and customer behaviour predictions. Its main task is to manage customer relationships using a 360-degree view. Most companies that are considering using a CRM system, or already are, mainly want to improve the quality and continuity of their customer relationships and ultimately strengthen loyalty.
According to a study by Software Advice, contact management (rated at 88 per cent) is the most important feature that CRM users expect – followed by interaction tracking and task scheduling and reminders: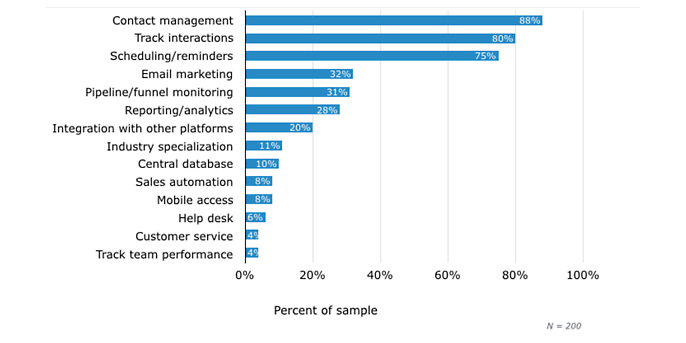 It is also interesting to look at which industry segments have the most potential buyers and users: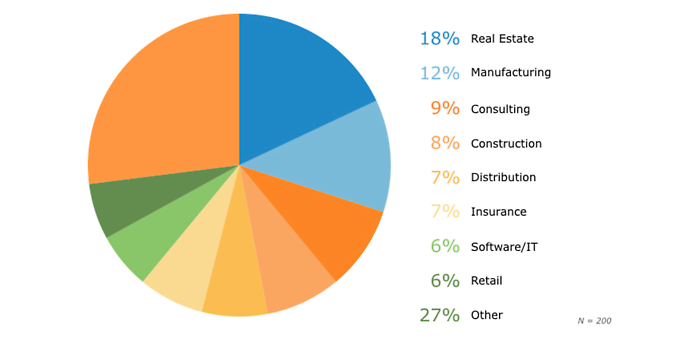 The consulting sector ranks in at third, next to the property and manufacturing sectors. CRM is increasingly adapting to a vertical market, in which individual business areas have specific needs. Thus, CRM providers are also developing industry-specific solutions that make it possible to automate specific processes, which allows for better efficiency and scalability.
Who are the big players?
The customer relationship management department is one of the most important departments within a company. The demand for CRM systems is steadily increasing, as is the range of software being offered.
According to Statista, these are the top five CRM providers in terms of market share of global sales:
1. Salesforce – 23.5 per cent share of sales

2. SAP – 5.4 per cent

3. Microsoft Dynamics – 5.3 per cent

4. Oracle – 5.1 per cent

5. Adobe – 3.8 per cent
Salesforce is clearly the market leader by far.
Despite its wide range of features, it is very user-friendly for both medium-sized and large companies. Salesforce is able to map an overview of all sales activities. Sales opportunities and projections can also be very easily recognised. What makes Salesforce special is its high scalability, its ability to adapt to any need, its high level of user security and the fact that it is based online. Its open interfaces enable connections to a multitude of systems, such as ERP systems or external service providers.
The price-performance ratio is also a decisive factor. Compared to its competitors, Salesforce is cheaper.
Salesforce is also launching a new CRM platform in 2022. 'Genie' is to be announced as the world's first real-time CRM, which means that companies should be able to process data more efficiently and effectively.
In concrete terms, this should make it possible to automate every part of Customer 360 and process in real time. The platform also uses Salesforce's AI recommendation engine 'Einstein', thereby enabling more responsive actions and interactions.
Thus, CEO Marc Benioff notes, 'We are about to pass SAP.' 'I have a high regard for SAP,' said Benioff. 'They had a great quarter – we had a better one. That means that Salesforce is the world's largest enterprise applications company.'
Who are the hidden champions?
It is not only the well-known and renowned billion-dollar companies that are competing with one another, the small companies and start-ups are, too.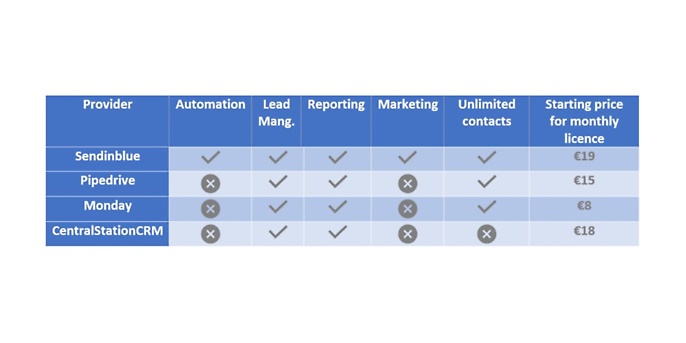 The companies listed above focus mainly on small and medium-sized companies and offer a simple user interface, basic CRM functions and, in many cases, cheaper alternatives. This entices CRM users to use these platforms and is therefore part of the competition between CRM providers.
Conclusion
In conclusion, it is safe to say that the future of CRM providers is heading in various directions: increased use of automation and artificial intelligence as well as the increasing integration of real-time data. This intensifies competition and, of course, increases providers' rise through the ranks.
You will find more exciting topics from the adesso world in our latest blog posts.