Digital Experience
11. January 2022 By Heike Heger
CX study 2021: how does online business work for policyholders?
The latest adesso CX study puts insurance in the spotlight
There's no avoiding it – online retail is becoming the norm. Can this also be said for the insurance sector? The answer is definitely. Nine out of ten of those surveyed in the CX insurance study say their personal insurance customer journey started without consulting brokers. This means that the Internet was their first port of call as they embarked on their search for information on new insurance policies. Three out of four of people interested in insurance then remained loyal to the channel where they started their user journey. And more than one quarter of those surveyed first find out about insurance policies online before going to insurance agencies or their trusted broker for further discussions and to conclude a contract. But taking a closer look at the study also reveals some other exciting findings.
Customer experience and insurance
In terms of customer experience, 45 per cent of the 373 companies surveyed named 'consistent orientation to customer needs' as one of the key success drivers when it comes to customer experience in particular. 'Smooth customer processes across all channels' (37 per cent) as well as 'assessing customer feedback on the customer experience' (28 per cent) were also seen as key success drivers.
LIGHTBULB MOMENT: Comparison portals and price comparison sites are very popular with policyholders, but one in two also obtains information from the insurance provider's website.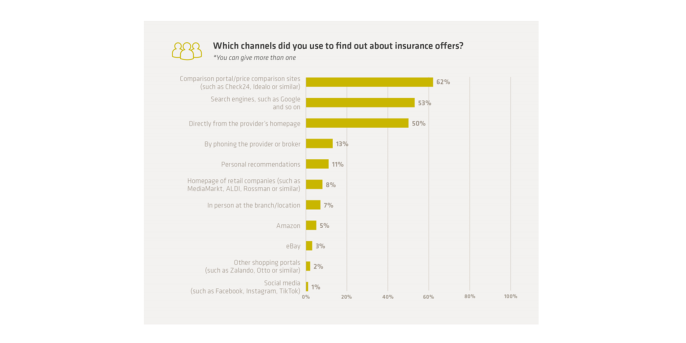 The graph clearly shows that information on the topic of insurance was mainly obtained from comparison portals/price comparison sites (62 per cent), which is also not surprising. This approach is particularly popular among the 40 to 49 (68 per cent) and 60+ (69 per cent) age groups. Younger policyholders take other routes and are more likely to find information using search engines (68 per cent), which are in second place across all age groups with 53 per cent. The insurance provider's website takes third place. A total of half of those surveyed say that they obtain information directly from the provider's homepage.
LIGHTBULB MOMENT: People are using their smartphones more and more as the device on which they take out insurance. Women like to use their mobile phone alongside their PC or laptop in particular.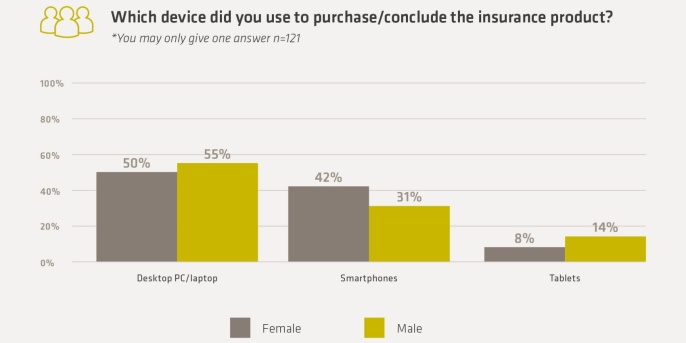 The study also shows that not only is the use of online services on the rise, but the use of online services on mobile in particular. This is especially popular with female policyholders. For example, 42 per cent of women surveyed (11 per cent more than men (31 per cent)) said that they had taken out insurance products using their smartphone.
Personalised marketing
In what may or may not be a surprise, the CX study shows an overall increase in awareness about the use of personal data across all age groups. However, respondents are more open to personalised advertising if it is related to their interests and the product and is limited to e-mails and websites. This type of advertising is more likely to be accepted and viewed positively if it is generated on the basis of data related to interests, hobbies (35 per cent) or previous purchases (33 per cent). If, on the other hand, personalised advertising refers to personal data, the survey shows that respondents are twice as likely to reject it or view it negatively. The use of data such as age (15 per cent), marital status (11 per cent) or search histories on Google (21 per cent) in personalisation is highly unpopular. This applies uniformly across all customer groups. What does this mean for the insurance industry? And how can personalisation be used to generate a positive response?
LIGHTBULB MOMENT: Do a little, achieve a lot: pre-filled forms are obviously a useful service for customers. This measure is also easy to implement for companies.
Insurance providers will certainly be glad to hear that 62 per cent of those surveyed rated having forms that speed up the conclusion process largely pre-filled as generally or highly positive.
Offline meets online
Almost three quarters of those surveyed prefer to find their information online (72 per cent). Forty-five per cent also prefer to stay on this channel to take out insurance. Twenty-seven per cent prefer to conclude their contract at the local branch of their insurance provider. And 26 per cent visit their local representative to find out more and then also want to take out the policy there. For insurance providers, this means that there is already a fairly balanced mix of offline and online routes. But how does the continuity of offline and online work?
When looking at the study results relevant to the insurance industry, one thing in particular stands out: according to those surveyed, hardly anyone still goes to a brick-and-mortar store to then buy online. Conversely, this means that people who go to the local branch of their insurance provider to get information also take out policies while they are there.
Social commerce
In the fourth area, social commerce, we wanted to find out how far consumers have come overall and where companies stand in this field. The following graphic provides a good overview: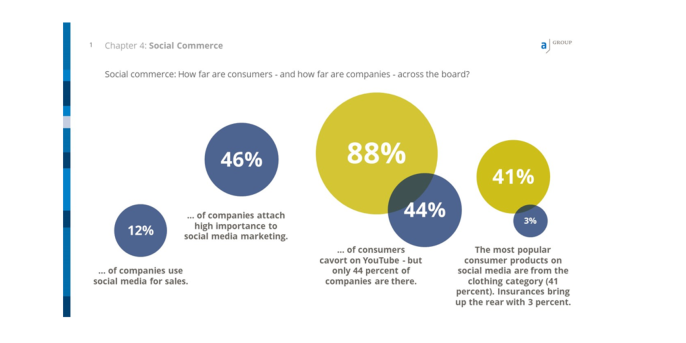 Unfortunately, insurance products (still) find themselves bottom of the rankings of the most popular products on social media. This is where it becomes clear to see that insurance providers tend to think about the data of their existing customers and not that of potential new customers. The potential of personalised advertising and the integration of social media channels are therefore still very high in this industry. And when it comes to upcoming buyer groups, young target groups in particular are incredibly easy to reach via social channels.
Conclusion:
The CX study clearly showed one thing above all: policyholders in particular also want information on rates and prices quickly and conveniently. There is a good reason that comparison portals and price comparison sites are highly popular among policyholders. But insurance providers' websites also receive large amounts of traffic – so it is all the more important that the content on these sites instantly wins people over and, ideally, encourages them to take out a policy.
Personalisation can be used to do this. However, if insurance companies want to reach their customers through personalised advertising, then it is important to look at it in a differentiated way. Personal data such as age and marital status are still no-go territory for customers. Insurance providers should therefore not only keep an eye on their existing customers, but also work out solutions on how to address new, potential customers individually and in line with their needs. This needs to happen both online and offline because insurance providers should be aware that the user journey often starts online but then continues offline. And last but not least, social commerce. Social media will become increasingly important in the customer journey. Up to now, insurance companies have done little to give their portfolios a presence on social networks.
But with the right campaign and the right approach, this is an excellent opportunity to be the first or one of the first insurance providers to get all eyes on them, and then ultimately generate more sales.
Find out more about the adesso insurance division.
Would you like to learn more about exciting topics from the world of adesso? Then check out our latest blog posts.
Would you like to read the CX Study?