Digital Experience
27. April 2023 By Thomas Binder
Three adessi are getting ready to tackle the Challenge Roth triathlon – or what that has to do with SAP Commerce Cloud and the like
Normally we sit in an office or in a meeting room. We then design solutions and ways for our customers to digitalise their business processes, win new customers or optimise internal processes.
Normally.
I say 'normally' because there are also times when we swap our laptops, presentations and flipcharts for swimming goggles, cycling helmets and running shoes. We are three adessi from the Line of Business Digital Experience (DX) who are absolutely passionate about sports. As a team, we have set ourselves the goal of completing the biggest long-distance triathlon, the Challenge Roth. Alexandra Stenzel, who makes sure that our e-commerce projects run smoothly at adesso DX, is already an experienced swimmer and will do the first section – the swimming. After that, I – Thomas Binder – will tackle the cycling section. Since I can't switch off the creative thought process in my head, I will probably continue to design innovative scenarios for our customers while I ride. The triathlon will be rounded off by Patrick Meurer, who, as Head of Competence Centre SAP CX, will give everything he has got to complete the final run.
What is important in a long-distance triathlon?
In this demanding endurance sport, athletes must first complete a 3.8-kilometre swimming section before starting a 180-kilometre bike race and finally completing a marathon run of 42.2 kilometres. One of the most famous and biggest long-distance triathlons is the Challenge Roth. This annual event takes place in the Bavarian town of Roth near Nuremberg, Germany, and attracts over 250,000 enthusiastic spectators. They frenetically cheer on both the professionals and the thousands of amateur athletes and support them in any and every way they can as they take on this epic challenge. Completing Challenge Roth is the ultimate goal for many and their preparation for the event is meticulous.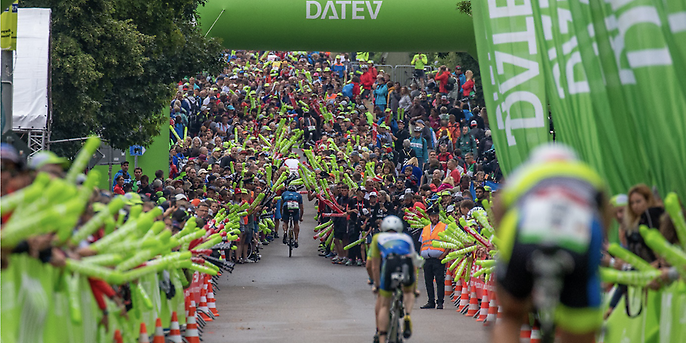 But despite all the stresses and strains that await the athletes, the event is ultimately about overcoming your own limits and mastering the challenge. A task such as this requires a high degree of preparation and stamina to achieve the necessary success. And of course, cooperation and teamwork are the key to success in a relay team especially. It allows everyone to play to their strengths and the team can then also shine.
What does this have to do with SAP CX (customer experience)?
Just like a relay triathlon, different disciplines and athletes come together to create an experience as one: SAP Commerce Cloud, Sales & Service Cloud and Emarsys work together in the SAP CX portfolio to create a seamless customer experience. Everyone plays their part in the race for the best possible result. Just like swimming, cycling and running in a triathlon, all the parts of the customer experience need to mesh perfectly to achieve the result we want. When things go well, the result is a satisfied customer – just like the beaming smiles at the end of a triathlon show how happy the participants are to have completed it. Having a harmonious interaction between the individual disciplines is therefore an absolute necessity if you are to achieve the goal. Just as each team member contributes to the overall success of a successful relay triathlon, the individual portfolio components help to ensure that the customer is satisfied and happy in the end.
What is the result now?
We have seen that a relay triathlon and the SAP CX Suite need a team of professionals working together to achieve a common result. Like a relay triathlon, where each participant performs their own specific discipline, each CX product has its strengths and is specifically designed to optimise a certain part of the customer experience. That means both require a well-coordinated team of professionals working seamlessly together in order to achieve the best possible result.
And in the end, I guess it is about everyone being happy. In a relay triathlon, we sports enthusiasts want to successfully complete the competition and enjoy it, even as we struggle along. In the world of CX Suite, it is all about our customers having a great experience and being happy with the service they receive. When everything runs smoothly and all the parts of the team mesh perfectly, there are happy faces at the end: among the athletes as well as the customers, who share the positive experience with others and thus spread the success further.
OK, this is where this blog becomes a company blog: what does SAP Customer Experience actually do?
SAP CX Suite is a powerful cloud-based solution that helps organisations create a superior customer experience. The suite's components enable companies to create and manage personalised marketing campaigns, seamlessly integrate an e-commerce platform, effectively plan and track customer relationships and provide seamless customer service across all channels.
As a marketing cloud, Emarsys enables companies to create and manage personalised marketing campaigns based on customer behaviour to increase customer satisfaction and loyalty. SAP Commerce Cloud enables companies to seamlessly connect an e-commerce platform with their marketing and sales operations to create personalised offers and promotions tailored to customers' interests and needs. SAP Sales Cloud integrates a powerful CRM solution that helps salespeople effectively plan, track and manage customer relationships, while SAP Service Cloud provides a comprehensive customer service solution that enables seamless customer support across all channels.
In summary, SAP CX Suite provides an integrated, coordinated solution to help companies better understand the needs and interests of their customers and thus adapt their strategies to drive customer satisfaction and, in turn, revenue growth
Alexandra, Patrick and I will also provide updates on our final preparations for Challenge Roth on our social media channels. Stay tuned if you want to know more!
Learn more about SAP Customer Experience.
Would you like to learn more about exciting topics from the world of adesso? Then check out our latest blog posts.