Industries
3. March 2023 By Timo Hartmann, Zoe Holdt and Simon Bächle
The energy sector – what will change in 2023?
In the energy sector, regulatory changes are the rule – not the exception. The reasons for them are varied and range from the introduction of new technologies and security regulations in IT to the mitigation of climate change. A multitude of new resolutions, ordinances and laws pose a constant challenge to stakeholders in that they must implement these regulations in a timely manner. Implementing these sometimes vaguely formulated texts requires a lot of personnel and generates high costs. This blog post will examine some of the things that are changing for 2023.
What is the MaKo (Marktkommunikation – market communications) anyway?
Market liberalisation in the energy sector began at the turn of the millennium and enabled consumers to freely choose their energy supplier for the first time. This generally led to an increasing number of instances in which consumers changed their supplier. In order to make these changes possible, the market participants have to communicate with one another. Various data formats, among other things, are used to put this into practice. The high volume of messages and data exchanged on a daily basis makes a high degree of automation indispensable. This results in the introduction of standards that are as efficient and uniform as possible. Over time, opportunities for improvement reveal themselves, making it necessary to adapt these processes.
The MaKo (Marktkommunikation – market communications) was created to ensure that all these processes and standards are structured and equally visible to everyone. This currently (MaKo 2022) consists of a large number of different process documents and is divided into the electricity and gas sectors. The German Federal Network Agency (Bundesnetzagentur, BNetzA) plays a leading role here. This agency is further divided into several Ruling Chambers (Beschlusskammern, BK), which in turn serve various different business areas. The Ruling Chambers for market communications are BK6, which deals with regulating access to electricity supply networks, and BK7, which deals with regulating access to gas supply networks. Once potential regulations have been determined, a consultation procedure is held with the German Association of Energy and Water Industries (Bundesverband der Energie- und Wasserwirtschaft, BDEW). The publication of the new technical processes can be found on the edi@energy page, while technical amendments are published directly by the respective Ruling Chambers 6 or 7. In general, a new version of the MaKo comes into force every six months on 1 April and 1 October of a given year.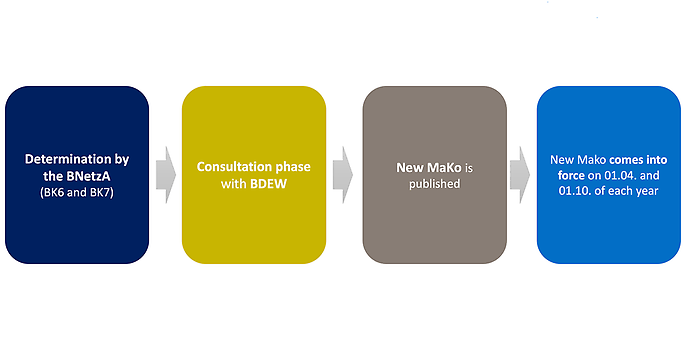 MaKo 2023 – introducing the new technical standard AS4
Just as there were in 2022, there are also amendments in the MaKo this year. We will focus mainly on the technical side of these amendments. The introduction of a new data format will see changes need to be made in basic communication processes. This amendment will enter into force with the MaKo on 1 October 2023 and must be implemented by the time the following version of the MaKo enters into force on 1 April 2024.
AS4 will see communication be automated, which in the energy industry is still partly done via e-mail attachment. This is why web services are to be introduced within the framework of AS4, via which market communications with IT systems are automated. For more information on the switch to AS4, see the related document from the BDEW.
EEG 2023 – the background
In 2015, for the first time ever, the countries gathered at the UN Climate Change Conference in Paris committed themselves to limiting global warming to well below two degrees Celsius compared to pre-industrial levels. This commitment was officially formalised in what is known as the 'Paris Agreement'.
This is why the EU adjusted its long-term strategy for reducing emissions and presented its updated climate change plans in 2020. In them, it commits to reducing EU-wide emissions by at least 55 per cent by 2030 compared to the levels in 1990. The goal of this is to limit global warming to a maximum of 1.5 degrees Celsius.
Realising the EU targets is done at the national level with the help of a wide variety of laws – in Germany in particular, the Renewable Energy Sources Act (Erneuerbare-Energien-Gesetz, EEG). In the EEG 2023, Germany is now reacting to the EU regulation more specifically. Instead of expanding the overall use of renewable energies to 65 per cent by 2030 and achieving greenhouse gas-neutral electricity generation by 2050, now, 80 per cent of the gross electricity consumption in 2030 is to be covered by renewable energies and nearly 100 per cent is to be covered in 2035. Consequently, this means a tripling of the current expansion rates for RE installations. This means that the share of renewable energies in gross electricity consumption is expected to almost double within less than a decade.
EEG 2023 – focus on expanding PV systems
One important change, the aim of which is to reduce high electricity prices for consumers, concerned the EEG levy, which was already reduced to zero as of 1 July 2022. This has fundamentally changed how the EEG levy is financed: while the EEG levy was previously financed via the price of electricity, this is now done using Germany's federal budget. A special fund called the 'Climate and Transformation Fund' (Klima- und Transformationsfond) was established for this very purpose, the revenue for which comes from national emissions trading and CO2 pricing.
The focus of the EEG 2023 is on promoting PV systems. In doing so, lawmakers grant the system operators significantly higher feed-in tariffs for feeding electricity into the grid; which means that profitability has improved for many projects. In addition, regulatory thresholds are to be removed in order to reduce the amount of organisational effort for system operators. One consequence is that planned PV systems only have to participate in tenders as of one megawatt (MW) of installed capacity. And PV systems that are intended to be part of energy communities' portfolios only have to participate in tenders as of six megawatts of installed capacity. There are also major changes in tenders in the area of open spaces. In the course of these changes, the focus is shifting to systems situated on or alongside bodies of water, APV systems and systems in car park areas. That being said, a total of 8,100 MW is expected to be tendered by 2024. This shows that PV systems are expected to play an increasingly central role in electricity generation in the years to come.
Another adjustment made by the EEG amendment concerns the reduction of the EEG subsidy in the event of negative market prices for electricity. Until now, system operators only ran the risk of losing the subsidy if the electricity price was negative for at least four hours. In the future, new systems should be more flexible when it comes to generating electricity, especially in phases with negative electricity prices. The number of hours in which negative prices lead to the cancellation of remuneration will be gradually reduced. As of 2027, no more funding will be paid out if the market price becomes negative.
adesso expertise
At adesso, we constantly deal with changes in the market – especially our 'Regulation Radar' working group. For example, we look at the latest changes in legislation, analyse them and categorise them according to their relevance. We use the results to deduce what implications these changes may have for our customers. If you have any questions about current regulations, we would be happy to hear from you.
You will find more exciting topics from the adesso world in our latest blog posts.