Industries
8. February 2023 By Maja Anita Sach
The different types of intermediaries in the CRM context
The face-to-face insurance sales sector continue to be in a heavily embattled state of radical change. One reason for the restructuring in this sector is digitalisation, which is leading to a high level of momentum in terms of the economic, technological and social change companies and customers are experiencing, and which is receiving a considerable boost thanks to Covid-19. An increasing amount of competitive pressure is forming due to the compatibility and homogeneity of product services as well as multi-channel comparison options. These challenges are forcing insurers and their intermediaries to revise and expand the focus of their sales and marketing channels. As 'hybrid intermediaries', sales representatives must now be proficient in doing traditional, face-to-face sales as well as digital sales remotely – in some instances, even via fully automated processes.
Insurers have already caught on to the fact that investments in customer retention lead to more turnover in the long term and are therefore an average of six to seven times cheaper than acquiring new customers. Technological aids for sales support already exist. But to what degree are intermediaries aware of this, and are there differences between the types of intermediaries? These questions will be examined in the following.
Types of intermediaries in the insurance industry
The types of intermediaries, the key players in insurance sales, are explained below.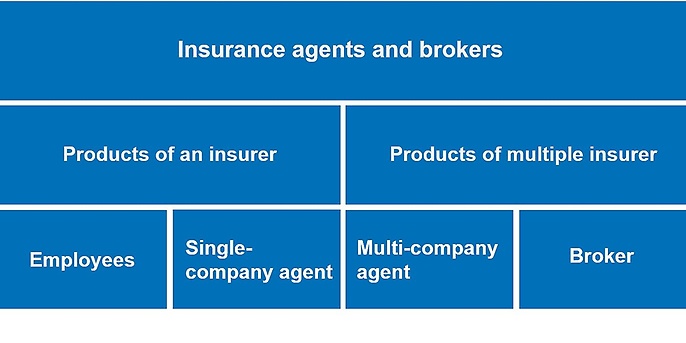 The following are differences between the types of intermediaries:
The captive agent, as well as the employee, who sells an insurer's products mediates between the customers and the insurer. They are dependent on the insurer whose product range they offer and represent this to the customer in the manner of a business-to-consumer (B2C) relationship. Should erroneous advice be given, the intermediaries of an insurer's products are not personally liable, but rather the insurance company is.

The independent agent, in comparison with the other types of intermediaries, is more so on the customer's side, provided that they have different providers for each line of business in their repertoire. However, in this context, there are also what are known as 'pseudo-independent agents'. These intermediaries offer only one provider per line of business and thus appear independent at first. They have a B2C relationship to the insurer. The agents have limited liability for providing erroneous advise.

The broker is on the customer's side. They offer them advice that is independent of the market, with the widest product range possible on average – and therefore probably the better offer – and have a B2C relationship to the insurer. In the event of a culpable breach of duty, they are liable to their customers for the financial loss incurred. Due to legal provisions, they have corresponding insurance coverage within the scope of financial loss liability insurance.
This, on average great, advantage for customers with a broker leads to an enormous amount of work for the broker. They always have to be up to date on the latest products and be able to compare them with others on the market. A broker does not have a fixed contract with the insurer and is therefore sometimes treated as a secondary sales channel, which stands in complete in contrast to the insurer's own sales channel, as the latter is easier to manage.
For the most part, the broker takes care of management, technology and interfaces on their own or they join a broker pool. An insurer's independent agents and employees receive more targeted support from the insurer so they can focus primarily on their customers and prompt service. New reforms, the obligation to provide consultation and the obligation to provide further training are all things intermediaries need to adapt to. The sales representative who only offer one insurer's products are also specifically supported with training and tools to adapt to these reforms and obligations.
CRM and intermediary types
CRM software provides the relevant technological support for using tools in the context of customer management. It helps accomplish customer management tasks faster and better. This means that information about customers can be distributed more efficiently within a company's organisational structure. Thus, in the context of handling customer relationships, it can also be used in a targeted and more effective manner – that is, more efficiently. In a nutshell, this software provides various analyses, reports and dashboards, contact, campaign and lead management and much more. The systems help improve customer relationships in order to increase customer lifetime value (CLV). To improve the measurability of customer relationships, the focus is shifting to customer value with increasing intensity.
How relevant are customer retention management and the corresponding technical tools, and what are the differences in terms of the types of intermediaries?
Insurers have recognised that customer retention management is significantly cheaper than acquiring new customers. When it comes to customer retention management, associated agents are guided and supported by the insurer. They are provided with comprehensive sales campaigns when new products are launched or even when old products are improved, as well as for every one of the insurer's marketing campaigns. By implementing other tools, the sales representatives can aggregate their customer data and obtain additional information – for example, by examining customer value. These aids give the sales representative more time to concentrate on what counts: the customers.
Broker pools are way for brokers to collaborate and therefore offer them many advantages. They have recognised the plight of brokers as lone wolves and offer them easy-to-use brokerage management programs (BMPs). A wide range of CRM modules are integrated into these BMPs to ensure brokers can use them without difficulty and thereby make their everyday work easier. Thus, they get more time to spend on the point of sale. The majority of independent intermediaries are now connected to at least one pool. A lot of brokers have reduced their personal administrative effort and utilise the support of the pools. Traditional brokers are becoming increasingly more dependent on pools, while at the same time, the competition from platforms is increasing and the often very small brokerage firms are being left out to dry.
Conclusion
To sum it all up, the decisive difference between the types of intermediaries when it comes to utilising CRM measures is the time factor as well as access to the appropriate technical means. Brokers who are not affiliated with a pool have a significantly higher daily workload and consequently less time to spend on customer retention measures. On top of that, they take care of selecting and financing their systems and tools on their own.