Digital Experience
4. August 2023 By Jana Kersken
Successful social media competitions – how Em-eukal increased its brand awareness
Every social media user loves a good competition, right? And that is why competitions have established themselves as a method for companies to raise awareness of their brands – which is exactly what Em-eukal and our adesso online marketing team had in mind when we set up a sensational campaign to mark the sweets manufacturer's centenary at Splash Festival last month. But watch out: competitions can also have their pitfalls. To make sure you do not fall into these traps, I will use this blog post to take a closer look at the initial ideas, as well as the conception and the evaluation of relevant KPIs based on the competition run for Em-eukal.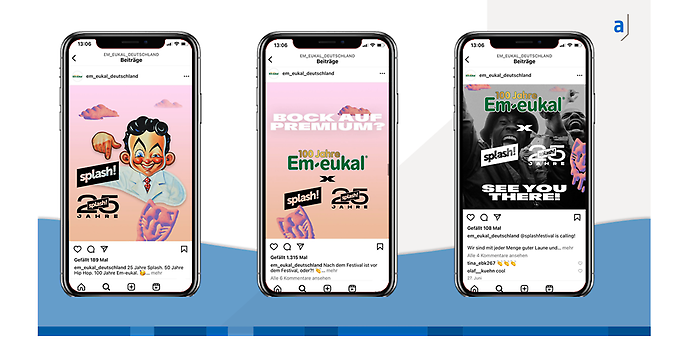 Plan the campaign goals for you competition carefully
Careful pre-planning is the foundation of any successful campaign and should not be underestimated. The metrics you choose to use to evaluate the success of your campaign are especially important. Many companies still focus mainly on follower growth when they evaluate competitions on social media, even though this has become more of a secondary aspect these days. The key to success is in fact engagement, as posts on your platforms that encourage a lot of interaction will result in your content achieving a wider reach and engaging more potentially relevant people. Having a high number of followers does not guarantee intensive engagement with your content.
Advantages
Increase brand visibility

Increase user interactions

Target group segmentation through ads

Customer loyalty through community appreciation
Disadvantages
Time-consuming

Short-term engagement

Short-term increase in followers

Misinterpretation of rules or prices
For Em-eukal, the campaign aims to address a new and younger target group and thus increase brand awareness. Of course, just running a competition is not enough to achieve this, but it can serve as an effective means to reach a wider target group. Choosing the right prize here is vital. The intended target group is people aged between 18 and 35, so a summer full of music festivals is the perfect point of contact with them. It is only logical that festival-goers who spend the day roaring along to the lyrics of their favourite bands will also benefit from eating the handy sized sweets in between sets. Based on that conclusion, we decided that the prize would be five pairs of tickets to Splash Festival.
The choice of social media platform
Deciding on the right social media platform for your competition should be based on your target audience and the demographics of the platform. Make sure to compare the functions that the different networks have to offer and check that they are suitable for competitions. Facebook, Instagram, Pinterest and TikTok are the most popular options for holding competitions. We recommended that Em-eukal use Instagram based on their defined target group.
The legal aspects of an Instagram competition in Germany
Before you launch a competition, you should be aware that certain legal regulations apply in Germany. Each platform has its own guidelines in this respect that must be taken into account. In line with our campaign, I will talk about the specific regulations for Instagram. First of all, you need to make it clear for each competition that it is in no way connected with Instagram. The terms and conditions must be clear and easy to understand, the prize must not depend on a purchase being made and data protection must be guaranteed. Speaking of data protection, how you publish the name of the winner is also important – if you are planning to announce it on the platform itself, then the winner needs to expressly agree to this in advance. The type of competition you are running also plays a role. Asking participants to link directly to people, with the wrong wording, can be classified as SPAM content. I also recommend seeking legal advice before launching a competition, as other details may vary.
Structure and design
The first thing to do is to determine the type of competition. For Em-eukal, we chose a combination of three different forms of participation: leaving a like, leaving a comment and following the profile. The amount of effort the participants need to put in should be proportional to the prize on offer so as to increase their motivation to take part. Our prize was five pairs of weekend tickets to Splash Festival, a prize that makes more than one person happy. Keep in mind that it is essential that you do not lose sight of your original goal. For us and Em-eukal, it was a matter of generating reach and interaction.
Visualisation
The main point here is that clarity is crucial. It should be obvious immediately that your post is a competition. The easiest way to do this is to add text into the image itself, for example by using the word 'competition'. I know from my experience with previous competitions that if you are using video as a visual element, then it is best to get the word 'competition' on screen within the first few seconds. This makes sure you are encouraging user interaction in the most effective way possible. You then need to follow this up by using high-quality visuals and implementing consistent branding.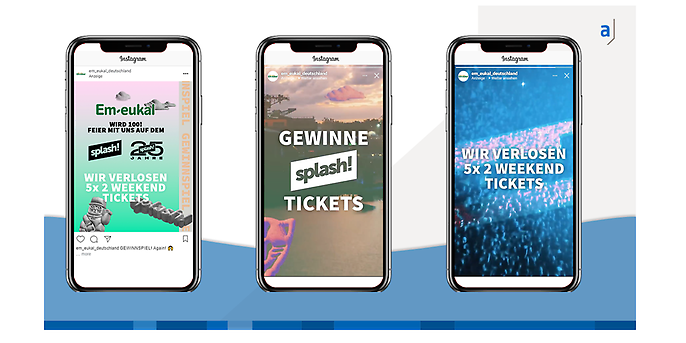 Ad setup
You can achieve the goals you have set for yourself more effectively if you can draw even more attention to the competition through advertising – which is exactly what Em-eukal did. The challenge was to reach the right target group. You need to transfer the personas you have defined to Instagram in a way that is compatible with the platform's features and options. This is the only way you can guarantee that the interactions you generate with your competition are also from the people you want your channel to reach. Meta has number of different options in this regard. In the case of Em-eukal, we needed to find the people who were interested in Splash Festival. We decided to use the music genres of the festival as a starting point for targeting and to refine this further.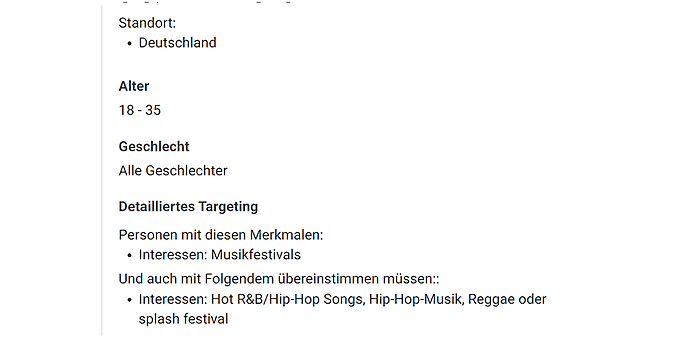 Other factors include the campaign target selected on Meta, the placement of your ads and the structure of your ads to be played. With Em-eukal, we decided to test between moving and static images, as video ads often perform worse in relation to the set goal of interaction.
Performance analysis based on the data
As the graph below shows, our competition was a great success with a reach of 252,000 people and 2,363 comments. We were also able to generate valuable insights for future competitions. Our test showed that the organic post in combination with our ad achieved a significantly higher interaction rate. Using a video as a promoted post with the aim of interaction may result in the interaction generated being related to a simple click, such as clicking on the profile.
Having one of the terms and conditions that participants need to meet in order to take part in the competition being to follow the channel creates a unique situation. People see the ad, react as desired and the first thing they do is to like the profile. To do this, however, they leave the ad and find themselves directly in the profile itself, where they then seamlessly fulfil the other two conditions by liking and commenting on the organic post they find there. As a result, the ad for our campaign generated 38,273 page interactions but only 212 direct post responses.
With this in mind, the performance of the organic post should also be observed throughout the campaign in order to be able to draw conclusions about the success of the (ad) campaign. Forcing the participants to become followers if they want to take part therefore confuses the figures somewhat, but it does have its benefits. The number of followers increased by 25 per cent compared to the previous month and remained stable after the competition ended, which can be attributed to optimally targeting subsequent content to the newly acquired target group.
Evaluation of the figures for the Em-eukal competition campaign
Reach: 252,000 (paid 81,488)

Comments: 2,363

Likes: 2,558

Page interactions: 38,273
How to plan your next competition
An Instagram competition can be an effective tool to strengthen your brand and expand your reach. The primary goal should not be to increase your followers, but to increase user engagement with your account. All this can be achieved by targeting your audience with the right prize at the right time. Always be aware of the legal aspects, use paid ads to achieve your goals and evaluate your KPIs carefully.
And if all this seems too overwhelming, adesso is always there to support you! Our experts are specialised in giving your competition the momentum it needs through the use of paid ads and in developing a tailored social media strategy for your target group.
Would you like to learn more about exciting topics from the adesso world? Then take a look at our blog posts that have appeared so far.
Also interesting: