Methodology
18. October 2022 By Sarah Maulbetsch
Professional customer acquisition – part 2: lead nurturing – creating loyal customers through marketing automation
Marketing automation and customer loyalty – the right strategy to succeed
There are a wide range of measures and strategies to achieve customer loyalty. You can carry out customer retention and loyalty processes and campaigns much faster, more easily and at a much lower cost with marketing automation than without it. That we know. It is often not possible to manage or control loyalty campaigns manually, since marketing may not even be aware when the right time to launch a campaign is and what the triggers are – or may not find out until it's too late.
Marketing automation performs lead grading, a step that involves classifying the new contact based on certain information according to a relevance scale. If done properly, a contact can be rated as highly relevant or as unsuitable early on in the process. Likewise, a score can be calculated for each contact using a points-based system, which indicates exactly how strong the contact's engagement with your company/brand is.
One major advantage when it comes to customer loyalty activities is that the most difficult step has already been taken: the lead is known in the form of a record. Generally speaking, that means that basic personalisation measures and initial nurturing campaigns are already possible via marketing automation. In this specific context, nurturing means developing a new lead into a sales qualified lead, for example, by sending new and interesting information to the lead, giving them more and more information about products and services and allowing them to progress in the sales funnel.
Consent to receive advertising – double opt-in for legally compliant communication
Staying in constant communication with the identified lead or contact is one of the most important loyalty measures. This makes sense, too. How else could you create a bond with them? Communication can take forms other than standard mailings. It could also be personalised content on the website, push notifications, postal advertising and/or a lettershop. Needless to say, we are talking about personalised – not mass – communication, containing only the information that really interests the new contact. What are the requirements that must be met here?
Any company seeking to communicate with a lead requires consent to carry out many different activities. Consent to receive advertising via double opt-in (DOI) is used to provide a legal basis (especially for e-mail communications). The lead gives their consent to receive promotional mailings, qualifying the lead for a wide variety of campaigns and measures.
Engagement and scoring a new lead
There are two key things needed before engagement and scoring can take place:
1. The lead is known because, for example, they have submitted their contact details in order to download a whitepaper or sign up to receive a newsletter.

2. The lead has also given their consent, also via double-opt in, thus establishing the legal basis for communication.
Grading is very useful for loyalty management. The marketing automation system can immediately assess the relevance of the lead and which campaigns are triggered if the following key data about the lead is known:
In B2B (business-to-business): company, company size and/or location, number of employees, and so on.

In B2C (business-to-customer): age, place of residence, gender and so on. The marketing automation system can immediately assess the relevance of the lead and which campaigns will be triggered. This type of background information lets you carry out more personalised campaigns than would otherwise be the case.
However, if a lead is not relevant (which is more likely to be the case in B2B), for example because the company is too small or the contact has been identified as an employee who works for a rival company, the lead can be excluded from the campaigns.
Lead scoring
Now it is time to get started with the first campaigns for the new lead. The goal is to keep the attention of potential customers and provide exactly the information they need at the current time. Or as the saying goes: 'Provide the right information at the right time in the right channel.' To make sure this is the case, it is important to find out what stage of the customer journey the new lead is at or how far along they are in the sales funnel. A good way to do this is through lead scoring With each action the new contact carries out on the website or in e-mails, they accumulate points, slowly working their way up to MQL (marketing qualified lead) and SQL (sales qualified lead). Depending on what stage in the customer journey they are at, campaigns can be created to provide the contact with relevant information.
If additional information is known, such as their areas of interest, more targeted content can be shown to them. If this information is not available, it is critical to obtain it by tracking the links from e-mails that are opened or through the lead's click behaviour on the website. Even purchases made at the point-of-sale (POS), that is, in-store, can be tracked and flow into the contact's areas of interest.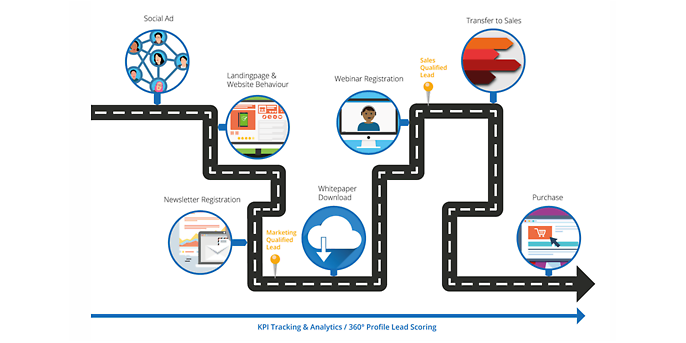 Scoring/grading matrix
If lead management is professionally set up in the marketing automation system, each lead is in a matrix of lead scoring and lead grading. The sector in which the lead is in the matrix determines which campaigns are rolled out and when the lead is handed over to sales, if so desired. Other information, such as the assigned areas of interest, flows into the campaigns. Using personalisation measures on the website and personalised content in e-mails, relevant information can be passed on in a targeted way, which can have a significant impact on conversion rates.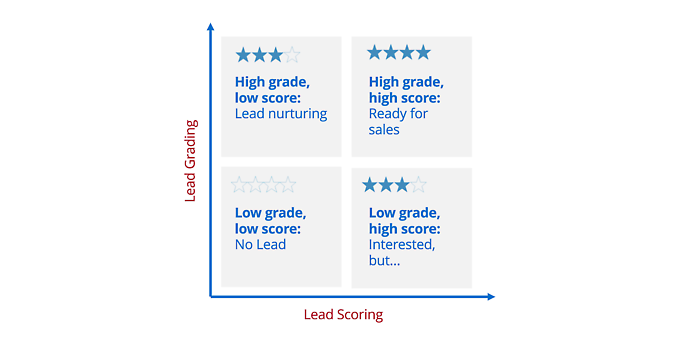 Lead nurturing routes in marketing automation – four use cases
To ensure that a lead is ultimately converted, ideally making multiple purchases over time, lead-nurturing channels are set up that accompany the lead on his or her journey to conversion and use a wide variety of triggers to make sure that the lead feels a close connection to the company. Here are a few of the most popular use cases:
Birthday
This is an absolute classic. It is a highly effective and useful type of campaign. If the lead's date of birth is known, birthday mailings can be sent or personalised messages can even be placed on the website. It is possible to congratulate the lead on their birthday. However, a more effective approach is to also offer inducements such as gift certificates or discounts.
Abandoned cart
One of the most important use cases that is essential for marketing automation is the abandoned cart. If a known contact in the e-commerce store abandons their shopping cart without completing the purchase, automated campaigns can be triggered, which, for example, send an e-mail the next day to notify them that there are still items in their shopping cart and the purchase has not been completed. An inducement or emotional message can also be used to encourage the contact to complete the conversion.
Re-engagement
Re-engagement campaigns are an important type of campaign to encourage leads who have not interacted with the company in a while (on any channel) to become more active again. This generally also works with inducements such as discounts or gift certificates or with elements of gamification.
Loyalty card and/or collecting points
Whether you are looking to link offline and online purchases or you are seeking to use a points system on your website, loyalty programmes are always a good way to retain customers, not to mention the fact that they help facilitate holistic tracking across all channels.
Personalisation as a tool to increase customer loyalty and brand identification
As part of the customer retention process, marketers are tempted to focus on e-mail marketing. Without a doubt, these campaigns are essential if you want to be in regular contact with the customer. However, website personalisation is also very important. There is a lot of potential here to generate brand loyalty and brand identification. Possible use cases include: aligning the images on the website to the lead's gender and age, adjusting the tone of call to actions and sending relevant posts that match the lead's interests.
Another advantage of personalisation measures like the ones described above is that the lead is encouraged to engage more with content. Since the lead is shown recommendations of topics that would be of interest to them, this improves the overall customer experience and also increases their scoring in the marketing automation system. The lead moves into other sectors in the lead/grading matrix and is shown other campaigns in line with the new stage that the lead is in.
Loyalty: the customer lifecycle value
The customer lifecycle value (CLV) is a relevant metric that can be used to assess leads and, above all else, returning customers. The CLV indicates the average value that a contact has over the course of their customer lifecycle. The goal is typically to increase this value so that existing customers keep finding their way back to the company and converting again. A high customer lifecycle value also indicates that the investments made to retain the customer are useful and essential.
Conversely, in the case of a low customer lifecycle value, you will need to examine what the reasons for this might be. Investments in customer retention should obviously not exceed the customer value. That is why recurring campaigns with automated triggers are the most efficient and effective way to create customer loyalty. This would be unthinkable without a marketing automation system that is seamlessly integrated into the IT system landscape. A professional customer loyalty strategy should therefore include not only a well-designed technical concept, but also the right IT infrastructure.
We are happy to advise you on any topics relating to marketing automation and assist you in evaluating use cases in and around customer retention and loyalty campaigns. We are here for you, all the way from the system landscape analysis and tool selection to the implementation and development of use cases that align with your business goals. Feel free to contact us.
You will find more exciting topics from the adesso world in our latest blog posts.
Also interessting:
Professional customer acquisition part 1: efficient lead generation through marketing automation