Industries
4. February 2021 By Sacha Catelin
Giving the reinsurer a full view of the primary insurer
You need a lot of information
Reinsurers are currently facing major challenges due to today's tough market environment. The uncertain current situation and digitalisation, combined with the upheaval in the insurance market due to the low-interest rate phase, also make for a complex environment. This requires decisions to be made faster and faster, which in turn are based on increasing amounts of data.
Reinsurers require a range of information from primary insurers when underwriting new policies and during the policy renewal phase. You can see a small selection of this in the figure below.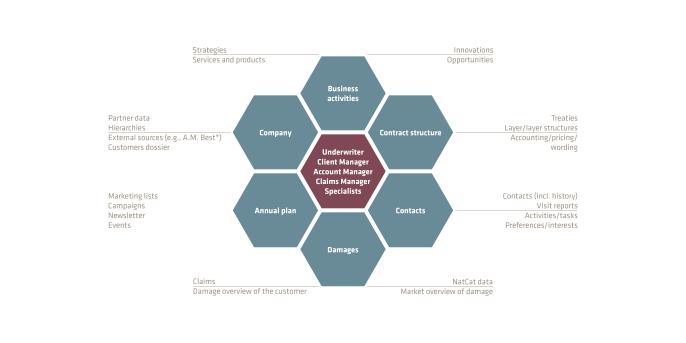 Normally, this data is distributed across a number of different systems. It is found, for instance, on the portfolio management system or on reinsurance, underwriting, pricing, claims or mail systems. This results in a high (manual) effort to obtain a uniform view of the primary insurer.
Here, reinsurers can receive support and reduce costs by rolling out a CRM system. Data from the various different peripheral systems listed above is integrated and prepared, with supplementary information added in the process. External data sources (such as A.M. Best) can also be used for this purpose.
Information maintenance in the CRM system
Contract data can be imported from an inventory management system (for example, SAP FS RI). This includes information on treaties and layers, which include terms, contract amounts, the reinsurer's share, the type of contract (proportional, non-proportional and so on) and the line of business (casualty, aviation, property and the like).
Data on business activities is recorded directly in the CRM system. These include sales opportunities for new and renewal business, for instance. Here, a sales process with various steps (including the calculation, the offer and the closing) can be mapped within CRM.
The data on contacts and contact persons at the primary insurer is also maintained in the CRM system. Appointments can be recorded and visit reports created. The contact history (e-mails, phone calls, visits and so on), including the topic discussed, can also be displayed based on this.
As I talked about in my previous blog post on 'Reinsurance industry in transition – from risk carrier to service provide', assignees will increasingly act as service providers as well in the future. This is where a CRM system can provide support in that the service catalogue maps certain service products in the system. These include systems for assessing risks and/or benefits and services such as analysing individual reinsurance needs and designing the reinsurance programme. These can be specifically offered to the assignor.
Keeping track with a full overview
The data described above can be used as a basis to create a full overview of the primary insurer for the various user groups (underwriters, client managers, account managers, claims managers, specialists and so on). This helps to maintain an overview of the individual primary insurers in new policy underwriting as well as during the renewal phase, to plan the next steps and to coordinate business activities. The CRM system also helps to optimise the flow of information between the various departments and divisions.
This type of overview may contain data such as:
Basic data on a primary insurer: information on the company structure (hierarchies) or external data (A.M. Best News, A.M. Best Rating and so on) can also be included here in addition to the basic data.

Overview of contacts (including history), visit reports, activities and/or tasks and similar.

Contract data for treaties and layers for the primary insurer – including terms and premiums.

Update on business activities with an overview of the status of new and renewal contracts.

Overview of service products used by the primary insurer and services that have been performed.
The information and data that is collected and recorded can be used to generate special reports for the various levels within the reinsurance company (management, life and non-life divisions, departments). For example, underwriters can be given special client dossiers that summarise the most important information in a compact form to help with their meetings at reinsurance conferences in Baden-Baden and Monte Carlo (whether online or on-site).
Using CRM to spot and take advantage of opportunities
Reinsurers derive a number of benefits from having a CRM system:
A full overview of the primary insurer, which includes both internal and external data;

Enhanced sales support in new policy underwriting, during the renewal phase and in sales management by having uniform and consistent data;

Cross-departmental primary insurer qualification and identification of sales opportunities;

Centralised documentation of customer interactions and comprehensive coordination when planning next steps.
This means that reinsurers can receive support and reduce costs by rolling out a CRM system. Data from the various different internal/external sources and peripheral systems is integrated and prepared, with supplementary customer-specific information added in the process.
The primary insurer also benefits from this. In addition to reinsurance cover, the reinsurer is able to offer customised services on the basis of comprehensive data consolidation and a full data history.
First steps on the way to a CRM system
If a reinsurer decides to embark on the path to a CRM system, it can take the step outlined below in the first phase to move on from identifying requirements to creating an initial proof of concept.
1. Hold an Interaction Room (can also be done remotely): Determine and prioritise requirements for the CRM processes and the systems to be integrated with a recommendation for action.

2. Prepare the CRM selection process: Compile, detail and weight the catalogue of requirements. This step builds on the consolidated results of the Interaction Room from the first step.

3. Assist in the procurement and selection process with vendors: The aim is to fill in and evaluate the catalogue of requirements defined in the second step with the manufacturers. A long list is also created and evaluated and manufacturers give their presentations in this step.

4. Create a short list and implement a proof of concept: This is used to validate the objective identified in the second and third steps of subjecting suppliers to a practical test with the chosen solution(s).
Different solution environments are available
The figure below summarises the most important points once again.
Various systems provide input to the CRM system to give the user a full overview of the primary insurer. The CRM system is the leading system for maintaining all information relating to contacts, business activities, marketing and service.
A range of solution environments are available for the implementation. These include Salesforce or Microsoft Dynamics 365, for instance. This enables the area of operative CRM to be mapped.
What happens next?
'Analytical CRM' – reporting, business intelligence, analyses – can also be implemented. This can be done on the basis of the Microsoft Analytics platform and Power BI, for example. However, I will address this topic in another blog post.
Would you like to learn more about exciting topics from the world of insurance at adesso? Then check out our latest blog posts.