Industries
11. May 2023 By Ellen Szczepaniak, Simon Bächle and Zoe Holdt
E-world energy & water 2023 – we will be there! Will you?
adesso of course cannot be missing at the leading European trade fair for the energy industry in Essen, Germany! And we have some highlights in store for you:
a business breakfast on the topic of grid connection portals,

exciting insights into our innovative VideKIS research project on virtual power plants and

valuable information about hydrogen.
It is best to go ahead and make an appointment with our experts now.
E-World energy & water is the place where the European energy industry comes together. Serving as an information platform for the energy sector, E-world gathers international decision-makers in Essen each year. Visitors can expect over 700 exhibitors from 27 nations who will present sustainable technologies and intelligent services for the future of energy. adesso will also be represented at E-World again this year and will present innovative solutions for digitalising the energy industry, for example, as part of the VideKIS research project.
This project focuses on a virtual power plant – that is, an association of decentralised units that are coordinated via a common control system. It involves electricity producers such as biogas, wind power, photovoltaic, CHP or hydropower plants as well as flexible consumers, electricity storage and power-to-X plants. The purpose of a virtual power plant is to sell the electricity and flexibility provided by the large network of aggregated installations through a single source. The orchestration of this wide range of different installations allows synergy effects to be utilised and market entry hurdles to be overcome.
In this way, system services relevant to the electricity grid can also be provided and marketed, for example, to maintain the prevailing grid frequency of 50 Hz.
What makes VideKIS special
For reliable and safe grid operation in future decarbonised energy supply systems, system services will also be provided by decentralised power plants, such as wind turbines and hydropower plants, more and more. System services such as voltage and frequency maintenance have so far been provided almost exclusively by conventional power plants. However, their operating times will see a sharp decrease due to both the nuclear phase-out as well the imminent coal phase-out. Providing system services constitutes an enormous amount of regulatory and administrative effort and is already being done today by aggregating multiple smaller plants into a single virtual power plant. Virtual power plants have been established in Germany for many years already, but they focus on power plants with a rated output of more than 100 kilowatts (kW) and in some instances use traditional fossil fuel power stations. The three most relevant core components of the research project are as follows:
Innovation – in the VideKIS power plant network, small and micro-plants with a rated output starting at 30 kW are aggregated to provide primary balancing power.

Sustainability – only renewable energy plants are considered. Most notably, rather than demolishing functioning plants, post-EEG installations are integrated to enable continued operation that is optimised for efficiency.

Forward-looking technologies – a new type of control system based on intelligent AI-based control enables a cost-effective mode of operation for virtual power plants.
For the conception and development of the virtual power plant, a consortium of six companies comes together, each of which bring different proficiencies and skills to the project, ensure its success and enable efficient implementation: the Institute of Energy Systems, Energy Efficiency and Energy Economics at TU Dortmund University (ie³), urban energy GmbH, H&S Hard- & Software Technologie GmbH & Co. KG, Mainzer Stadtwerke and our colleagues from adesso and the (now incorporated) com2m. In one of our blog posts, titled VideKIS: a year of research, you can find out more about the tasks of the individual project partners in the research project.
Updates on the research project
The current efforts in the project are concentrated on designing and programming the platform for the virtual power plant. The focus is on the following functionalities:
Management interface – plant owners and virtual power plant operators can view and change their power plants' data and add new power plants.

Marketplace – VideKIS enables all plants to access primary balancing power as well as the day-ahead and intraday markets. The preparation of bids, the awarding of contracts and billing information can be viewed at any time.
The initial draft of the platform can be seen in the click dummy images. You want to see more? Then visit us at E-world (Hall 1, Booth 1-225)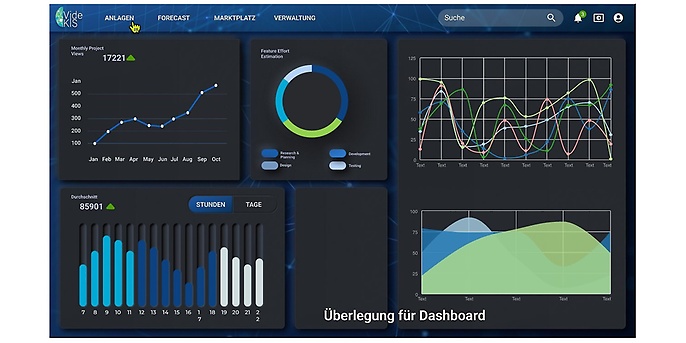 What happens next?
The research project began in September 2021 and is expected to run until September 2024.
The first phase of the requirements analysis has already been completed, so we are currently focusing on the following aspects:
Billing and contracting models

Forecast models for power generation

AI algorithm for the pool compositions

AI algorithm for the bid placements
The next step will involve a field test and analysis of the frequency control for individual plants in the grid as well as an overall system analysis of the control system and the decentralised control unit equipped with an integrated controller. This includes a technical analysis and a functional test of the virtual power plant network's components in an appropriate test environment.
If we have sparked your interest, come talk to us in person in Essen. We look forward to it! Stop by our booth (1-225) in Hall 1. You are welcome to make an appointment in advance.
Also interesting
You will find more exciting topics from the adesso world in our latest blog posts.