Digital Experience
22. June 2021 By Patrick Meurer
Create the perfect shopping experience with SAP Commerce Cloud
Set the stage – expectations and disappointments in online shopping
Shopping is becoming an increasingly personalised process, which means it's crucial that the experience is a seamless one, especially in the B2B sector. Making this happen, however, requires a lot of different people spinning a lot of different plates in the background.
Welcome to a world where it no longer matters what item is sold and at what price it's sold at. Nowadays, every customer (even in B2B) expects to be able to immerse themselves in a perfect world where everything has been designed exclusively for them. We all know that the more data, preferences and indicators of our behaviour we divulge, the greater the number of services and simple processes, as well as the extent to which the process is an 'experience', we can expect.
Just like any perfectly tailored experience, the user expects that he or she won't be taken through the motions, but that each and every step in the process will designed around them and will keep them engaged. Customers want to be spoken to directly, they expect their situation to be understood, it should be easy for them to do what they need to do and they don't want to be bored typing in long numbers and then submitting a shopping basket. If they don't have to deal with simple routine tasks, receive recommendations on what to do next and simply feel positive about the process, then yes, customers will happily come back – and they might even recommend you to their friends and colleagues.
Gather data – what you need in e-commerce
I'm sure you've all heard the phrase 'data is the fuel of the 21st century', but it's still just as important! It goes without saying that as a provider, you have to have done your homework. We assume that the basic business processes – the bread-and-butter business – have already been implemented, meaning customers can make purchases, preferably without having to jump through any hoops or deal with any disruptions. It's ideal for me to have other data on top of this that I can evaluate. With that in mind, visitors voluntarily leave data about their behaviour on my systems after they've given their consent. This is traditional data such as that obtained from orders, (service) enquiries, e-mails, as well as completely different data obtained from surveys and ratings, for instance (Qualtrics). This will not only give you deeper information about your customers' motivations, but will also reveal vital information about their likes and dislikes.
Generate insights – how I can process customer data profitably
If you know, for example, that a special customer usually places a large order for certain products or services at the beginning of the year, then you can show this customer appropriate teasers for this early on – and let your sales team know if that order doesn't come in, should you need to. You can gain a better understanding of your customers in dynamic customer groups and thus react much faster to sudden market demands. If you know why certain customer groups react faster than others, you can even use it to directly provide your logistics or production departments with up-to-date information. Conversely, you can play with stock levels or production capacities and promote products, apply a special discount to them or simply place them a little further up in the search results.
Decide what to do – how do I improve the experience I can offer as a provider
Of course, the more data you have and the longer you collect it, the more knowledge you have accumulated. On the one hand, you can use this knowledge 'in real time' to engage your customers with even greater precision and to strengthen their loyalty to your company even further. But on the other hand, this knowledge also helps you improve. Evaluations of success and, of course, failings can help you to enhance your products and services even further. Maybe the insights will help you to develop completely new products or innovative business ideas!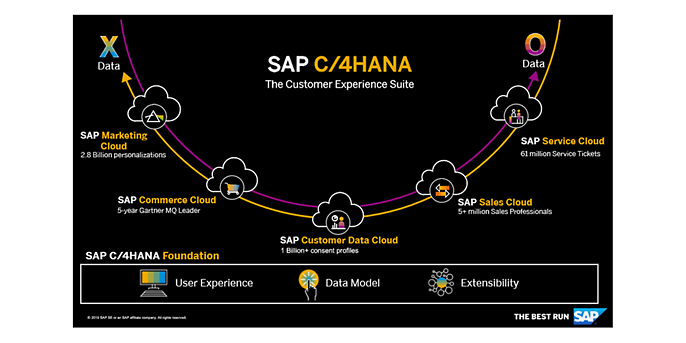 Conclusion
Our experience with our customers is that SAP Commerce Cloud is not 'just a shop system'. The Commerce Cloud is much more of a portal for their business partners, who don't use it to simply just buy items, but rather get an experience. In one case, it's a complex service portal that not only lets you manage entire plants, but also plan, document and purchase spare parts, wear parts and the full service in a targeted manner. In another case, it's a top shopping platform that handles routine orders with such speed that there is still time to present new products, services or entirely new business processes – which can then be purchased.
To do this – to return to our spinning plates – all of the people and components behind the scenes need to work together. These are all the necessary backend and inventory management systems, as well as the systems that merge the data in the frontend. And this is where SAP Commerce Cloud forms an important building block for the entire SAP customer experience world.
Would you like to learn more about exciting topics from the world of adesso? Then check out our latest blog posts.