Digital Experience
8. December 2021 By Tarik Kilinc
Personalisation – five success factors that really matter
The use of digital channels has become an integral part of every customer journey. Customer relationships are increasingly shifting to the digital world, and in some cases, these relationships are exclusively digital. That makes it all the more important for companies to establish a personal rapport with individual customers. In the end, regardless of the latest developments, personal communication and consultation with customers remains a critical success factor in an increasingly networked world.
Personalisation on the Internet starts here and facilitates fully automated personal communication and consultation along the entire digital customer journey, complete with strong opportunities for networking with traditional channels.
However, there are some key success factors that companies should consider in the design and implementation of personalisation projects to guarantee that they are both efficient and highly effective. In this blog post, I reveal five of these factors and show you what really matters.
1. Break down data silos and create a uniform data pool
As is so often the case in the digital world, consistent data plays a central role in targeted personalisation. Individual personalisation strategies and measures are only as good as the underlying data pool from which they draw.
To generate 1:1 personalised content, we need to gain a comprehensive understanding of customers' individual interests and demands. As part of our customer data management strategy, we need – and therefore start by creating – a so-called Golden Customer Profile in our projects.
In specific terms, this process involves the cleansing, consolidation and subsequent analysis of customer data from different systems – for example, from the tracking and CRM system for an initial proof of concept (PoC). Additional systems containing relevant customer data can be successively connected to supplement the data in the pool. The specific procedure will depend entirely on the individual company's digital infrastructure. This process aggregates both implicit and explicit data that users share with the company throughout their customer journey.
Research findings from the media agency Wavemaker based on an analysis of 75,000 German purchase journeys show that before making a purchasing decision, future customers perform an average of 6.6 actions. The data generated from this behaviour include, for example, behavioural data on the website, in the app or even in email communication, as well as explicit interests and previous purchases.
2. Full data analysis for segmentation
Data also plays a central role for this success factor. Once all the data is consolidated, it needs to be fully analysed so that the relevant segmentation can be identified. Some questions that often come up are:
How do users behave on the website, in the app, and/or in emails?

What indicators do we recognise, and which play a particularly important role in segmentation?

It is possible to identify certain patterns in the data that provide insight into the customers' intent to use the product?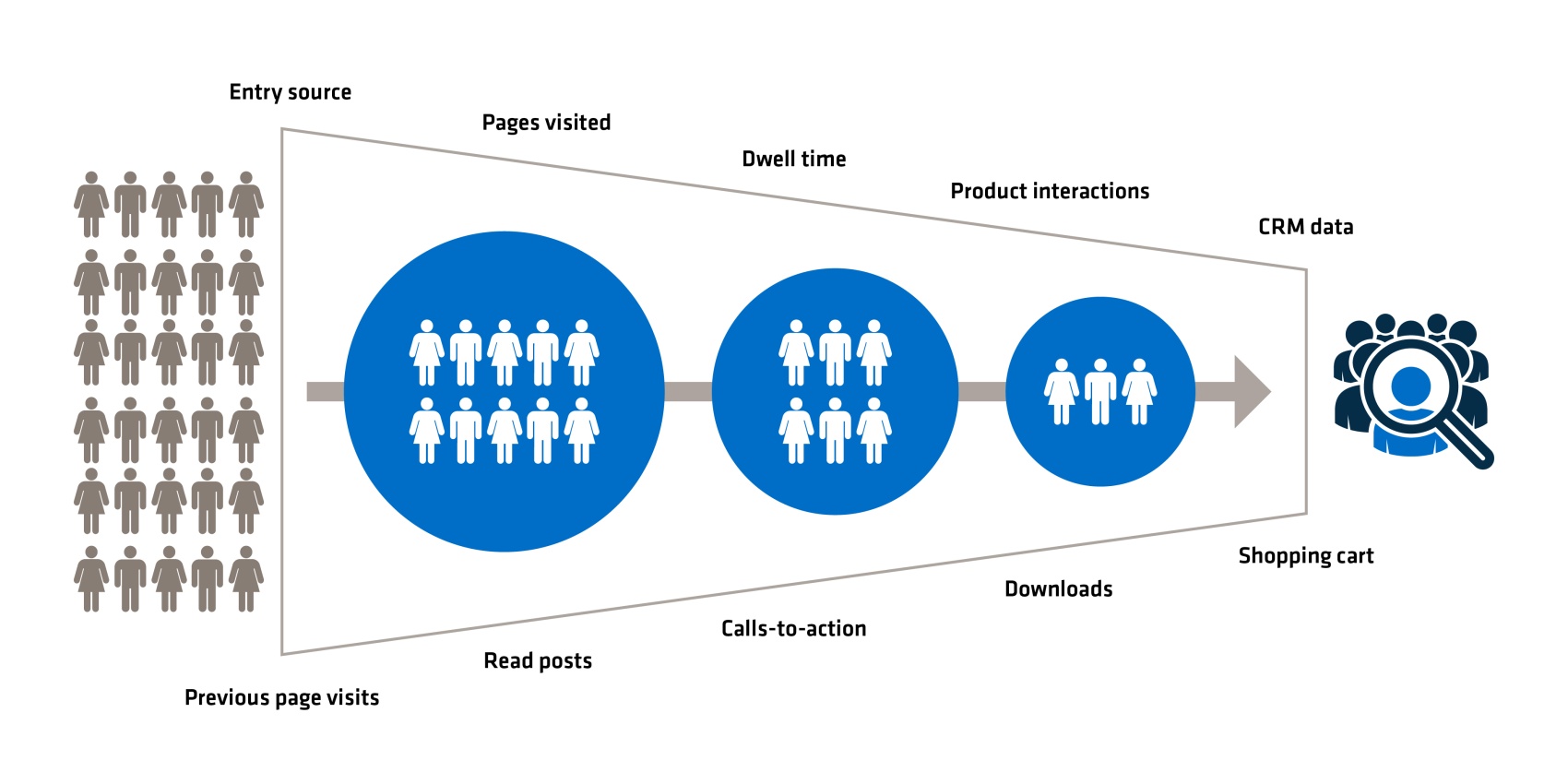 Of course, most companies have already identified relevant target groups and know their own customers. But the goal of this drive toward personalisation is not to address a rigid target group, but rather to identify interests and needs on a 1:1 basis in order to provide customers with dynamic content and offers. That is the only way to guarantee that these measures are highly efficient and to make full use of the benefits of personalisation. This is where the use of artificial intelligence (AI) comes in handy – because no rigid set of rules can segment as precisely as an AI can.
3. Efficient use of artificial intelligence
After all, without the use of AI, personalisation at the level of the individual customer would be impossible. AI helps us analyse and interpret the behaviour of users in real time. The algorithms perform segmentation based on historical and situational affinities and take different usage indicators into account in the decision. These are then interpreted and evaluated individually for each user.
Instead of defining a rigid, inflexible set of rules for segmentation and execution of personalisation measures, this process results in dynamic strategies, which the AI controls and optimises in real time. This ensures that all users see the content and products that are relevant to them.
4. Continuity throughout the entire customer journey
It is no secret that the customer journey has become significantly more complex due to the almost exponential growth in digital channels in past years. In some cases, companies have hundreds of touchpoints that prospective customers can combine with each other according to their preferences, thus crafting their individual customer journey.
According to the "5-Year WAVEMAKER Momentum" report, German consumers need an average of 5.6 touchpoints with a company before they decide to make a purchase. This shows that even the most personal communication and advice has only limited effectiveness if it is not used consistently throughout the entire customer journey – and on a wide range of digital channels.
In the B2B sector, however, traditional distribution also continues to play an important role for many of our customers, and this, too, can and should benefit personalisation projects. For example, this could work by feeding the aggregated and analysed customer data back to the sales department and automatically informing the sales department about the current interests and needs of potential leads. This provides the sales team with more information than ever before, which can be used for efficient sales and targeted campaigns.
5. Tracking, testing and continuous optimisation
Although AI already does some of the work for the users of the system and continuously tests and optimises the previously defined strategies for analysing and interpreting the data, the algorithm cannot and should not, of course, take over all the work in this area.
The aim of this technology is to save time so that the team can concentrate on more important tasks: What other personalised experiences can be created throughout the customer journey and how can this be done? How will the Golden Customer Profile continue to be developed? It is also the task of the staff to critically question the recommendations and optimisations presented by the AI and continuously compare the data collected through tracking with previously defined KPIs. How are the personalisation measures developing? Are goals being met? Are there new strategies that can also be incorporated into the system and that are highly relevant for the company in terms of testing and optimisation? These are all open questions that need to be addressed as part of the ongoing management of the system.
Conclusion
The conception, implementation and optimisation of personalisation measures is a completely new field for many companies, so they often lack the required expertise. Moreover, this is a cross-sectional discipline that requires close cooperation between marketing and IT, both in implementation and subsequent use. At adesso, we combine this expertise and these skills, offering our customers the support of a full-service provider at every step of our joint personalisation project.
Would you like to learn more about exciting topics from the world of adesso? Then check out our latest blog posts.