Inside adesso
3. December 2021 By Nicole Prohaska
Accessibility, diversity, and inclusion – we're making it happen!
Diversity, accessibility and inclusion – big concepts we now encounter almost every day. Reason enough to take a look back – and forward – to consider different inclusion initiatives within the IT industry.
Many companies are devising an increasing number of programs to ensure inclusion, diversity and accessibility in their employees' daily work. Based on an evaluation of data on LinkedIn, some professional groups dedicated to these topics experienced growth of over 100 per cent worldwide between 2015 and 2020: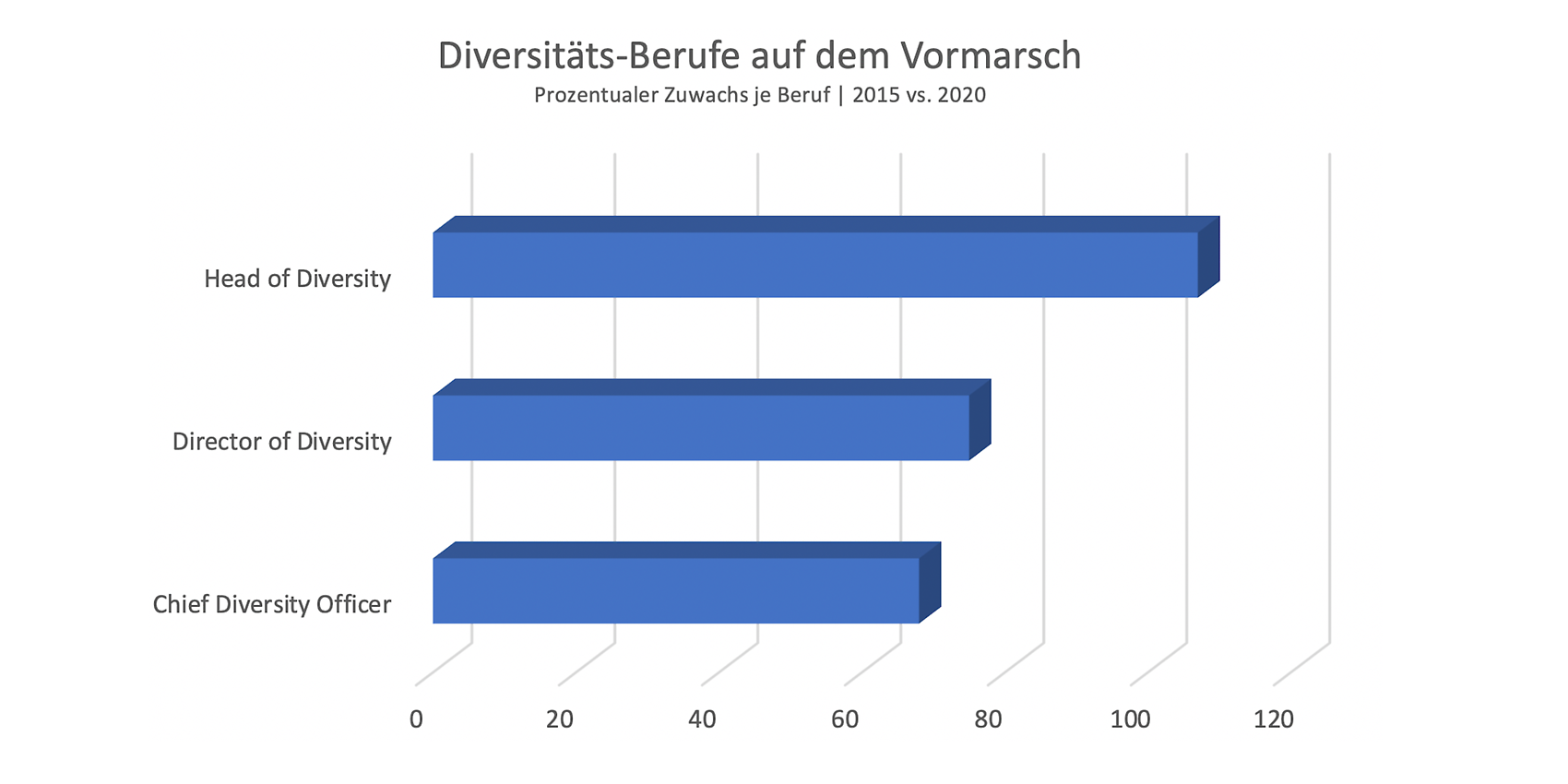 We talk about diversity, make more of an effort to promote inclusion and set ambitious goals – for example, to achieve a certain quota of women in leadership positions – but the question of "how" poses challenges for many.
Inclusion must be part of a company's philosophy and exemplified from the top down. But this philosophy cannot be successfully implemented without the necessary support and an actively lived company strategy. The commitment of current Microsoft CEO Satya Nadellas to developing a culture of accessibility is just such an example, and his efforts are having an impact around the world. As the proud father of a son with a developmental disability, he is obviously dedicated to the issue. He serves as an example in the way he transformed his personal circumstances into an opportunity for as many Microsoft users as possible.
The current situation – initial positive developments, personal experiences and legal regulations
However, a look at the current situation of our customer segment within Germany, Austria and Switzerland clearly shows that accessible application development is still a rarity rather than the norm.
It doesn't have to be this way, and in fact, barriers to the use of technology are currently falling and being replaced by helpful services in record time. Microsoft PowerPoint, for example, now offers the option of adding live subtitles of spoken text to presentations. This feature is perfect for presentations in front of audiences who speak different languages and for preparing accessible presentations for people with hearing impairments. Live subtitling is already available for 60 different languages.
All Microsoft Office apps also include a text to speech function, which enables people with visual impairments to use software without restrictions and thus actively participate in different fields of work.
Nevertheless, I know from personal experience how difficult it can be for people with disabilities of all kinds to lead a fully self-determined and financially independent life. There is a kind, warm-hearted and perennially positive man in my family who also happens to have a developmental disability. Unfortunately, he has been denied the possibility of a fully autonomous, independent life. Throughout his life, this man has worked in a workshop for people with disabilities. There, he is surrounded by others like him, rather than being exposed to a working environment in which people with and without disabilities are treated equally. In this mixed environment, a team is only as strong as its weakest member. Team members learn from one another and grow beyond themselves as a community by overcoming everyday problems. My relative is 64 years old now, too late to completely change his life and take full advantage of the life enhancing benefits of this current movement and the drive to rethink our society.
This personal example stands in direct opposition to legal regulations. According to the German constitution, no one may be disadvantaged because of his or her disability, no matter the severity (Article 3, Paragraph 3, Sentence 2).
This basic right is underlined by the clear definition of "accessibility," which was established in 2006 in the UN Convention on the Rights of Persons with Disabilities and has been in force since May 2008. The precise definition of the term is intended to provide "[...] persons with disabilities access, on an equal basis with others [...] to transportation, to information and communications [...] and to other facilities and services open or provided to the public [...]."
What is the reality?
However, if we put ourselves in the position of a person with a disability traversing the streets of a major city, visiting a restaurant or using public transit, we can see that in reality, the situation looks quite different.
Private and public employers with at least 20 available positions are required to fill a minimum of five per cent of these with severely disabled persons. See Section 154, Paragraph 1 of Book IX of the German Social Code. As of 2019, around 9.5 per cent of the German population (or 7.9 million people) are considered severely disabled. However, only 57 per cent of 15 to 64-year-olds in this group have an active professional life. Contrast this with an employment rate of 82 per cent for the non-disabled group.
Reasons for this disparity can be explained by differences in education between the groups. According to the German Federal Statistical Office, in 2019, 16 per cent of persons with disabilities between the ages of 25 and 44 had not completed school. For people without disabilities, the rate was only four per cent.
Inclusion using the Microsoft model
Microsoft's ambitious efforts to build an accessible future continue to grow and demonstrate a variety of means to improve the way we include people with disabilities in our society. One extraordinary example of this is the app "Seeing AI." This app uses AI technology to provide people with visual impairments with auditory descriptions of the world around them. The app analyses the emotions and activities of bystanders and relates this information to the user with vision loss in the form of speech. It also recognizes and verbally confirms the value of banknotes and can read out entire blocks of text using text to speech. The descriptive language output allows the user to "view" product information. This free service is available in Dutch, French, German, Italian, Japanese, Spanish and Turkish and can be downloaded in the App Store.
The integration of AI into assistive technologies forms the basis of Microsoft's barrier-free environment concept, and the company confirmed its commitment to this initiative by creating a 25-million-dollar program in 2018. The aim of this program is to advance the development of assistive technologies.
Assistive products and services are classified into six categories with an assistive service recommendation and tips for every conceivable disability:
1. Vision: accessible tools and functions for people who are blind or colourblind or people with vision loss

2. Hearing: support functions for people with hearing loss, or who are deaf or hard of hearing

3. Neurodiversity: tools for people with dyslexia, seizures, autism or other cognitive impairments

4. Learning: applications for people with learning difficulties

5. Mobility: a whole range of products for people with arthritis, tetraplegia, spinal cord injuries and other mobility problems

6. Mental health: assistive technologies for people living with bipolar disorder, anxiety, PTSD, depression or ADHD
"We must move towards understanding accessibility as the standard of quality for a modern country."
(Jürgen Dusel, German Federal Government Commissioner for Matters relating to Persons with Disabilities)
For my research on everyday life, I had the great fortune to interview Franziska Sgoff and Hans-Walter Untch from Microsoft. Franzi has been blind since birth. She used assistive technology while still at school and was able to reap the benefits of a mixed school environment. Today, she is Customer Success Manager at Microsoft and focuses on diversity and inclusion across all sectors.
But how does she manage her everyday professional life at Microsoft, one of the largest IT companies in the world, what has her life been like so far and how does her everyday life differ from those of her non-disabled colleagues? Franzi, a state-certified foreign language correspondent, answered all of my questions very openly and provided me with detailed insights into her everyday professional life.
Her dreams and aspirations for the future are no different from those of sighted people. As a child, she wanted to be a psychologist or an author. Thanks to her positive attitude and extraordinary willpower, she has already achieved both of those goals. Her excellent listening skills and unbiased view of the world mean that as an amateur psychologist, she always has wise words to share with her friends. Her first book for young audiences "Wozu braucht man Jungs?" (Why do we need boys?) was published in 2019. All of these impressive achievements clearly illustrate that the limits to our growth that we perceive are all too often just that – purely a perception. Hurdles can be overcome, if you only have the will to do it.
Franzi started down the path to her job at Microsoft on the local train to Munich. During her journey, she happily answered a curious fellow commuter's question about how she uses her smartphone. The fact that her interlocutor was a Microsoft employee was an unexpected coincidence and an amusing twist of fate. The Microsoft Accessibility Manager at the time was herself deaf, and the team's demand for personnel in the field of accessibility was increasing.
Franzi began with an internship as a Business Program Manager as part of a Customer Success Education Team. In this role, she evaluated the accessibility of the applications developed by Microsoft from the user's point of view. Franzi finished her internship in June 2017, but she never lost contact with her Customer Success Education Team. She continued to attend events and give talks on inclusion and accessibility. On the International Day of Persons with Disabilities, 3 December 2019, shortly after the publication of her first book, Microsoft hosted an exclusive reading of her book held in the dark. This extraordinary event brought Franzi back to Microsoft, and since then she has been a permanent member of the Customer Success Unit, where she continues to drive progress on the issues that are close to her heart, such as accessibility and inclusion. As a child, she always wanted to dedicate herself to a social vocation, and she feels the IT industry has helped her realize this dream.
Together with her amazing team members, who are always prepared to deal with problems such as longer processing times for work orders with patience and understanding; Franzi has no trouble juggling all the tasks her job presents. Franzi's impressive abilities confirm the fact that people with one sense fewer often have four other senses that are all the stronger for it. One such example is the way she uses text to speech functions on websites. People with all five senses would never be able to process the playback speeds she handles with aplomb. Text to speech and dictation functions, often paired with a Braille display, enable Franzi to participate actively and fully in everyday work.
Hans-Walter is a technical consultant for Windows client technologies, and he views the drive for inclusion and accessibility as his personal mission. In the area of customer consultation, Hans demonstrates – patiently and with exceptional commitment – the countless possibilities for designing a barrier-free workplace: magnification options integrated in Windows, individual settings for contrast or the exclusion of certain colors are only a few of the ways that users can individually customize their Windows workstations. Eye Control, or the option to control a computer with one's eyes – available as of Windows 10 – helps users with motor impairments intuitively operate their PCs. Users can easily add additional hardware such as a Braille display, special glasses for the use of the Eye Control feature and much more via the basic settings, and the computer then installs these devices in the background without any additional work on the part of the user.
Walter and Franzi both clearly emphasize that all the assistive settings listed here are on-board tools integrated in Windows itself. That means employers are not required to make any additional purchases, such as specialized software or applications, in order to provide employees with accessible Windows workstations.
Opportunities for digital integration with Windows and Microsoft 365
The following screenshot featuring the basic settings options is indicative of the wide range of capabilities for personalized configuration available out of the box in Windows 11: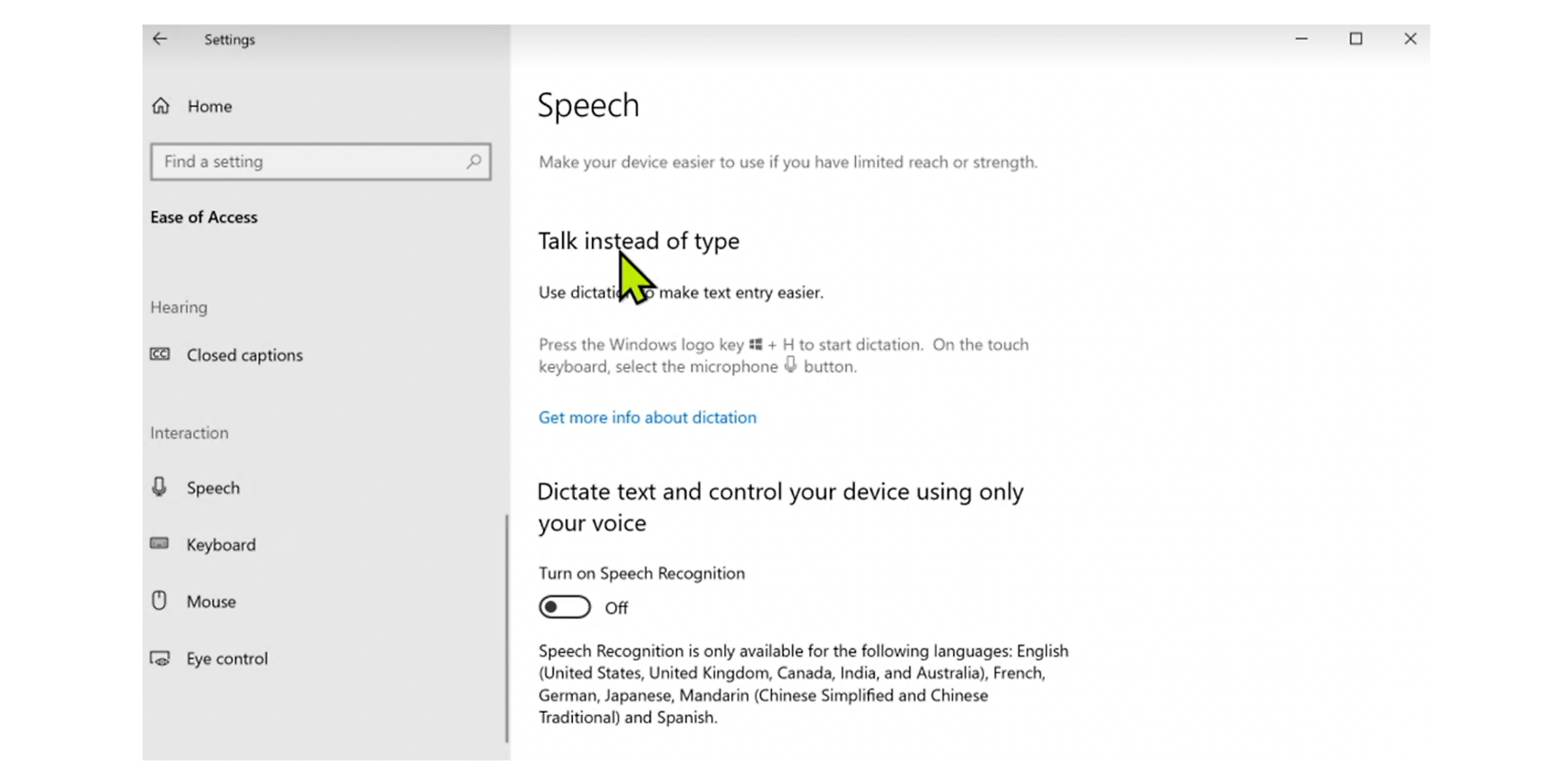 All of the options listed here aim to lay the technical groundwork for establishing a fully accessible working environment. In addition, every employee has a great deal to contribute when it comes to implementing a successful inclusion strategy. For example, when sharing images, it is easy to include detailed descriptions of those images in the post. Microsoft PowerPoint provides live captioning for every user. Presentations can therefore be subtitled in the language of the presentation for people with hearing impairments or translated directly into another language live. Microsoft currently provides this option in 60 languages.
In addition, depicting items in lists with different geometric shapes and colours makes it easier for audience members to follow the presentation. Admittedly, the designer in me is reluctant to embrace this radical change in style for presentations, but if the aim is to make presentations available for as many people as possible in a way that is easy to grasp, I know how important it is to prioritize those benefits over my own aesthetic sensibilities. As regards this point, Franziska Sgoff recommends that documents, new programming and presentations be designed with accessibility in mind from the outset, as subsequent editing is far more costly and time-consuming.
The accessibility checker is included in almost every one of the Microsoft Office 365 apps. This feature checks the document in the same ways as the perennially popular spell check function, but draws users' attention to parts of the document that are not accessible: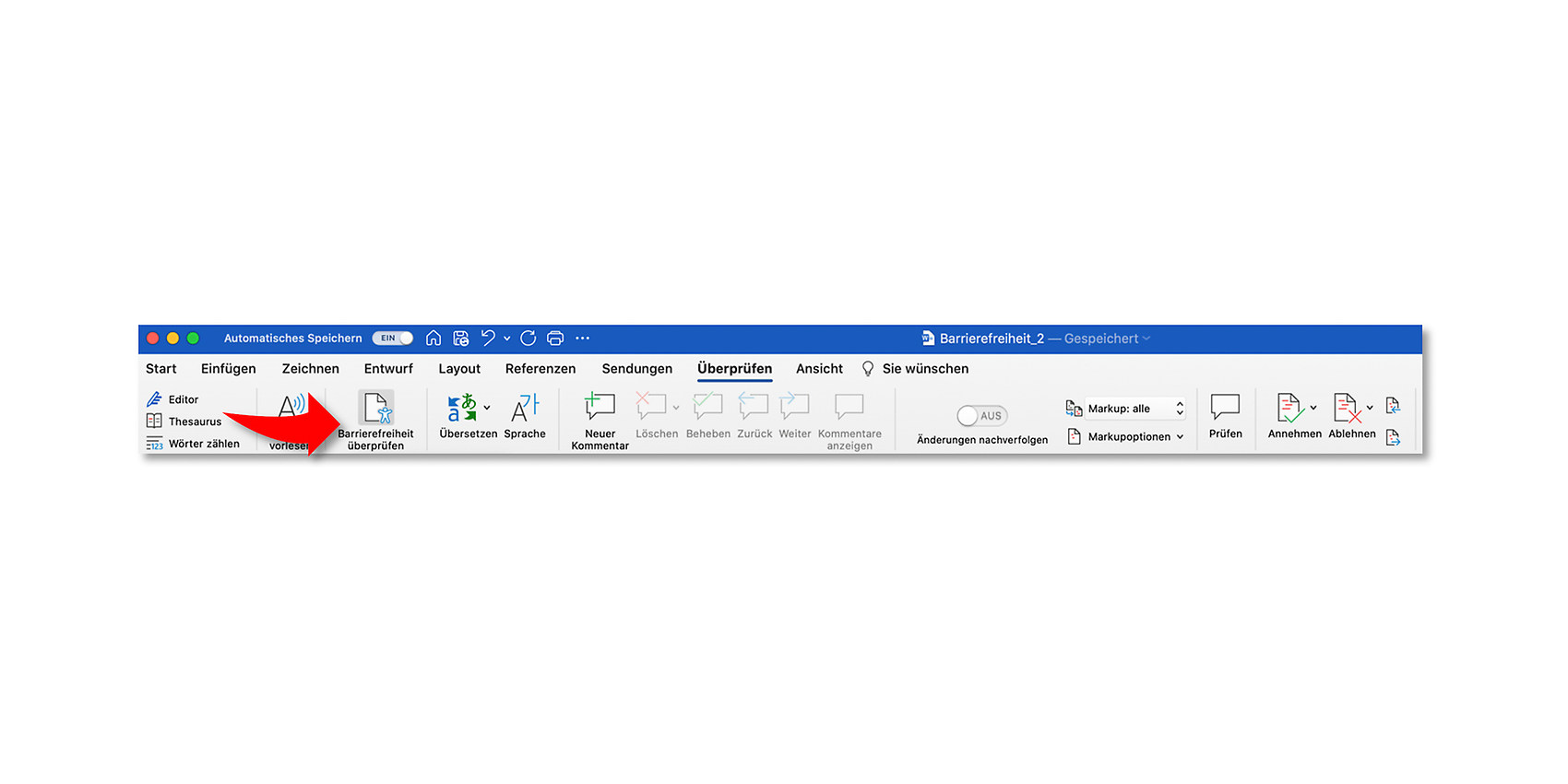 So, Windows and Microsoft 365 offer a variety of ways to drive digital inclusion and also to make sure you stay connected with colleagues, even during the pandemic.
Business. People. Technology. – Optimising core business processes through the targeted use of modern IT
For adesso, providing modern and sustainable IT means making technology available to everyone. My research, particularly the extensive conversation I shared with Franzi and Hans-Walter, have inspired me and left a lasting impression. I now take accessibility into account in my daily work processes and when I create various types of documents.
Line of Business Microsoft at adesso has a special professional relationship with Microsoft, which was further underscored by the fact that we received Managed Partner status in July of this year.
We would be happy to support you as you work to build an accessible working environment at your company.
Feel free to get in touch with us!
Would you like to learn more about exciting topics from the adesso world? Then take a look at our previously published blog posts.