Digital Experience
21. September 2021 By Annabelle Knappe
Everything you need to know about influencer marketing
Definition of influencer and influencer marketing
The word 'influencer' comes from the verb 'to influence', which is defined according to the Cambridge dictionary as 'the power to have an effect on people or things, or a person or thing that is able to do this'. Dr Frank Deges expands on this, defining influencers in the Gabler business dictionary as people 'who publish content (texts, images, audio/video material) on a specific topic on their own often and at a regular frequency to initiate social interaction. Internet-based communication channels like blogs and social media networks like Facebook, Instagram, YouTube, Snapchat and Twitter are the platforms used to publish the content. What sets influencers apart from other social media users is their ability to reach a large number of people in their role as an influencer.'
When it comes to influencer marketing, Dr Frank Deges defines it as 'planning, management and oversight with regards to the targeted use of social media opinion leaders and multipliers to enhance the quality of brand messaging through their recommendations and positively influence the buying patterns of the target group'.
In short, influencers are prominent individuals who are able to reach a large number of people on social media. When they are working in the service of a brand to achieve different business goals, this is referred to as influencer marketing.
Categories of influencers
Influencers are divided into subcategories based primarily on the number of followers they have. The following five categories are often used:
Mega-influencers are primarily celebrities who already work in the testimonial business. They typically have millions of followers.

Macro-influencers have gained a following on social media and often focus on one or two topics. They have between 50,000 and 1,000,000 followers.

Micro-influencers are general subject matter/industry experts with between 10,000 and 49,000 followers.

Nano-influencers are typically interactive users with fewer than 10,000 followers who have close, personal ties with their followers.

Friends and family are also influencers because everyone in principle can be an influencer. By sharing experiences with friends and family, one can have a significant influence on a friend's or family member's propensity to buy a product or service. This is also why these influencers are considered particularly trustworthy.
It is important to note that their reach is inversely proportionate to their influence. People with whom one shares a personal connection are considered particularly trustworthy, which allows them to have a great deal of influence, even if they are able to reach fewer people.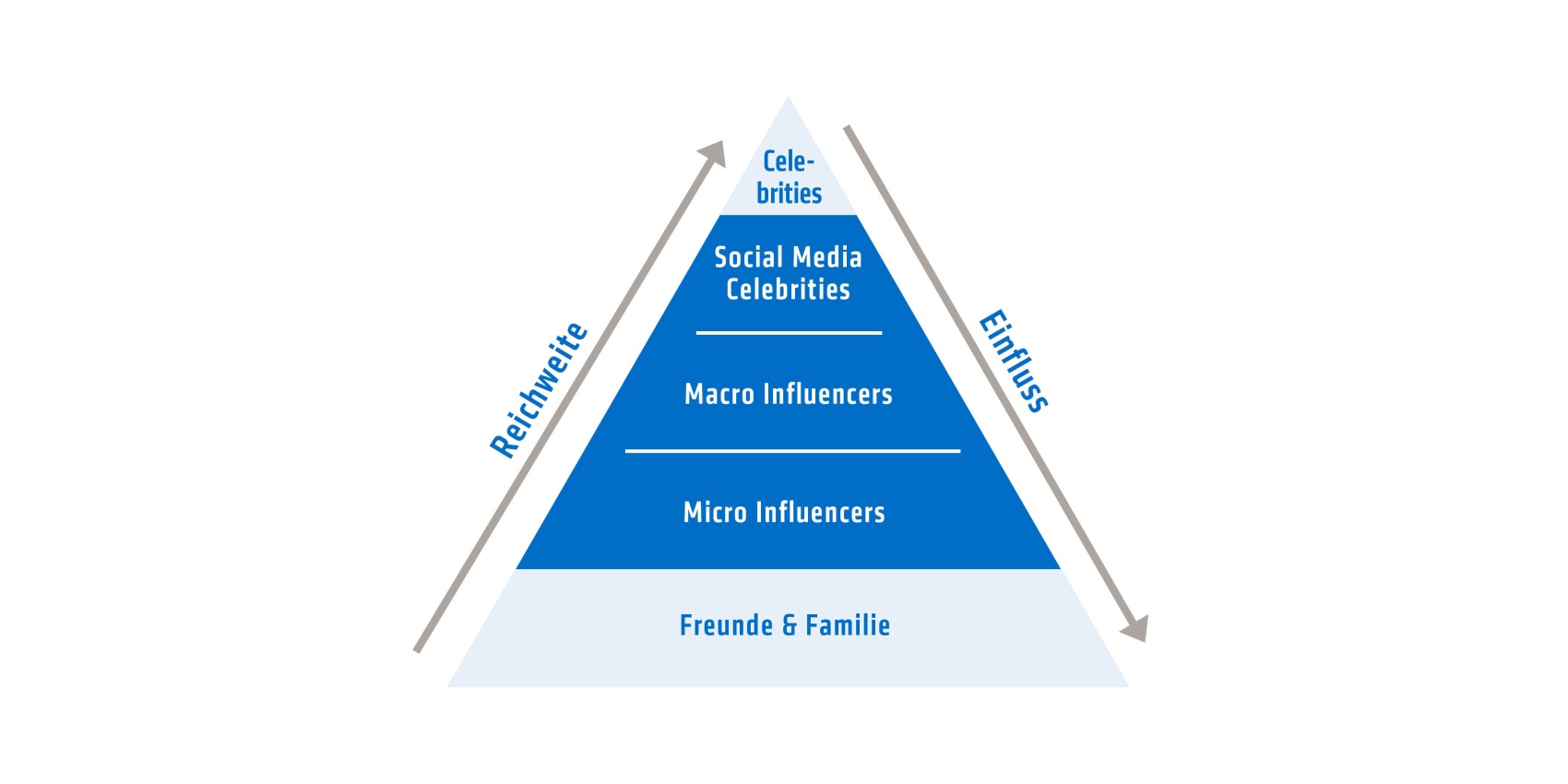 Social media platforms and formats
Instagram:
Instagram is widely used and probably the most popular platform for influencer marketing campaigns. Due to the range of functions Instagram offers, it is an ideal platform for marketers and content creators. The platform's formats include feed posts, stories, Instagram TV (IGTV), live functions and, as a recent addition, reels.
YouTube:
Google's social media platform YouTube is a video-only platform. In addition to the standard video format, YouTube also offers live formats.
Facebook:
While influencer marketing campaigns on Facebook are uncommon these days, Facebook's Ad Manager is still used to promote existing content. That's because Facebook ads allow you to place links directly to websites within the campaigns and place them on Instagram as well.
Blogs:
Blogs are often still part of influencer marketing campaigns, though blog campaigns are becoming less and less common. Unlike other platforms, blogs focus on content and are longer term in nature.
TikTok:
TikTok (formerly Musical.ly) is a mobile app focusing on short videos. The platform offers great potential in terms of influencer marketing with its short videos and hashtag challenges.
Pinterest:
Pinterest is a visual search engine. The target group is reached via posts relating to their specific personal interests. Posts on Pinterest are called pins. There are various types of pins, including static pins, video pins, recipe and product pins as well as story pins.
Twitch:
Twitch is an essential platform for every influencer marketing campaign, especially in the gaming space. The live streaming platform has become an insider tip in recent years.
LinkedIn:
Once a business platform, LinkedIn has morphed to become a social network in recent years. The platform is used to share views and opinions on hot topics in an industry. LinkedIn lets users post texts, images, videos presentations and other similar content.
Collaboration methods
In influencer marketing, there are a number of collaboration methods available. There are no limits in terms of the combinations or formats used in influencer marketing. Here are a few examples of common methods of collaboration:
Discount codes and product links (Discount codes and links are placed by influencers on social media channels. This is the best way to measure leads and sales generated by each influencer.)

Contents (The product or service is showcased and then awarded to followers as part of a prize draw.)

Live events (Influencers visit a company, an event or similar and share their impressions with their followers.)

Account take-over (Influencers take over the account of a brand for a set period of time and give a personal account of product launches and so forth.)

Brand ambassador programmes (Influencers serve as brand ambassador for an agreed period of time and become the face of the brand.)
Benefits of influencer marketing
1. Influencers = content producers
Influencers are artists, photographers, models, musicians, video editors and social media professionals rolled into one. Unlike traditional brand content, influencers not only distribute but also produce all the content themselves in partnership with the brand.
They are briefed on the exact criteria that need to be observed during the influencer marketing campaign. After that, they are free to produce content within the defined parameters. It is important not to place too many limits on the creativity of the influencers. They typically know their followers better than anyone else and understand what they will respond to.
2. Authenticity and credibility
One advantage of influencer marketing is the authenticity and credibility that influencers have in the eyes of their followers. Several studies have shown that consumers trust the recommendations of influencers more than the companies themselves. That's because the relationship between influencers and their followers takes place on a more emotional level than the relationship with a company, which is typically more transactional in nature.
3. Access to special target groups
Media usage has changed dramatically as digitalisation has gained pace. Young target groups in particular, starting with Generation X, are spending more and more time on social media. To continue to reach these target groups, a company needs to reassess how they advertise. Banner ads, which initially generated high click rates, are becoming less important due to ad blockers. Influencer marketing does not have this problem. With the help of influencers, these target groups can be reached with relatively little ad waste. In addition, specific niche groups can also be targeted with the right influencers.
4. How to measure success
You can pursue a variety of goals with your influencer marketing campaign. You can use a wide range of KPIs to find out just how successful your campaign was when it is over. There are a number of ways to do this in social media and influencer marketing. One example would be brand awareness KPIs which measure reach, impressions or sales figures. You should define your main goals, KPIs and the methods you want to use to measure them before the campaign starts. This will allow you to clearly benchmark its success.
Challenges in influencer marketing
1. Identifying appropriate influencers
Before you start your influencer marketing campaign, you first need to identify influencers who work well with your brands. This is a crucial aspect as well as a major challenge because it takes a long time to identify suitable creators in most cases if the selection process is done manually. Having recognised this challenge, ReachBird offers intelligent solutions and services that let you search for suitable influencers based on KPIs, the demographics of their followers or by subject area.
2. Creative freedom versus control
As indicated above, influencers generally know their followers best and understand which content will achieve the desired results. To remain authentic, influencers need a certain amount of creative freedom in how they communicate. You should therefore not place too many restrictions on your influencers by imposing criteria or other limitations that reduce their creative freedom. Providing influencers with detailed information on your brand communication should be the goal, while at the same time not seeking to 'manage' them. As experience has often shown, both sides first need to get to know each other. Along with that, continuity and having a long-term relationship definitely pay off in any partnership with influencers.
3. Carrying out a campaign at your company
If you are planning to carry out an influencer marketing campaign, you need to ask the following question: 'Can I do it on my own or should I hire an outside agency?' Both are possible and depend very much on you and your company's needs. In any case, taking a professional approach to the partnership should be a priority for you. For that reason, you should consider either recruiting experienced influencer marketing managers or hiring an influencer marketing agency like ReachBird.
Would you like to learn more about current trends in influencer marketing? Then take a look at the accompanying report on the ReachBird website (available in German).
You will find more exciting topics from the adesso world in our latest blog posts.