Industries
6. October 2022 By Sabine Fischer
Ecosystem – a heavily used term
People often like to use the term 'ecosystem' in various contexts, but what exactly does it entail? Is it something incredibly complex? Are ecosystems that are described as such actually ecosystems, or are they rather platforms? Let us look at the definition of an ecosystem but also at various forms of existing ecosystems.
Definition of ecosystems
According to German Wikipedia, an ecosystem is defined as follows: 'an ecosystem (Ancient Greek οἶκος (oikós) "house" and σύστημα (sýstema) "the assembled" "the interconnected") is a technical term from the field of environmental science. An ecosystem consists of a symbiotic community of several species of organisms (biocoenosis) and their inanimate environment, which is called a biome, habitat or biotope.' Forests and oceans constitute natural ecosystems. Artificial ecosystems are created by humans and include man-made forests as well as cities.
In the course of digitalisation, the term ecosystem has been applied to companies and people. In this context, German Wikipedia defines it as follows:
'An ecosystem, in the economic sense, describes a network of companies (typically three to about ten), which is led by an orchestrator in pursuit of added value for everyone in the group. In this context, the performance of the entire ecosystem as perceived by the customers exceeds the sum of all the individual contributions of those involved.'
An ecosystem is really nothing more than a kind of network in which several stakeholders provide services and interlink them to create added value for a person's specific life situations. The mere juxtaposition of services on a platform does not yet constitute an ecosystem, as the decisive point 'creating added value by interlinking different services' is missing.
Examples of economic ecosystems
There are many ecosystems that do not bear the designation 'ecosystem' – in Germany as well. One example of this is the Amazon Marketplace. In the Marketplace, companies can offer the same items that are offered in the Amazon Store. This is not immediately apparent to shoppers because their primary focus is on whether an item is available. Amazon makes profit either by selling its own product or by collecting a commission. The individual product provider is happy to its a product sell, regardless of how. The added values for buyers are clear: for one, the item is available, and on top of that, they do not have to search for it on various platforms. The purchase is always concluded in the same way no matter who the provider is. Other examples of well-known ecosystems include Alibaba, Airbnb, mydays, MyHammer and Immoscout, where not only real estate, but also valuations and sample contracts are offered as complementary services, as well as information on available bandwidths.
In the insurance industry, there are also some examples of ecosystems that do not include the term 'ecosystem' in their name. The German used car dealership HUK-Autowelt not only buys and sells cars, but it also offers a specialist dealership locator, the opportunity to arrange service appointments and the option of lease agreements that include insurance and maintenance. The Asian insurer PingAn has developed several ecosystems for different sectors of life, such as cars, real estate and health. PingAn has spent years developing these ecosystems with disruptive approaches and by rigorous digitalising its own products and processes. Compared to Germany, Asia has a big head start and has already gained a lot of experience.
Platforms on the way to the ecosystem
As an example, let us now take a look at the services health insurers offer their policyholders via their web portals. What they all have in common is that they isolate themselves instead of creating a network amongst one another. There is great potential to create added value for policyholders via targeted networking and thus become an ecosystem in the health sector, but doing so requires a certain degree of technical effort and a certain amount of investment. The aspects concerning data protection are not to be neglected, and the resulting hurdles must be overcome. The health sector has become so significantly more important to people in recent years that it is an obvious choice for health insurers. This creates the opportunity for them to position themselves as preventive health service providers in order to both gain new policyholders and provide preventive support to existing ones before they fall ill. However, in every case, shifting perspectives to that of seeing the whole range of offered services from the customer's point of view is the decisive factor for creating a 'health' ecosystem.
Another important feature of functioning ecosystems is the ability to access them on mobile devices. Mobile devices are now used with far greater frequency than stationary devices, and this trend is plain to see. A mobile application must therefore be extended to the ecosystem accordingly. The services private health insurers offer in their apps these days are mostly limited to submitting receipts and viewing policies. Other services are largely only available via private health insurers' web portals.
Customers want comprehensive services
Customers' needs have changed significantly in recent years. Due to digitalisation, fast and reliable digitally available services tailored to the individual are expected in all sectors. These cross-channel services must be coordinated with one another to avoid multiple entries. A study by Accenture clearly demonstrates the need for interconnected services: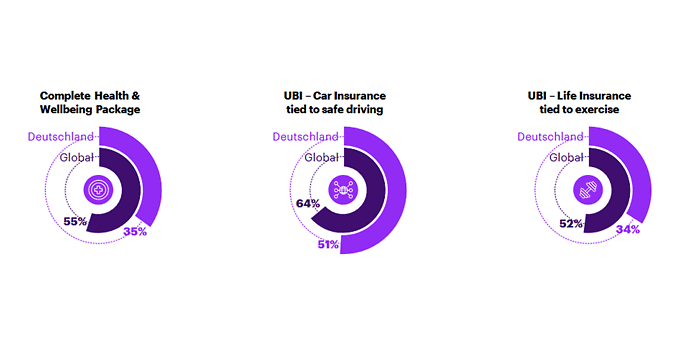 The respective sector of life plays a decisive role and differentiates ecosystems from one another. This is because ecosystems are only used and appreciated based on the interests of the customers. However, I dare to predict that ecosystems pertaining to the health and fitness sector will appeal to a large portion of clientele. Using an electronic patient record (EPR) could also contribute to gaining a high level of acceptance among health care customers. If you simply look at the EPR in isolation, it will – when filled – provide considerable benefits to both medical staff and patients. However, the EPR will only be able to fully provide added value for patients through what are referred to as value-added services. These services are derived from patients' individual data, which, in turn, leads to specific, personalised offers, such as information on targeted preventive care appointments or accompanying apps for rehabilitation.
Conclusion
Ecosystems can be a meaningful and comprehensive service offering for customers and provide a wide range of benefits for providers and those involved. This is evidenced by the constructs already in place – as we see in Asia. Creating an ecosystem is a major challenge that can only be met if there is clear added value for everyone involved and they resolve to work together. This means leaving the past behind and consistently giving precedence to prioritising customers' needs. The term 'ecosystem' may be well-known and used in business and IT, but for customers, simply using the term as it is will not suffice.
As a customer myself, I am familiar with conventional ecosystems, such as the forest or the sea, but the terms 'economic ecosystem' or 'ecosphere' have not entered common parlance. However, in our industry, it makes perfect sense to use the term in order to draw a clear distinction between ecosystems and platforms.
You can find more exciting topics from the adesso world in our blog articles published so far.
Also interesting: