Industries
10. February 2022 By Nehir Safak-Turhan
Digital ecosystems and platforms – Developments in the banking market
The overall industry – Growth and development of the platform industry
Digital ecosystems and platforms are ushering in a new era in the development of innovative business models. A look at the market capitalization of the 100 most valuable platforms in the world speaks for itself and underscores the general attractiveness of the business model: In the first half of 2021 alone, these have grown $1.6 trillion in value to a total of $15.5 trillion. The so-called platform index further illustrates how lucrative this market is. It shows the market value of the 25 modern platforms as compared with traditional indices.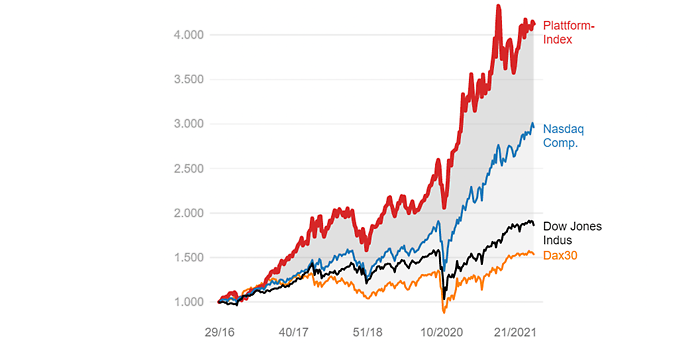 Digital ecosystems in the banking market – Open banking & others
The principle of the platform economy forms the basis for virtual marketplaces and infrastructure services and is differentiated by particular advantageous characteristics over traditional systems (see the image below). In the banking market, too, the principle of platform-driven business models is gaining ground, as is exemplified by emerging concepts such as open banking and beyond banking.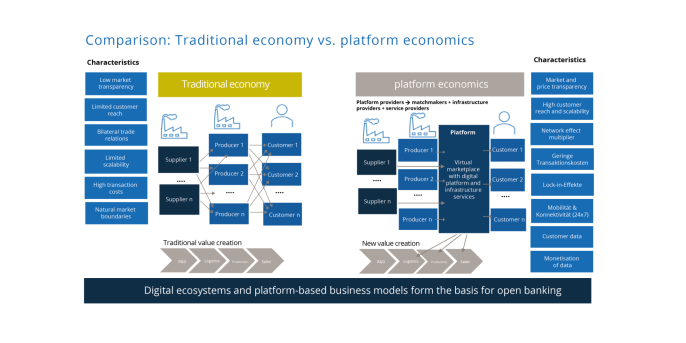 Open Banking
In its original meaning, open banking describes the opening up and liberalisation of the historical, closed financial world characterised by bilateral client–bank relationships. The fundamental impetus for this phenomenon has come from regulation: The PSD2 directive required banks to make personal financial data of bank customers accessible to third-party providers (non-bank service providers or fintechs) beyond the principal bank through open interfaces. This novelty in banking history only became possible through the PSD2 directive of the European Commission.
Opening up payment transaction services to third-party providers effectively removed the banks' monopoly over their customer data and customer relationships. This significantly altered the customer-bank relationship and the competitive situation in the banking market, as valuable assets such as customer access, customer data and sales interfaces to the customer are no longer exclusively available to the principal bank.
However, as API technology advances, banks also have the opportunity to generate new growth and revenue momentum themselves via digital interfaces and innovative business models. This principle enables them to develop new services and to exploit network effects. Banks can offer innovative and customer-centric services that go beyond the traditional portfolio of banking services and create transparent added value for the customer. In this way, banks themselves become part of a digital ecosystem and share in the benefits.
Beyong Banking
Beyond banking describes the business model innovation of complementing the proven banking business with services outside the traditional banking sphere on the basis of open banking and open interfaces. This concept aims to help generate new sources of income and revenue for banks and strengthen customer loyalty through expanded services and a higher level of service. In a nutshell, beyond banking is about an interconnected digital ecosystem that offers its customers a variety of different services beyond traditional financial services and aims to reclaim direct access to customers.
Beyond banking and open banking have many touch points and hold the potential of fundamentally changing the business models of banks. The concepts have not seen widespread adoption in the banking market as of yet, but some major players have clearly signalled that they are eager to implement platform-based business models.
Obstacles to transformation
Implementation often fails because the pragmatic combination of the new technological innovations (API management, open banking, etc.) with clear customer-centric and benefit-driven offerings (use cases) poses a key challenge and hurdle that many banks are reluctant to tackle. After all, successful transformation requires not only technological excellence and knowledge of banking challenges, but it also necessitates the adaptation of digital ecosystems to the banking market.
Would you like to know more about how we use portals, platforms and digital ecosystems to implement innovative business models in the banking world? We are happy to answer questions about our approach and provide information about current project experiences.
You will find more exciting topics from the adesso world in our latest blog posts. Click here for more articles on the world of banking.