Digital Experience
7. June 2023 By Ingo Gregus
A better customer experience: the best recipes for successful insurance companies
Insurance companies have been around for hundreds of years and have been offering their customers protection against financial risks and losses ever since they were started. But in today's world, they need to update their strategies in order to hold their ground in the market. A simple insurance policy is no longer sufficient. But how can you remain competitive and grow your business in today's digital world? One way to do this is by providing an outstanding customer experience. Customers today expect more than just an insurance policy – they want a seamless, personalised, first-rate experience from start to finish.
This and the next four blog posts will highlight key success factors for how insurance providers can turn customer experience into true success.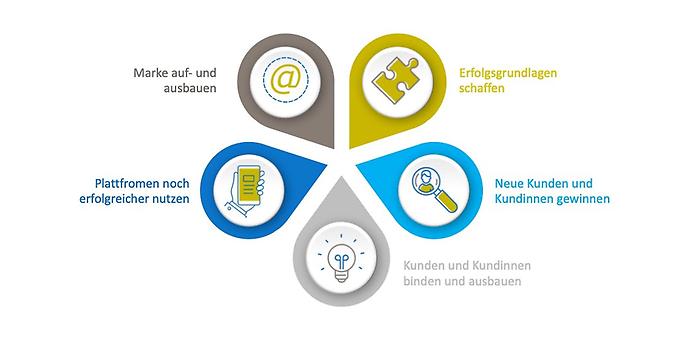 Laying the foundations for success
The first step in improving the customer experience is to lay the right foundations. These include an end-to-end digital omnichannel strategy and a seamless experience across all channels. Customers want to be able to communicate with their insurance provider via different channels and handle their insurance matters from anywhere. According to a study by EY, 86 per cent of customers expect their insurance companies to be able to share information on all channels and 73 per cent would like to be able to conclude their insurance-related business dealings online. Customers want a seamless and personalised experience across all channels, from searching for information to buying insurance and settling claims.
This includes insurers obtaining opt-ins and consents (EACs – electronic advertising consents) from their customers in order to establish digital communication.
In 2024, tracking and thus consent management will undergo a fundamental shift. This change revolves around the use of GDPR-compliant first-party cookies and reliance on a customer-centric journey that focuses on customer needs. The reason for this is that in the coming year, the popular third-party cookies will no longer be allowed.
Improving how you build and develop your brand
A strong brand is an important factor for a successful customer experience. It constitutes a real competitive advantage for you. It can be what sets you apart from the competition and from new market participants. Modern brand strategies help to strengthen your brand and establish a positive image.
This starts with a modern branded house and extends to the specific tone-of-voice and brand imagery. This 'house' has to be filled – because over time, an empty house falls apart.
These days, this also includes using a design system for end-to-end brand communication and acting and communicating sustainably. Design systems are often an important element of a relaunch as regards updating and modernising your brand.
Making better use of technological platforms
Germany's insurance providers have all kinds of technologies. But are they always used successfully? Has the potential truly been exhausted? A study by Forrester shows that companies that invest in personalising customer interactions are able to achieve a 300 per cent return on investment. Marketing automation and intelligent content management systems can help increase efficiency and boost sales – if they are properly utilised. By using these technologies, you can save time and money and create better customer experiences. However, exciting ideas and clear focus to get more out of these technologies are often lacking. But that can be changed.
Retaining existing customers and winning new ones
Your existing customers are an important source of your business success – because nothing contributes to it more than your own customers. According to Bain & Company, those who are loyal to an insurance company over the long term are 60 to 70 per cent more profitable than new customers.
Intelligent and personalised offers can help to retain and satisfy your clientele – and often even wow them. Whereas in the past, customer portals were simply thought of as a tool for increasing efficiency, an increasing amount of potential is now surfacing. These portals offer a way to improve your relationship with your customers and increase their satisfaction. But why should a customer portal be used? What can an attractive onboarding process and offer look like?
Attracting new customers is of course also important. Insurance providers are currently having a difficult time addressing young people in particular. The trend in this context is also moving away from mass marketing. A study by Deloitte shows that insurance companies that focus their marketing strategies on personalised campaigns achieve a higher ROI than companies that rely on general marketing approaches. Influencer marketing is also becoming increasingly important: according to a study by Linqia, 39 per cent of brands use influencer marketing as part of their marketing strategy.
Insurance providers should specifically focus on targeting the prospective customers that are important to them.
Even if realising a modern omnichannel customer experience seems complicated and complex at first glance, at the end of the day, it is well worth the effort.
Find out what financial customers want and how to increase customer satisfaction in our free Digital Commerce Study on Finance.
You will find more exciting topics from the adesso world in our latest posts.