Methodology
10. June 2021 By Tarik Kilinc
Use personal communication to drive your online success
Implementing and deploying a personalisation solution opens up many new opportunities for your company to improve customer communication. You can adapt and personalise content on your website to meet each user's individual needs. Artificial intelligence (AI) helps you to analyse user interests and leverage this information to make product or content recommendations, to name but one example.
The competition never sleeps: More and more companies recognise the added value of personal communication on the Internet, leading them to implement and deploy a personalisation solution. If you make the move now, it's not too late to get on board and ensure your company continues to remain in the mix in an increasingly competitive marketplace going forward.
But how can you implement personalised communication?
Online marketing activities like SEO, SEA and e-mail marketing let companies address their target group, market their products and services and ultimately generate strong sales. Here, the personal touch is often missing, a factor that plays a major role in sales. It is imperative that a company's communication strategy reaches every user in their target demographic and that they effectively address their individual needs. Because even within a homogeneous target group, there are differences in user and consumer behaviour, especially in terms of the interests and needs of individual users.
Personalisation lets you pinpoint your marketing to individual users within a target group. Companies can respond to individual information needs and address their target group based on its interests and preferences throughout the entire customer journey.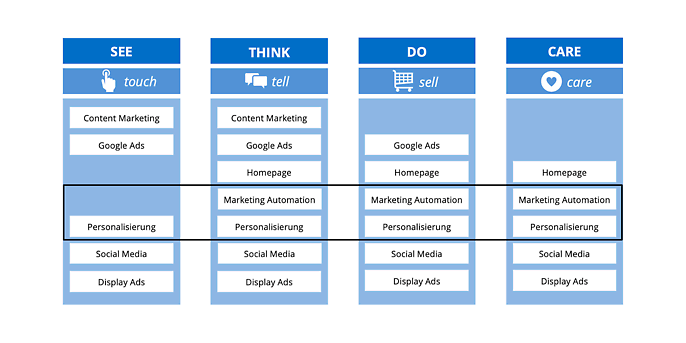 Three reasons why personalisation can help you succeed
We are experts in personalisation who have studied the efficacy of online personalisation activities for you. Here are the three most important factors for the success of personal communication on the Internet:
1. Personalisation measures make the content more relevant to users
It is the core foundation of personalisation and the cornerstone for all future success: With the aid of artificial intelligence, the interests and needs of users can be identified while suitable and relevant content can be presented and recommended at any time. The focus is not on your company, but on your customers and their individual needs. The implemented personalisation system knows your website and the individual users, allowing changes to be made in real time to meet the relevant needs at the moment – and it's all done fully automatically.
But what metrics are available to measure this? One metric for this could be, for example, the number of pages visited per session, the average amount of time spent on the site and, most importantly, the conversion rate.
2. Personalisation measures increase the conversion rate of your website
The likelihood of conversion is higher if your customers are happy. Would you like to improve how you market your products and services? Are you looking to increase the number of contacts? Or perhaps increase the number of users who sign up for your newsletter? Personalisation is aligned to your individual business goals and can even help you recruit new employees. In a time where competition for top talent is immense, this is an important and costly factor for many companies. And by having content that resonates with users, you can help guide them to the desired action.
We use personalisation to increase the effectiveness of your campaigns, allowing you to reach your target conversions faster and more effectively. Whether the goal is to save money or increase the success of your business, it is ultimately up to you. The possibilities are as vast as personalisation itself.
3. Personalisation helps improve customer retention and loyalty
After the conversion comes service. Personalised content helps achieve a higher identification factor among individual users. Following conversion, you can use personalised content for service and cross-selling – across all media and independent of your website, for example, in your newsletter.
And the best thing is, you can do this all without the customer ever having been in contact with your sales or service team. This saves resources and can also be further improved and professionalised via a connection to a marketing automation system, which in turn enables automatic lead nurturing. That's why personalisation and marketing automation are the perfect combination for us!
What next? The path to personalised communication
You know and understand that personalisation on the Internet is a win-win situation. Users benefit from the increased relevance of the content and personal communication, while you profit from the positive effects this has, namely higher conversion rates and greater customer loyalty and retention.
But as with many things in life, it's not as simple as it might seem at first glance if you don't have the necessary expertise. And this is where we come in.
Our team of experts are there for you while you are carrying out your personalisation projects – from the conceptual design and implementation to operational deployment and CIP. With our wealth of technical experience, we are able to design personalisation measures as well as implement them in partnership with you. We implement and configure the necessary systems according to your individual requirements. As a full-service provider, we are always there when you need us!
If you see the added value of personalisation for your company, then reach out and let us advise you.
Would you like to learn more about exciting topics at adesso? Then check out our latest blog posts.