Methodology
2. July 2020 By Dennis Gaida
The digital transformation was yesterday: realise the full potential of my cloud!
The path to increased productivity through low-code solutions
Companies increase productivity in application development by using low-code platforms. Low-code is a visual development approach that allows users with varying levels of experience to create web and mobile applications using a graphical user interface. Non-technical developers ('citizen developers') are saved from having to write the code, while complicated infrastructure and installation tasks are abstracted for professional developers. Together, developers can create, evolve and publish applications in a fraction of the time it would otherwise take using traditional development methods.
The number one reasons to adopt a low-code application platform

Product and service innovation are supported

Departments are authorised to create applications

Application development processes are made more efficient

Lower costs for application development

More employees are capable of developing applications
The Microsoft Power Platform at a glance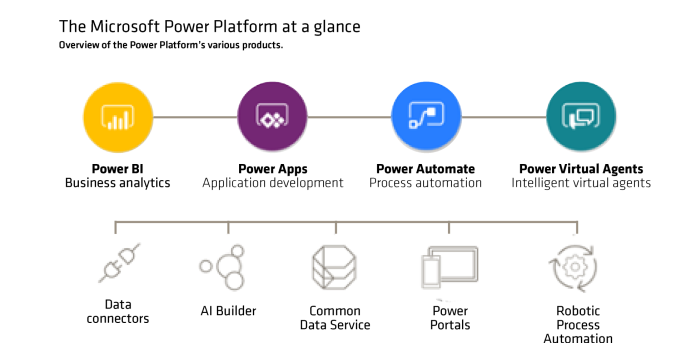 With the Power Platform, Microsoft offers a market leader (Gartner Magic Quadrant Low-Code Application Platforms, Forrester Wave Low Code Development Platforms) for low-code application platforms.
Power BI can collect business data from a variety of sources to create interactive and comprehensive visualisations and reports. Power Apps make it possible to develop apps in just a few hours instead of several months. The apps allow easy integration of third-party data and are automatically available – online and on iOS and Android mobile devices. Power Automate is a powerful process automation solution that requires no code, but can communicate with hundreds of popular apps and services via connections. Power Virtual Agents allows users to create chatbots effortlessly and even without code. A chatbot allows customers to communicate with your employees in a natural way.
We would like to mention three important and overarching functionalities of the Power Platform:
Data connectors, which make it possible to provide the various Power Platform products with data from a variety of existing connections to third-party products.

The AI Builder, which allows all users to add artificial intelligence features to apps and business processes.

Robotic process automation (RPA) automates applications and process flows that do not currently offer an externally programmable interface.
The Power Platform has more than three million active users each month and has seen 700 per cent growth in business-critical applications over the past year. The essential community where developers of all abilities share ideas already has 1.5 million active members and Power Platform trade shows are attended by more than 100,000 conference visitors a year. It is easy to see that the Power Platform is a good option for improving company productivity.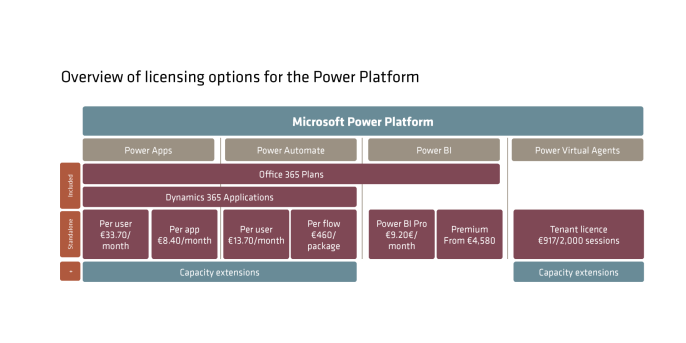 Business application development and automation
The use of Power Apps and Power Automate features allow users to create and run applications in the context of Microsoft 365 services at no additional cost. Most licensing plans already include the necessary usage rights – including the Business Premium, Business Essentials, F1 Plan and the E1 to E5 Enterprise plans. This allows you to integrate and link SharePoint Online, Teams and Excel cloud services to automate processes and make better use of applications that you're already using. Application extensions are also integrated through standard connectors to common cloud services, such as Outlook, OneDrive, SharePoint and Twitter.
Are the standard functions not enough?
The per-app licence offers you full functionality and a low entry point and allows organisations to have a cost-effective start with a maximum of two use cases. Whether premium or custom, connectors have additional data sources – for example SAP, Azure Services or Facebook – with access to the cloud-based database CDS (Common Data Service). Additional storage per user is included, as are usage rights for automation, but only in context of the app.
If you plan on having a larger number of applications per user, a per user licence is required, which does not restrict full functionality.
What do I need to know?
The required licence is defined by the type of application, the source of supply from connectors and especially when using the Common Data Service. As long as an application only accesses data stored in Office 365, the existing licences cover both the creation and use of the applications.
Why do I need Power Automate?
Companies that require full-featured, general-purpose workflow and automation capabilities should consider purchasing additional licences. While Power Apps licences do include usage rights for the purpose of automation, they only do so in conjunction with the created Power App application. If the workflows are to run outside the application or extended connectors are used, additional licences must be purchased.
Licensing per user allows individual users to create and execute an unlimited number of workflows and business processes with full functionality. The per-user plan is designed to support the widespread adoption of an automation culture within an organisation.
Microsoft's per-flow plan is available for those with a high number of users and low workflow capacity.
The model is great for departmental scenarios where a single power user usually creates a workflow and shares it with the broader group. This plan reduces the need to licence each end user who knowingly/unknowingly triggers the execution of the licensed flow.
Special feature with Dynamics 365 licences
Dynamics 365 users can use Power Apps and Power Automate with full features as long as the application runs in the same environment as the licensed Dynamics 365 application. Additional licences are required to access the premium connectors and build applications outside of the Dynamics environment.
Note: Capacity extensions generate further costs
The Common Data Service is the data storage service for the Power Platform. Basic
resource capacity for data storage and data flows (database, file and log capacity) are included in
every licence. If capacity has been used up, there are options for additional storage space
with additional user licences or per gigabyte at $40/GB.
Visualising my data
The Power BI Free plan is included in most Office 365 licences. The free plan for all users contains a number of features that enable them to create dashboards, support diverse connectivity, create data sources or export information to Excel or PowerPoint. This version only offers users the analysis and visualisation of personal data.
What are companies not able to do with the free plan?
Collaborating together by sharing reports or dashboards is not included. Only Power BI Pro allows a user to collaborate with other Power BI Pro users by using content from and sharing content with other users with a Power BI Pro licence. Only users with a Power BI Pro licence can publish content to app workspaces, share dashboards, and subscribe to dashboards and reports. Some subscriptions, such as Office 365 E5, include a licence, meaning no separate registration is required.
Our company manages huge amounts of data
Power BI Premium is not focused on users, but instead provides dedicated capacity to deliver high performance and support for larger volumes of enterprise data. Power BI Premium is available in P1, P2 and P3 versions and the difference between them is the number of services they support (v-cores).
AI-powered digital assistants are also included
The Power Virtual Agents application is licensed per tenant. Power Virtual Agents are
calculated according to the unit of the number of sessions, the capacity of which offers extensions.
A billed session consists of an interaction between the user and the bot. The
billed session starts when a request is started and ends or when one of the following two
conditions has been fulfilled: either the user's questions have been answered or the conversation lasts longer than 60
minutes.
Free development with the Power Apps Community licence
The Power Apps Community Plan provided offers curious developers free access to the premium features of Power Apps, the Common Data Service and Power Automate. This plan is primarily for the purposes of learning or developing skills and is an ideal way to learn more about Microsoft's Power Platform.
The environment includes the platform's key functions for creating business applications, linking custom connections and automating applications.
Who is able to register for the Power Apps Community Plan?
Anybody with a business or school account is able to register for the Power Apps plan.
As a company, do I receive licences via adesso?
As a cloud solution provider (CSP), adesso is a partner and procurement channel for scalable cloud services. The provision of Power Platform licences with direct and monthly billing make up part of our service. You can enhance the total package with optional add-ons such as your own managed service offerings or in combination with technical application and product support.
More information
adesso has 20 years of best practice experience with Microsoft technologies and provides customers with support in creating and automating business scenarios and their applications with the Power Platform. We are also available to help you evaluate your needs with a no-obligation licence consultation.
Check out our website and feel free to get in touch with us.