Digital Experience
20. February 2023 By Sebastian Reiser
The buying experience in 2023 – using sales excellence to meet the expectations of B2B buyers
We find ourselves in an economically uncertain time for a number of reasons, which is why creating sustainably strong and long-term customer relationships and maximising efficiency have jumped to the top of the agenda for more companies than ever before. But what buyer expectations will you actually have to meet in 2023 in order to maximise the success of these KPIs in comparison to your competitors? What implications will this have for your sales organisations, and what technological developments can you take advantage of?
Concrete expectations B2B buyers have of their buying experience in 2023
A large proportion of B2B customers and buyers in this day and age are already 'digital natives'. As a result, they expect to see more and more quality features in the B2B buying experience that are considered a given in B2C. This means their main expectations are still being able to access online self-services through portals, buying through omnichannel sales with an end-to-end, channel-independent experience and dealing with an integrated sales organisation in which all the customer-facing departments provide consistent information. In the German SME sector in particular, however, these factors continue to be the key challenges. As the adesso Digital Commerce Study 2023 shows, there is still a gap even in B2C: 58 per cent of consumers appreciate it when a company's online and offline activities are intertwined, but only nine per cent of companies consistently pursue an omnichannel strategy.
The following (somewhat) new developments have arisen for B2B sales in 2023:
1. Buyers want sales organisations to 'find' them
Buyers expect sales organisations to meet them in the exact place they are looking for solutions to their problems, regardless of the channel, be it e-commerce platforms, social media networks, websites or at trade fairs. According to Salesforce's State of Sales Report 2022, sales organisations now use an average of at least ten sales channels to meet this expectation.
2. Buyers prefer consultative partners to 'traditional salespeople'
Buyers in 2023 do a lot of research in advance, so they are well informed going into the process. This of course means that what they expect now when they get in contact with one of your organisation's sales representatives is a lot different to what they used to expect. Eighty-seven per cent of all those surveyed in the State of Sales Report say they expect to receive a credible, in-depth consultation from their representatives above all else. Meeting this expectation requires specific insights as to why this service or this product is the right one for your clientele right now. Both parties want to use this in-depth consultation to lay the foundation for an extremely long-term business relationship.
3. Buyers increasingly prefer the digital purchasing process
Although this is not a new development, the latest figures from the Salesforce State of Sales nevertheless stand out and point to this development having reached a new stage: of the more than 7,700 sales representatives surveyed, two-thirds of deals were closed exclusively through virtual sales channels or in a hybrid approach. Fifty-seven per cent of buyers say they prefer initial contact to be made through digital channels, and in the Gartner Chief of Sales Officer Report from Q4 2022, over 70 per cent say they prefer the 'sales-rep-free experience', or to put it another way, the purchasing experience without direct contact with a sales representative.
The development of the role of the salesperson
Of course, these developments in buyers' expectations have implications for everyone working in a company's sales organisation. The fact that every buyer does an extensive amount of research in advance and is therefore extremely well informed in the early stages of the sales process means that personal selling does not come into its own until the later stages of the process.
But personal selling also has to act like a sort of lighthouse that helps the Purchasing department safely navigate the flood of information on often complex B2B products and services. This is another reason why technological support continues to gain importance.
Given the current shift from focusing on growth to focusing on maximising efficiency, it is important to concentrate on the most promising opportunities. In order for the sales representative to be the credible consultant that the Purchasing department is looking for, they need to be exempt from having to perform any administrative work so that they have sufficient capacity to provide in-depth consultancy. They also need to be supported with intelligent insights into the respective account.
Sales excellence implications, approaches and digitalisation trends for sales organisations
In light of these developments, which, to put it mildly, show no signs of slowing down, companies that want to achieve sales excellence need to equip their sales organisations with the tools they need to be successful.
1. Data-driven sales
Steering sales representatives towards the most promising deals requires data-driven sales initiatives that make use of data analytics, for example, to analyse buying patterns and make predictions based on them as to which opportunity sales representatives should turn to. Data is gaining importance in sales alongside the relationship component.
2. AI in sales
The resources needed to provide in-depth consultancy as well as intelligent insights can be massively advanced with automation and technology based on artificial intelligence.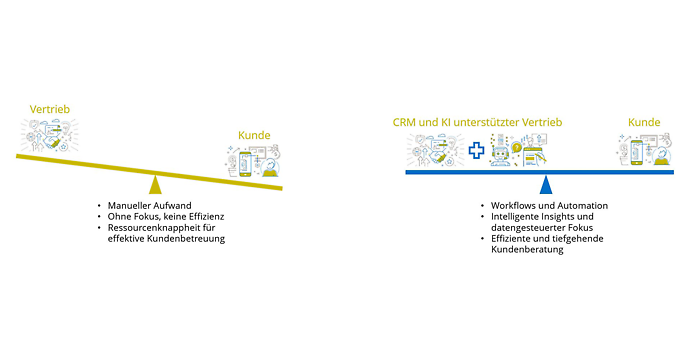 It is important to emphasise here that companies do not necessarily have to build up their own resources with expertise in AI. Many of the established CRM software solutions already provide automation and intelligent insight capabilities out of the box. Of course, there are many other areas where AI can make sales more efficient and intelligent, such as using intelligent bots to pre-qualify leads, implementing next best action or next best offer approaches and utilising data to personalise the buying experience in general.
3. CRM optimisation
According to the Salesforce State of Sales Report, many of the organisations that already use CRM solutions still have room for improvement. Only 37 per cent of the surveyed sales representatives stated that their organisation uses their CRM system in the most effective way possible. There are a variety of reasons for this, such as lack of user acceptance, unsatisfactory integration or an outdated technological solution. All these and more are starting points to bring about improvements.
4. More courage to continuously develop the sales channel system
Although changes in channel structures should be well planned and only made after sufficiently analysing the market, customers and portfolio, the needs of buyers should also be pointed out here. In the German B2B SME sector in particular, there is still too much fear of generating competition within a company's own system by introducing new sales channels – for example, by having a newly launched online shop compete with a retail partner. However, the fact that the online shop is the exact thing that meets the buyers' need for greater transparency and a more efficient procurement process, and that it is also consumes significantly fewer resources, is often not given sufficient weight.
5. Sales enablement and digital sales rooms (DSR)
High-performing sales organisations provide their employees with training, technology and tools and other types of support from within the organisation to a different extent than low-performing sales organisations – especially when it comes to supporting sales in meeting the buyers' expectations of an increasingly digital experience. There are different starting points here too, such as developing (or continuing to develop) the company's sales team's virtual selling skills or sales enablement platforms using digital sales rooms, to name just two.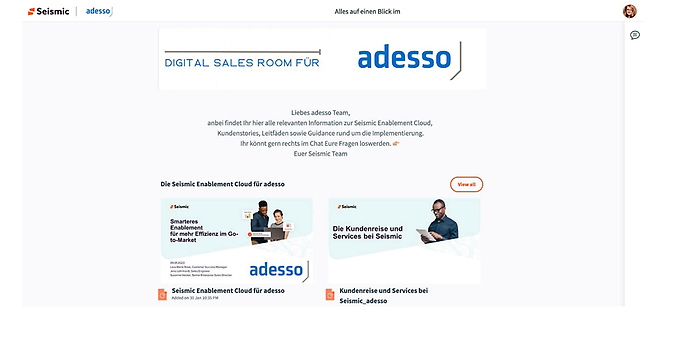 The latter in particular are gaining in importance. Sales teams need to make the most of their limited interactions with the Purchasing department that occur later in the process. Digital sales rooms are microsites that the Sales department can personalise with individual content for the Purchasing department, providing a single point of contact for them throughout the often lengthy B2B business cycle.
Conclusion
The number of challenges that sales organisations will face in 2023 is not getting smaller. This is especially because further developments are emerging, which are again driven by buyers transferring their expectations of B2C sales to B2B sales, that still need to be observed. Here, for example, the subscription economy (moving away from purchase towards service) should be mentioned, which is becoming more and more prevalent in B2C, as the adesso Digital Commerce Study 2023 shows. Despite this, according to the Salesforce State of Sales Report, 75 per cent of sales professionals surveyed – representing 12 per cent increase compared to 2020 – are confident that their organisations are succeeding in aligning themselves accordingly. This can be achieved by implementing data-driven sales, AI in sales and CRM optimisation, among other things.
adesso boasts successful cooperations in sales excellence and customer experience management with the best-in-class providers Microsoft, Salesforce, SAP and BSI, among others. These partners have proven their capabilities in the field and are often present in our customers' IT landscapes. The package is rounded off by a specially developed methodology coupled with industry expertise.
We work together with our customers to develop a personalised approach.
You will find more exciting topics from the adesso world in our latest blog posts.