Industries
3. November 2023 By Zoe Holdt and Maximilian Hammes
Smart IT solutions for the hydrogen ramp-up in Germany
The market for hydrogen is currently experiencing a veritable boom. Based on a forecast from September 2023, demand for hydrogen from large industrial customers along the Rhine corridor is expected to reach one million tonnes per year by 2030, equivalent to roughly 33 terawatt hours of energy needed each year. The National Hydrogen Council has also made ambitious projections for the country's hydrogen economy. By 2030, the goal is to create an electrolysis capacity of at least 10 GW to meet the increasing demand for hydrogen. The estimated demand for hydrogen in 2030 range from 45 to 90 terawatt hours, whereby 50 to 70 per cent of this demand could be met by imports.
In addition, the National Hydrogen Council is seeking to build a 'core' hydrogen network with a total length of around 1,800 kilometres, which should make it possible to transport and distribute hydrogen efficiently and reliably.
The industry faces a number of obstacles despite these ambitious plans
To ensure the success of the hydrogen economy, it is critical to establish clear regulations and viable price structures. These two factors are vital for the hydrogen industry to develop and grow.
Regulations need to ensure that environmental standards and safety regulations are met to minimise potential risks. They should also provide investors and companies with clear guidelines to create confidence on the market. Standardised, transparent regulations are crucial in order to manage the complexity of hydrogen production, storage and distribution, which creates a more stable foundation for investment and promotes innovation in the industry.
Beyond that, it is also necessary to push ahead with the development and adoption of certificates that verify the 'green' origins of hydrogen. This step is vital to complete the desired expansion of hydrogen as the green alternative to fossil fuels and achieve the associated sustainable climate goals. A decision was made to introduce a register of guarantees of origin for gas and hydrogen last winter. It is expected that a register of guarantees of origin for gaseous energy sources will be available from January 2024, alongside the existing register of guarantees of origin maintained by the German Environment Agency for electricity generated from renewables.
Another problem is the limited transparency to date regarding planned or existing hydrogen projects and the stakeholders involved. This adds considerable complexity to coordination and cooperation within the industry. Publicly accessible platforms that offer market players an opportunity to network and communicate on technical matters could be one solution. Together with Open Grid Europe (OGE), adesso has developed the H2Connect platform, which plots existing hydrogen producers, consumers and project plans on an interactive map, making them accessible to other market participants or interested parties. The goals are to aid efforts to make the market ramp-up transparent and to increase the visibility of the European hydrogen grid.
It is abundantly clear that the industry needs support above all else in the expansion of infrastructures, both on a physical and digital front. This step is necessary because the market players are not connected in the virtual realm, nor are they physically linked on the hydrogen grid, which does not exist at all at present. It is necessary to create the structures that do not exist yet and use them efficiently. The hydrogen suitability test performed on OGE's gas grid is made possible thanks to the assistance of adesso as the digitalisation partner. By intelligently processing the building records, some of which are over 80 years old, all the company's technical documents could be digitalised and made available for use. Identifying and extracting the relevant details from the documents serve as the foundation for creating a large database. This in turn can be evaluated by way of intelligent cluster analyses, making it possible to determine whether individual pipelines are suitable for hydrogen.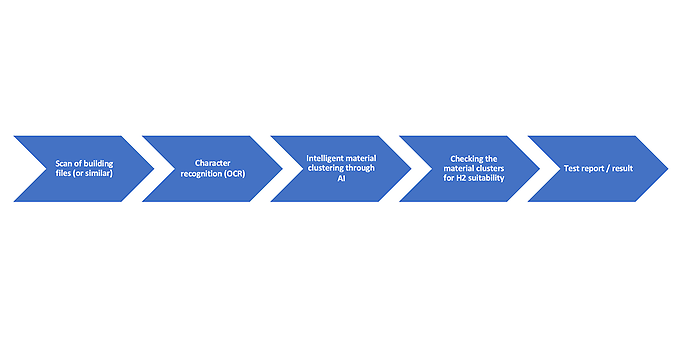 Data generated by way of intelligent cluster analyses cannot only be used to carry out a suitability test based on solid facts, it can also serve as the foundation for digitalised business operations.
Outlook
Intelligent document processing (IDP) at adesso is carried out on the basis of empirical values and best practices. The integrated solution for document processing is used in a wide range of industries and is also ideally suited to optimally support gas grid operators in making the switch to hydrogen. It helps overcomes challenges such as ensuring high-quality information extraction and coping with the large number of heterogeneous document classes.
Would you like to learn more about other exciting topics from the adesso world? Then take a look at our blog posts published so far.