Methodology
9. June 2021 By Gianna Götte and Louisa Brachthäuser
Quick Check for finding the level of digital maturity
Digitalisation – now!
For a little over a year now, our society and companies, in particular, have been painfully aware of the lack of digitalisation of processes. During the pandemic, the Covid-19 pandemic has presented companies with unprecedented challenges. Those who can think digitally are applauded. This is what counts. Fast reactions are rewarded with the fact that – in the best case scenario – companies can emerge from the crisis stronger than before.
Across all industries, companies are struggling with losses and supply shortages, as well as staff shortages and the sudden shift to remote working. This has presented some companies with devastating economic difficulties.
In order to still be able to face these challenges, many companies are adding digital services to their business model during the Covid-19 pandemic and are using the digital transformation to restructure their business.
Are companies familiar with their digital maturity level?
Do companies want to use digitalisation as an opportunity to realign themselves? And are they ready to take the first step? The past year clearly shows that more and more digitalisation projects are being implemented and companies are coming under pressure to think even more digitally and tap into further potential.
To accompany this process, adesso already offers a more condensed Quick Check in addition to its holistic Digital Maturity Check.
To help companies find their way around, adesso uses the Digital Maturity Check, which is a tried-and-tested and scientifically based assessment that companies can use to individually determine their digital maturity. The results of the multi-dimensional analysis make it possible to categorise company dimensions into individual maturity levels and determine precise positions. Companies are given recommendations on how to continue their digital transformation based on the graphical evaluations of the results. This picture makes it clear which strengths companies can take advantage of and which weak points still need to be optimised.
A first signpost on this digital journey is the Quick Check that is available online at all times!
The Quick Check for digital maturity – now also in chatbot format
Assessing the level of digital maturity and identifying the greatest potential are the main challenges of a digital transformation.
The Quick Check allows companies to obtain an initial self-assessment of their digital maturity. All it takes is two to three minutes to answer several questions of the Digital Maturity Check free of charge using our innovative 'Mat-E chatbot'.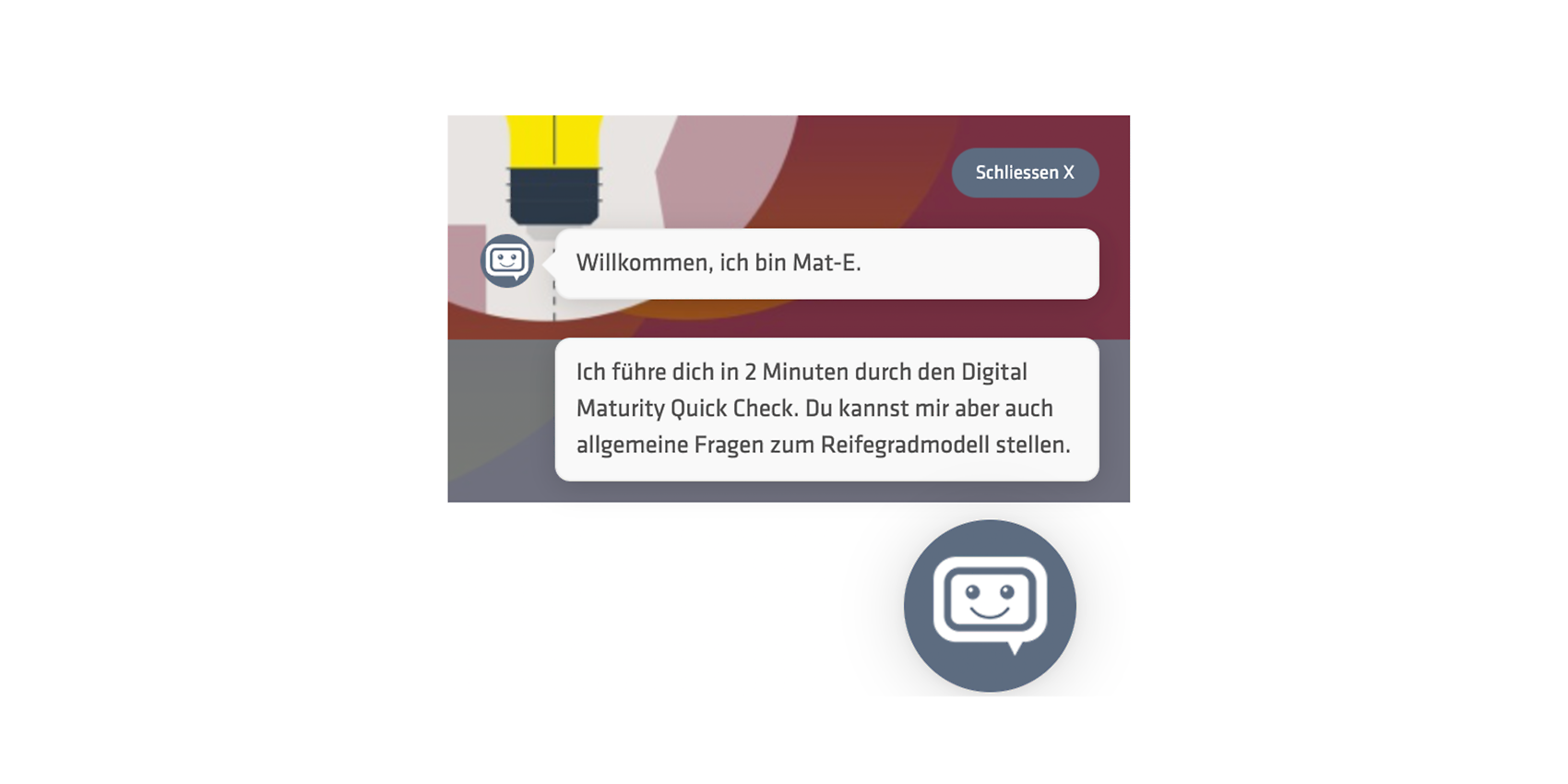 The results of the Quick Check serve as the first step in determining a digital strategy. The next step is the full Digital Maturity Check. This makes it possible to drive digitalisation forward in a targeted manner.
Beginner, advanced or innovator – how digital are companies really in the pandemic?
In addition to nine different company dimensions, potential is also examined in terms of digital capacity and digital management expertise. The Quick Check already offers companies the appropriate assessment they need to achieve a successful transformation.
Companies should make sure they are ready for the digital transformation and can already test the Quick Check with our Mat-E chatbot. Because we are already asking the question: What type of digital maturity do companies really have in this day and age?
Would you like to learn more about exciting topics from the world of adesso? Then check out our latest blog posts.