Methodology
26. November 2021 By Maria Kaufmann
App campaigns: the right app at the right time?
App usage during the pandemic
Since the beginning of the pandemic, people have been spending even more time with their smartphone. According to statistics, a total of 82 per cent of people surveyed say that their smartphone has helped them to get through the crisis better. But what exactly do we do when we are on our smartphone?
On average, people spend more than 229 minutes of their day using apps. It is no wonder that there is an app for every area of life – whether for learning languages, listening to audio books or making doctor's appointments. Communication apps, such as WhatsApp, came out on top in March 2020 with 80 minutes of usage time. In the subsequent months of the pandemic too, the use of communication apps continued to take precedence over social media, video or entertainment apps. This makes complete sense as face-to-face meetings were largely suspended. However, the preference today is to also use apps for other areas of life – one in four Germans has already downloaded a gaming, news, video conferencing or social media app. Business apps and apps for delivering food have also been booming since the pandemic began, and new apps are being added all the time.
Does supply surpass demand?
We like to use apps a lot, and since the beginning of the pandemic we have been using them even more. Many companies and start-ups have recognised this, and, as a result, the number of apps on offer is rising steadily and rapidly – sometimes faster than demand. The number of apps in the Google Play Store was almost 3.5 million in the first quarter of 2021, while in the Apple App Store it was more than 2.2 million. On average, a further 25,000 apps are added every month.
It is unlikely that any of these apps will find enough users to recoup the costs for creating them, right? Nevertheless, apps offer a high degree of sales potential if they are directed at the right target groups and meet their needs: In 2018, apps generated sales of more than 1.5 billion euros in Germany. In comparison, the forecast for 2021 is 2.9 billion euros in sales from apps. The challenge is simply to present a specific app to the right users and keep them engaged with the app so that they use it all the time.
The battle for the target group
According to a study from the year 2020 , two thirds of respondents have either uninstalled or deleted an app in the past three months. Apps are most often deleted because they are not used. The limited amount of storage space on a smartphone is another key reason for users to uninstall apps. In this case, however, just because a user has deleted an app, it does not necessarily mean that they have forgotten the app and the deletion does not have to be final either: in the past three months, more than half of the respondents have reinstalled an app that they had already deleted. The main reason for this was that they needed the app again or they had managed to secure enough storage space on their smartphone again. So once a person has had an app 'on their radar', they are more likely to install it once more and use it regularly. Let us assume that you have developed a unique app that perfectly meets the needs of its target group. Given the excessive number of available apps, how can you make the right people aware of the app?
The right app in the right place at the right time
There are many measures you can take to help make your app visible. App campaigns are probably the easiest and cheapest way to generate a high reach within a specific target group. App campaigns are an advertising format from Google that specialises entirely in the marketing of apps – because presenting an app to the right target groups is undoubtedly key to leveraging sales. You only need to invest a small media budget to greatly increase the visibility and awareness of your own app. App campaigns allow us to use machine learning to present each app to the users who are most likely to engage with it. With the help of algorithms, millions of signal combinations can be analysed, including, for example, the purchasing behaviour and previous search interest of users. People are classified, depending on these signals, and advertisements are only displayed to those who are most likely to be interested in the particular app. Thanks to machine learning, the campaigns also become more efficient over time, as every time an advertisement is displayed and clicked they are able to ascertain which users are most likely to click the advertisement and then install the app. Placement on Google Play, YouTube or in Google Search, as well as on websites and apps that are part of the Google Display Network (for example, wetter.de), results in many contacts with relevant users. When an interested party clicks an advertisement, they are forwarded directly to the Google Play Store or Apple App Store where they can download the app. Google App campaigns can therefore reach both Android and iOS users.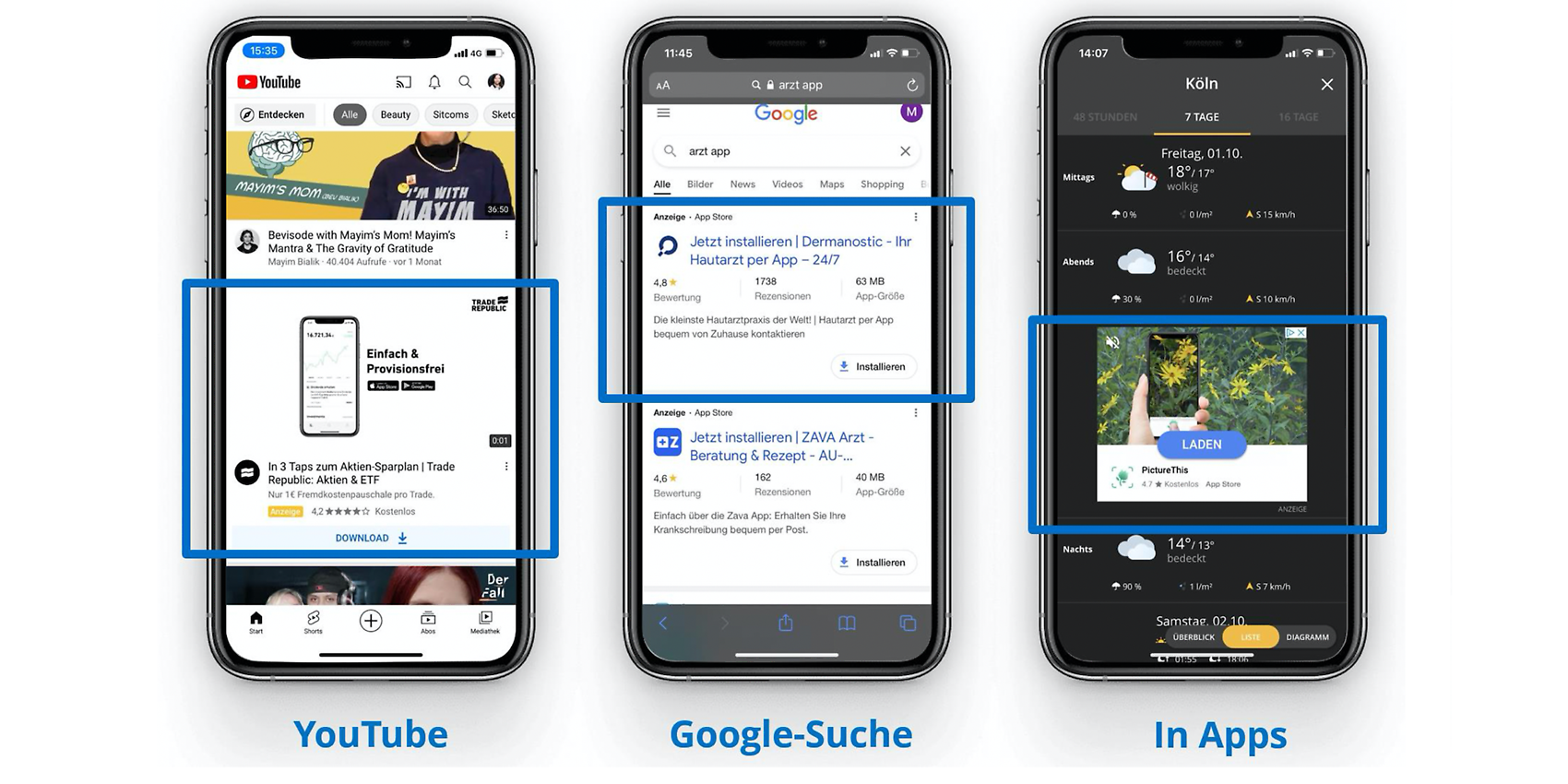 Effective and surprisingly simple
Our experience gained from conducting numerous campaigns for our customers reveals that App campaigns are not only efficient to use, but also surprisingly easy to prepare and create. All that is needed to create a campaign is a published app and a few snippets of text and graphics. Measuring the success of a campaign is also very straightforward. This particularly applies to campaigns set up by Android users – here, all it takes is a few clicks as the Android operating system already belongs to Google. Another argument in favour of using this advertising format is the low entry budget. There is no lower limit, but we recommend starting with at least 100 euros a day. The costs for each installation depend on the quality of the graphics and texts as well as the competition, but usually amount to only two to six euros. No further costs need to be taken into account, as Google Ads can be used completely free of charge. In this way, a disproportionately high sales uplift can be achieved with little time and a small budget.
App installation or app interaction? Both!
Is the relevant target group aware of your app and has your app been installed numerous times? If so, your focus will probably be on engaging and retaining your users more and encouraging them to use the app regularly. You can also use App campaigns to achieve this goal. An optimisation for app interactions makes it possible to only address those users who have already installed your app. The advertisement draws attention to the added value of the app and encourages the user to open the app again and interact with it. The desired interaction can be a purchase, a registration or another action – the advertisement forwards the user directly to the right place within the app. This way, they are reminded of the app again.
Getting started with App campaigns with adesso
Have you worked hard to develop a great app that perfectly meets the needs of its target group? If so, it is time for this target group to try out your app. We are happy to use our experience to help you take the first steps towards implementing App campaigns. We are also happy to share best practices on set-up, creatives and bidding strategies. Feel free to get in touch with us!
You will find more exciting topics from the adesso world in our latest blog posts.