Digital Experience
7. September 2021 By Miriam Eckardt
Talkwalker: the ideal social listening tool for brand monitoring
'When you talk, you are only repeating what you already know. But if you listen, you may learn something new.' – The Dalai Lama
What is social listening?
Social listening can be used to analyse and monitor social media channels, blogs or websites with regards to brands, competitors or products, to name but one example. As such, it enables you to monitor conversations, gain new insights and leverage this information to define possible strategies or approaches.
Why is it so important for companies? Because it lets them...
identify target groups and understand their needs;

get customer feedback;

react to customer movements as quickly as possible;

identify strategic successes/failures;

monitor and measure sentiment towards a brand or product;

identify opinion leaders and brand ambassadors;

spot leads or sales opportunities;

correctly identify and monitor competitors;

analyse social media channels.
At the end of the day, information can be provided to the departments that need it and use it to advance the company's business strategy.
'If you're not using social listening, you're missing out on a lot of important insights and opportunities.'
Social listening takes social media monitoring to a whole new level
What sets social listening apart from social monitoring is that it converts the data gathered during social monitoring into actionable information. Put differently, one could say that social monitoring lays the groundwork for social listening. Rather than defining future actions, social monitoring is focused on gathering data from the past such as interaction rates, the number of brand mentions, relevant hashtags, competitor mentions or industry trends.
Social listening goes beyond the numbers and analyses the sentiment behind the mentions to find out what people think about a brand or a product. The data from social media monitoring is analysed and used to define future actions in conjunction with social listening. This way, it is possible to react quickly to positive as well as negative posts.
'If you understand how people feel about your brand, you can adjust your marketing and product development activities accordingly.'
Carried out alongside campaigns
In the ideal situation, social listening is performed on an ongoing basis alongside campaign-related listening. At the beginning, the 'normal' state is defined as a rough guide to allow you to react quickly if anything is not as it should be.
Key topics, challenges, moods or multipliers can be identified over the course of the campaign. It is good practice to take a look at the competition and learn from their mistakes as well as identify areas where your organisation can improve.
It is possible to increase the effectiveness of campaigns using the most popular hashtags and emojis. There is also the option to create brand messages and identify trending topics and use them in current communication concepts.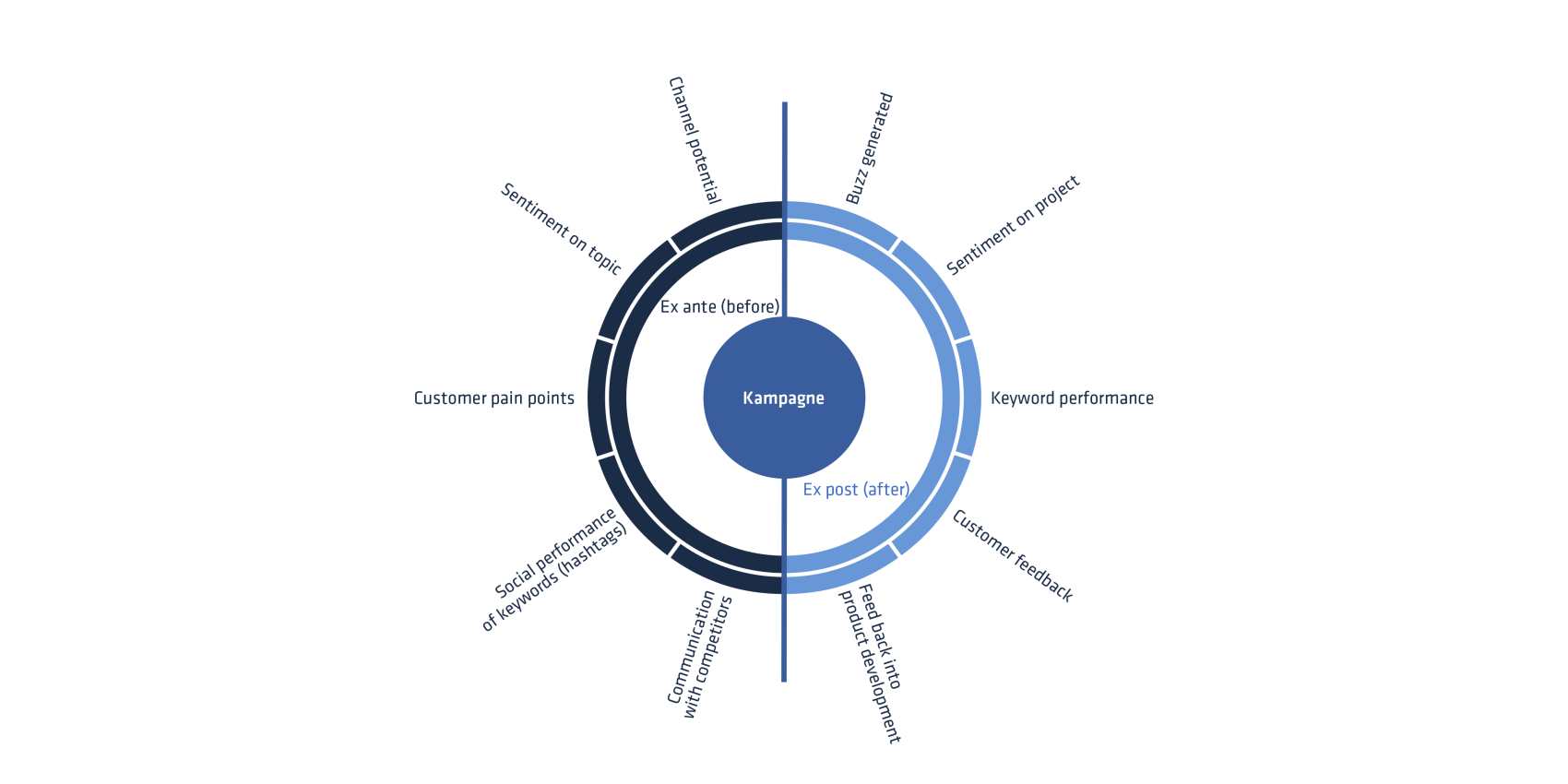 Data on the following terms and topics can be collected during the campaign:
Brand and user name in social media

Names of your product

Brand, product and social media names of competitors

Industry buzzwords

Competitors' advertising slogans and taglines

Names of key figures

Campaign name or keywords

Brand hashtags and those of competitors

Industry-specific hashtags
The Talkwalker tool
Talkwalker is a tool that can be used for social listening. Online, social media, print, radio and TV content are all covered on a single platform. By using image recognition technology, it is possible to analyse texts and images simultaneously. Monitoring is available in real time and, thanks to instant access to data from the past two years, detailed analyses can be carried out. Data coverage from owned and earned Media encompasses 187 languages. Insights can be gained more quickly thanks to IQ apps. This information can then be shared with the team as quickly as possible and action taken in response to it. Campaigns can also be monitored in real time and continuously evaluated. Talkwalker lists influencers who spread the message about specific brands or products. Custom dashboards and reports can be created and downloaded in a multitude of formats, with access to widgets, reports and dashboards helping ensure everyone stays up to date.
Six important questions related to social listening that Talkwalker can answer:
How many people do I reach through my activities?

Where do people talk about my brand/product (on what channels and in which countries)? In which languages is it discussed?

What do people think about my brand or product? What emotions play a role here?

How many visitors do current/completed campaigns generate?

Does the content reach the intended target audience?

How often does my target group talk about my brand or product compared to those of competitors?
The Talkwalker functions that help answer these questions
Quick Search
The Quick Search function enables users to run a quick brand check and find out current trends relating to a brand or topic in real time. The check covers the last seven days and analyses all blogs, forums, websites or social media channels with regards a searched term or brand. The keyword-based search provides insights into the engagement and sentiment, the hot topics as well as the influencers and target groups behind them. Competitor checks can be carried out in no time, and ideas for content can be found at the click of a button.
Create topics and channels to 'refine' the search
Talkwalker lets users create topics that can be used to narrow down the search for a brand, product or term to obtain more targeted results. Related terms, names, languages and countries can be included in or excluded from the search. Great care is taken when creating the syntax to narrow down the search and cut down the number of hits returned.
Here's a little example involving adesso:
Name: adesso, adesso SE, adesso insurance solutions GmbH, adesso orange AG, adesso Turkey and so on (based on the search query)

Other related terms: IT, service provider, technology, artificial intelligence, software engineering and so forth (based on the search query)

Since the word 'adesso' is Italian in origin, results that have nothing to do with the adesso brand are automatically included in the results. To exclude unwanted results, individual countries can be used as filters, and the Italian language can be excluded from the search.
Existing social media channels can be saved in Talkwalker via 'channels' to allow different channels of a brand to be analysed and compared. This analysis shows which activities are delivering results on which channels, and which ones need to be optimised.
IQ apps – the functions behind Talkwalker
After this, the topics and channels created for a brand/term can be analysed on a more granular level using IQ apps in Talkwalker. Here is a short list of some of these apps and what they do:
Brand Monitoring: Monitor a brand – who is talking about my brand and when and where is this being done?

Social Channel Measurement: Insights on public social media channels – compare performance between channels

Competitive Intelligence: Monitor rivals – perform competitive analyses

Campaign Monitoring: Monitor ongoing campaigns for brand slogans or terms set by your company as well as actions carried out during campaigns

Results Curation: Search results for a term or a brand; digital voices of any kind can be analysed with this app

Social Channel Insights: Compare clearly defined social media channels (of your brand) – monitor and adjust performance
The image below shows the initial results from the search for the term 'adesso' using Brand Monitoring:
Reports and alerts provide a long-term overview
Personalised reports can be created and completed in Talkwalker. These can be made available to clients in a number of ways and formats, for example as a PDF, as an Excel spreadsheet or via e-mail. Users can also define the intervals for reports they wish to receive which can, if necessary, be created and received daily, weekly, monthly or even quarterly. The reports are generated and updated automatically based on the relevant settings. A detailed comparison between the reports is displayed to allow the user to see trends in the numbers and take further action if necessary. It is also possible to set up alerts that are sent to users who wish to receive them.
Get started now and enjoy the added value of social listening. This includes the ability to:
analyse social media channels

perform competitive analyses

identify target groups

gain insights into trends

get customer feedback

monitor campaigns

measure and react to moods

recognise customer movements.
Would you like to learn more about exciting blog posts from the world of adesso? Then check out our latest posts.