Digital Experience
1. September 2022 By Axel Ziegler
#2 – Advantages of a digital asset management system
"I already have a product information system, so why should I add a digital asset management system to manage my product images?" To answer this question, the first part of my blog post explained what a digital asset management system (DAM system) is, what makes it stand out and what basic tasks a DAM system performs.
Even small companies have to manage thousands of digital media files, such as product images, marketing images, logos, exploded views, energy efficiency labels or assembly instructions. For large brands and corporations, the number can easily run into the hundreds of thousands or even millions if language and country-specific instructions have to be provided, for example.
A DAM system can be operated as a central media management system where the company can store and manage all digital media files, such as images, films, audio files or documents. It enables organising, researching, editing and publishing to connected third-party systems such as a PIM, ERP, PLM, CRM or CMS system or even social media platforms.
Introducing a DAM system in a company results in various advantages that I will illustrate in more detail in this blog post. I will focus on the key advantages to give you an overview.
Avoiding duplicates
Employees in a company often store the media files they need on a regular basis in a distributed manner on their PCs and laptops or on a wide variety of platforms, applications and server-based file systems at a location provided for this purpose. Since numerous departments take the same approach, it can easily happen that files are stored redundantly on the server. These redundant data sets are referred to as duplicates.
Here's an example from real life: a customer once showed me his cabinet with image CD-ROMs ordered for the company. Of these, many CDs had been ordered several times by different departments, each of which was unaware that another department had already ordered this CD and the images already existed on the file server. Of course, all those who ordered the CD saved the data yet again to their own corporate location on the file server.
In addition to the costs in terms of storage space, in this example procurement costs also accrued, and let's not forget about the time needed to process the order and delivery, which could have been put to productive use. This is referred to as opportunity costs. These are costs incurred as a result of people having to perform unnecessary tasks.
Central data storage
One of the most important reasons for introducing a DAM system is central data storage. It means that files are located in exactly one system instead of at different storage locations. In other words, with such a system you can define a clear location where the company's current media files are stored. DAM systems help to avoid asset duplication, which means that DAM solutions make it much easier for companies to clean up their files and thus bring higher quality to their data.
The introduction of a DAM system reduces search times, as the search is carried out using qualified metadata indexing of assets, instead of using the file name in a directory structure on the file server. For example, half of all marketing employees surveyed said they use Google Image Search to find their own company logo because they do not use a DAM system in the company.
The time gained can be put to productive use, opportunity costs are reduced and redundant procurement costs are eliminated when assets are stored and organised in a central media environment – the digital asset management system.
If media files are distributed among different data silos in the company, it can often happen that staff use outdated images or logos in presentations or on websites. This has a negative impact on brand perception and the customer experience due to different or outdated content circulating on the various digital channels.
A DAM system ensures that all departments can access the company's current and shared media as efficiently as possible. This removes, for example, the risk of inconsistencies and errors in cross-channel media and brand communication as a result of outdated or unlicensed files. A DAM system thus contributes to uniform brand management where the corporate design is adhered to across all channels and all target markets.
This includes the provision of assets to third-party systems such as a PIM, ERP, PLM, CRM or CMS system, as well as the transfer of assets to various social media platforms (including Facebook, Twitter or Instagram).
Interfacing with all relevant applications and users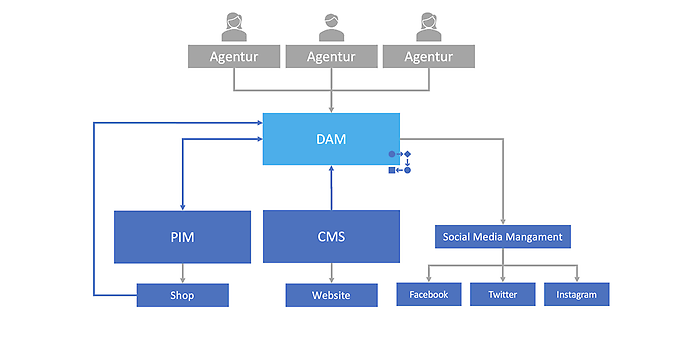 By connecting the DAM system to other applications via APIs, assets and metadata can be exchanged or shared among the systems fully automatically. Manual storage of assets associated with an application can thus either be automated or eliminated altogether, as DAM systems offer the option of accessing an asset directly via a deep link using a browser URL. This does away with manually maintained data silos by creating what is referred to as a 'single point of truth'. In other words, the DAM system is exclusively in charge of asset management. When an asset managed in the DAM is altered, this immediately triggers processes and actions to communicate a new company logo with an updated claim to all connected third-party systems, for example. Therefore, the file only needs to be updated and replaced in a single place instead of in each application.
Processes for managing and controlling assets play a particularly important role in DAM systems. Certain characteristics must be met before an asset is published. Requirements include content in certain metadata fields (mandatory fields), sufficient quality of the file on the content and technical level, releases and compliance with licensing requirements.
When importing a media file, its metadata can be read out automatically by the DAM system, handling various image tagging standards such as the IPTC, XMP or EXIF header. The assets can then be refined with additional information: indexing, categorisation or classification within the framework of a taxonomy. DAM systems support this process with guidelines and AI components, including automatic image and person recognition.
A DAM system also facilitates more efficient collaboration with the various process participants. Media files can be shared quickly and securely with employees, external agencies, suppliers or distribution partners. Automated processes and rules – which can also apply to content creation – help to reduce error rates, speed up approval processes and minimise personnel expenditure. For example, according to a survey of retail companies, the use of a DAM system reduces e-mail traffic for the approval and capture of media files by up to 100%.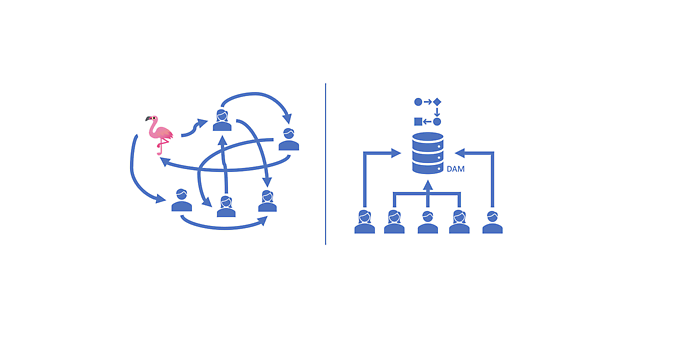 In this context, it is unnecessary to repeatedly commission an agency to adapt media files for a specific output channel – a task that takes time and increases procurement costs.
One of the central features of DAM systems is that they store media files in a media-neutral manner. All assets are converted and scaled appropriately during export based on the output channel. This means that there is no need to maintain countless different variants of an asset in the DAM; instead, only a single high-resolution file is stored, and any required variant can be generated from it. The DAM delivers the asset in exactly the right format required for the designated output channel.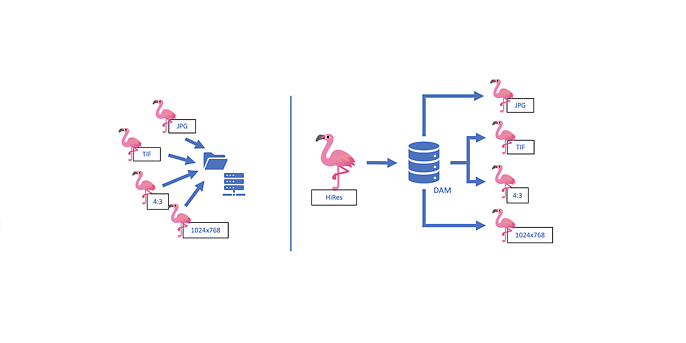 A DAM system gives an organisation control over which user groups can edit assets and those who have read-only access to assets, depending on the status of the asset. The system ensures that only select, authorised user groups have access to certain assets, which is especially important when working with external service providers, such as agencies, partners or suppliers. Authentication and authorisation can be handled by interfacing with your company's AD server.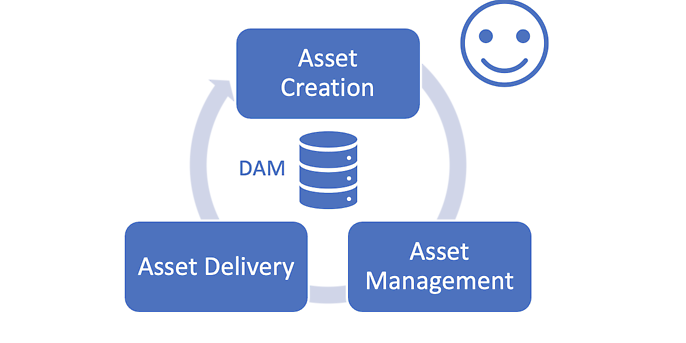 Conclusion
All in all, storing a company's assets on file servers, workstation PCs and in the respective applications in output channel-specific formats creates organisational effort and procedural overheads that promote employee dissatisfaction. DAM systems offer solutions for all tasks and requirements involved. They support employees throughout the entire asset life cycle, from asset creation and management through to asset distribution. This boosts efficiency, reduces opportunity costs and increases the satisfaction of all employees of a company.
You will find more exciting content from the adesso world in our latest blog posts.
Why not check out some of our other interesting blog posts?