Industries
16. August 2022 By Sandra Weis
Keeping insurance customers in mind with Customer 360°
Digitalisation is advancing. It's no different in the insurance industry. Systems are being improved, modernised or even replaced by newer systems or technologies. Everyone needs – and expects – them to do more and more. A system must be modern, fit into both the company's application landscape and its processes, be cost-effective, work well with other applications and be easy to use. Customer requirements have also changed, especially in recent years. They want to receive high-quality information quickly and without having to jump through bureaucratic hoops – be it via a portal, by e-mail or on the phone – all without data protection regulations being breached.
Insurance companies often decide to modernise their application, portfolio or benefit system. However, they just as often don't think about the partner application they have been using for ages and only make minor adjustments as a result. After all, they only use this system when a customer calls, for example.
That's why the goal should be that employees can find and retrieve the information they need in the system quickly whenever a customer gets in touch. Plus, the process should only take a couple of clicks and the customer's key information should be displayed in a format that's easy to read. adesso's Customer 360° software component can do all of this.
For the sake of completeness, it should be noted that a partner application usually consists of several forms that contain a lot of information – much more than Customer 360° can display in a format that's easy to read, that is, on one page. This large volume of data is usually necessary to transfer it to the peripheral systems and make it possible to process it from there.
What is Customer 360°?
Customer 360° is a software component from adesso that was developed specifically for the insurance industry. It's simple, flexible and delivers high performance.
Searching for a partner
Here's a practical example: partner applications usually contain multiple fields. The information that the employee receives from the customer has to be entered in the corresponding field. If an error occurs when the information is sent, for example the policy number or the name of the policyholder is incorrect, then the employee has to go through a time-consuming and sometimes irritating search in the partner application. From the customer's point of view, this takes what feels like an eternity. Customer 360° does away with this by having a modern search function that only contains one field for the employee to enter information into. This can be anything, such as the policy number, the name of the contract partner or an address, for instance. Once the search is complete, the employee then receives all the key information about a customer on one, easy-to-read page from a central source that is consistent across channels.
Customer 360° is simple, flexible and delivers high performance. This means that we work together with our contract partner to decide which data should be displayed on the overview page and from which peripheral systems it originates. Examples here include inventory data such as master data, policies, complaints and third-party products, CX and CRM data such as enquiries and processes, campaigns, appointments and notes, external data such as social media as well as analytical data such as next best action and cross-selling and up-selling.
To give you a better understanding, an example of a 360-degree customer view for an insurance company would be having personal data such as the customer's name, address, telephone number and policy numbers displayed. What's special here is that the insurance company also sees other information, for instance the addresses of the buildings insured under the policy, any settled claims (including the claim number and year the claim was settled) and the amount paid out for the claim. Data and information on the documents sent are also listed.
The leap into other systems
The process so far sees the employee need several clicks to get from the partner application to another system to retrieve the information. The employee copies, let's say , the policy number, opens the peripheral system and pastes the number into it. They then need to access the relevant form in the system. The employee often uses two monitors to do all of this, but Customer 360° changes that. The peripheral system and the relevant information can be accessed directly from the overview page, allowing the inventory system to be evaluated or an offer to amend a policy to be created quickly, for instance. All with significantly fewer clicks.
What advantages does Customer 360° offer?
Customer 360° offers several advantages over other systems. You can find a brief overview of these in graphic below: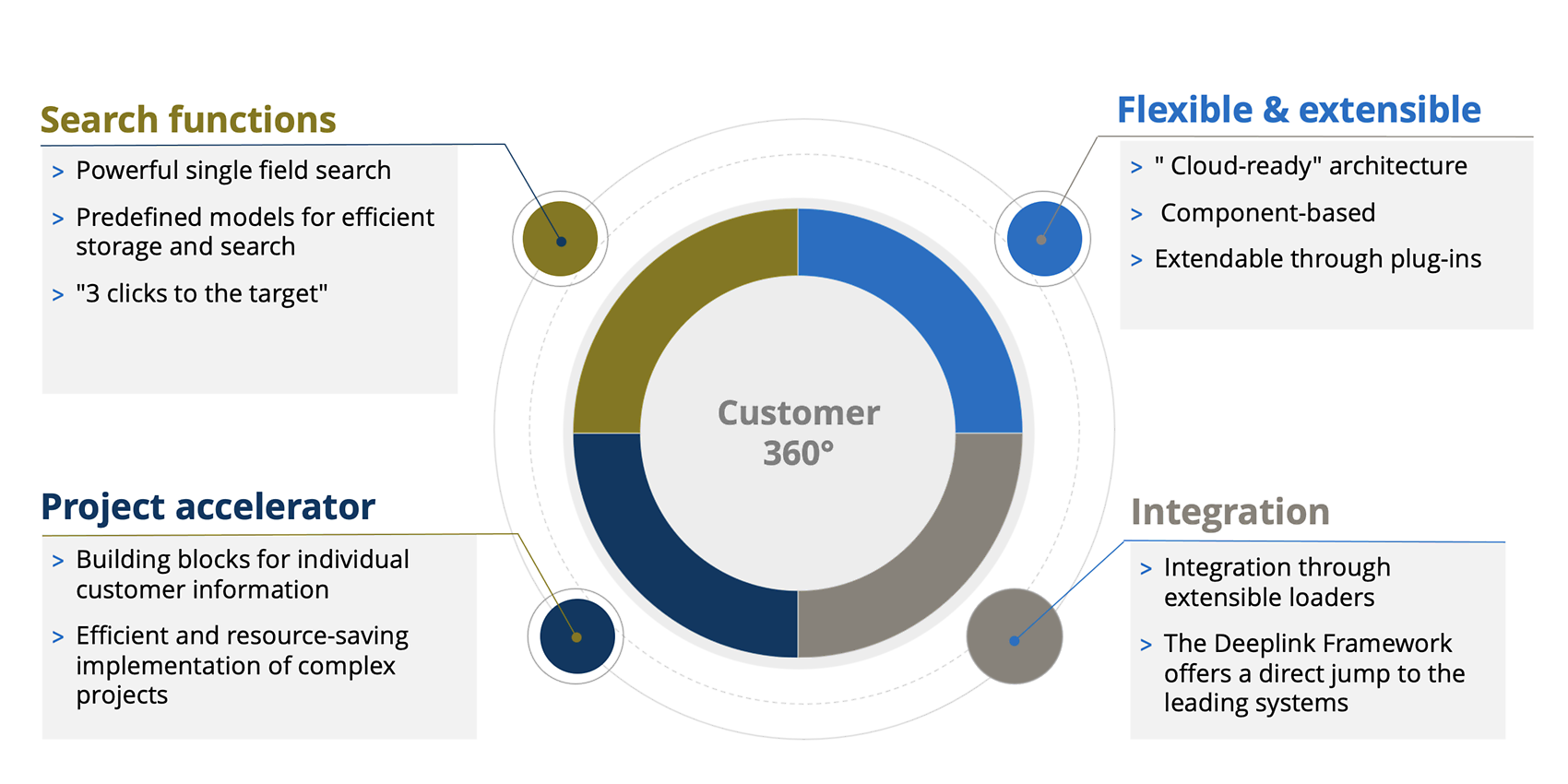 Who is Customer 360° suitable for?
Customer 360° was created originally for the insurance industry, that is, for insurance companies and pension providers. Customer 360° has such a flexible design that it's suitable to use in basically every industry and every company, including banks, sales departments and manufacturing companies, for instance.
Our experts possess the technological skills coupled with the comprehensive sectoral, technical and business expertise as well as the methodical-didactic knowledge needed to adapt Customer 360° to specific sectors.
You will find more exciting topics from the adesso world in our latest blog posts. By the way, you can find all you need to know about our portfolio and services for the insurance industry on our website.